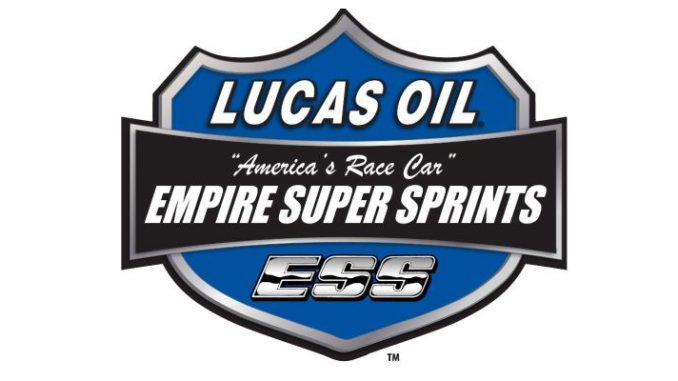 From Dean Reynolds
SYRACUSE, NY (March 14, 2017) – The Lucas Oil Empire Super Sprints (ESS) is entering its 35th season of producing some of the very best winged sprint car action in the northeastern United States and Canada. For the first time in the club's history the qualifying field has been upped to 24 A-Main starters in each full point event.
In another exciting announcement is the Loyalty Program will now be handed out to teams that support 90% of those full point shows for the third consecutive season.
"Our purse structure was set at 22 starters since we have been holding events," noted ESS President Chuck Miller. "We have been getting such great support and hate to see cars go home with just tow money so we needed to add two more spots to the A-Main. This will help in keeping car counts healthy which is good for the promoters and tracks that hold ESS events."
Each full point A-Main will pay a minimum of $250 to take the green. If an event pays more to start, the last two spots will still pay that particular amount. The provisional and buy-in perks for teams that follow 2/3rds of the point events will stay the same, it will now be starting spots 25 and 26.
The Loyalty Program debuted in 2015 and it was well received. The 2017 season will now see it for the third year in a row. Each team that follows 90% of the full point events will be rewarded with $500 in cash on top of all point fund monies earned.
"Last year we had 12 teams that benefitted from the Loyalty Program. While we do have a good number of full point shows listed each year, you always lose some to weather or other circumstances," Chuck Miller said. "Last year we ended up running 22 full point events, if you ran just 20 of them you got an extra $500. We try to keep the number of shows and miles of travel as affordable as we can and it shows in great support."
The 34th Anniversary Tour does kick off on Saturday, April 8th with the annual Sprint Showdown at the Selinsgrove Speedway which pays $2500 to win and $300 to start. Then the point season will open up Friday night, April 21 at Tyler Siri's Outlaw Speedway. The event part of the Sprint Nationals will pay $3,000 to win and $300 to start.
Steve Poirier, Jason Barney, Paul Kinney, Matt Tanner, Parker Evans, Jeff Cook, Shawn Donath, Chuck Hebing, Chad Miller, Paulie Colagiovanni, Dave Axton, Brandon Kidd, Matt Billings, Coleman Gulick, Pete Richardson, Alex Vigneault and many more will be in the ESS field at a dirt track near you.
A total of 35 years of ESS, 10 years of Lucas Oil… The Lucas Oil Empire Super Sprints will be excitement guaranteed!!