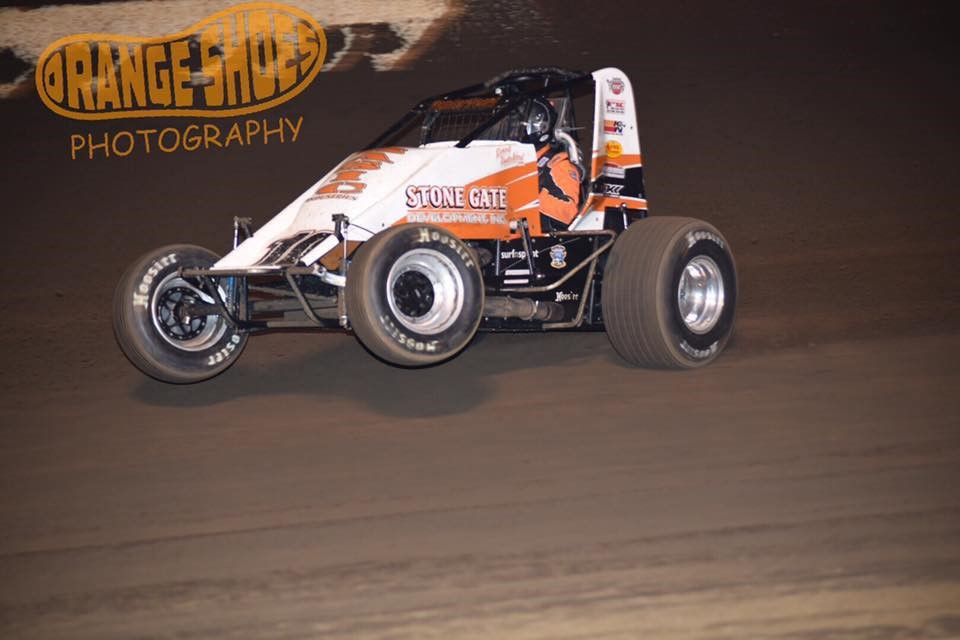 From Petersen Media
Fresh off of his first win of the season, Richard Vander Weerd showed great speed in his 360ci car this past week in Las Vegas, NV as a sixth place finish would highlight the trip.
"We had a really good car both nights," Vander Weerd said. "Thursday night the track was rough and heavy, and pretty tricky to figure out, and on Friday night we were running up a front but a flat tire pretty much ended our chances."
Timing in seventh fastest during time trials on Thursday, Vander Weerd would finish third in his heat race aboard his Vander Weerd Construction/Basic Industries/Factory Kahne Shocks backed No. 10.
Lining up 11th in the feature event, the rough and tumble Las Vegas Dirt Track would give Vander Weerd fits as he would fall back as far as the 19th spot trying to dodge holes and ruts.
As the race moved on, Vander Weerd would start to figure out the fastest way around the track and soon began picking up positions. Keeping his machine grounded, Vander Weerd would work his way forward and earn an extremely hard fought sixth place finish.
Friday night teams would be greeted by and extremely slick and smooth surface, an extreme opposite of the night before, but it was a welcome change. Timing in fifth fastest during qualifying time trials, the Visalia, CA wheelman would finish second during heat race action.
Lining up in the second row of the feature event alongside brother, Jace, Richard would quickly jump up to the second spot.
Racing in a right pack of cars, Vander Weerd would get just a little out of shape, and there would be contact from another car. Though nothing happened immediately, the contact would damage a bleeder and Vander Weerd's tire would go flat later in the race forcing him to bring out a caution and surrender his spot up front.
Making the quick repair, Vander Weerd would return to action and end the trip with a 13th place finish.
"It was a bummer to have our night end like it did on Friday, but things like that happened in our sport," Vander Weerd said. "I am looking forward to this weekend, and getting to Tulare, CA and racing."
Richard and his Vander Weerd Racing team would like to thank Vander Weerd Construction, Stonegate Development, Mid-Valley Pipe, Basic Industries, Factory Kahne Shocks, Steve Watt Enterprises, FK Rod Ends, PXP Racewear and K&N for their support in 2017.