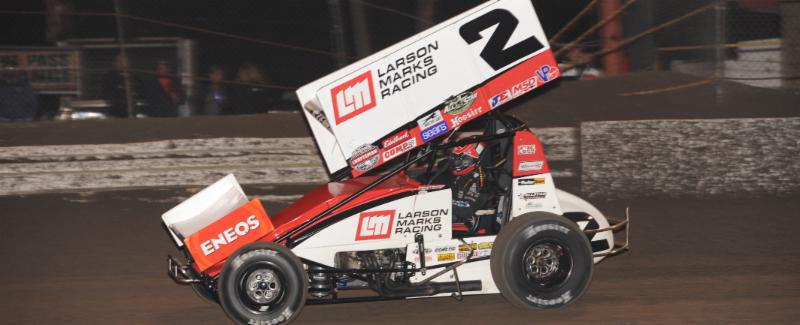 From Spire Sports & Entertainment
MOORESVILLE, N.C. (March 20, 2017) – Larson Marks Racing rolled into the California central valley last week for two nights of racing. The LMR team competed with the World of Outlaws Craftsman Sprint Car Series at Thunderbowl Raceway in Tulare on Friday and Saturday night, earning two top-10 finishes.
On Friday, Shane Stewart was the first car out in qualifying and earned the third-quickest lap time of the night. He started on the pole of the third heat race and won to transfer into the Craftsman Club Dash. After the four pill was drawn for the inversion, Stewart started on the outside of the front row in the dash and eventually won that as well. He then started on the pole of the 35-lap main event and held command up until a late race restart. After the caution came out with five laps remaining, Stewart switched up his racing line to try to block second-place running David Gravel and lost the lead on lap 32, ending the race with his fourth-consecutive runner-up finish at Tulare.
"We had a good car tonight, but the driver just didn't make the right moves late in the race," said Stewart. "Sometimes the yellows work for you and sometimes they work against you. Tonight they didn't quite work in our favor, but that's how racing goes. Hats off to David Gravel, he drove a great race there at the end and found the faster line. I also have to give a big thanks to Kyle Larson, Justin Marks and all my guys. We have 90 races a year, so you just have to come back and concentrate on the next one. Big thanks to all the fans for coming out to Thunderbowl Raceway tonight."
The following night, Stewart earned his first fast qualifying effort of the season and started on the pole of Heat 1. He finished second in the opening heat race and transferred into the Craftsman Club Dash. The six pill was drawn for the dash inversion, and Stewart started on the outside front row. He went on to make a last lap pass for the win, earning the pole starting position for the main. On the initial start of the 35-lap race, Stewart slipped back to third. After an early caution and ensuing restart, he slipped back two more positions as a result of starting on the bottom. Stewart slipped back one more position on a lap 11 restart, before the track started to take rubber and created single-file racing conditions. With very little passing due to the track conditions in the closing laps, Stewart maintained his position and finished in sixth-place.
The Larson Marks Racing team will be back in action on Friday, March 24 at Stockton (Calif.) Dirt Track for the FVP Western Spring Shootout.