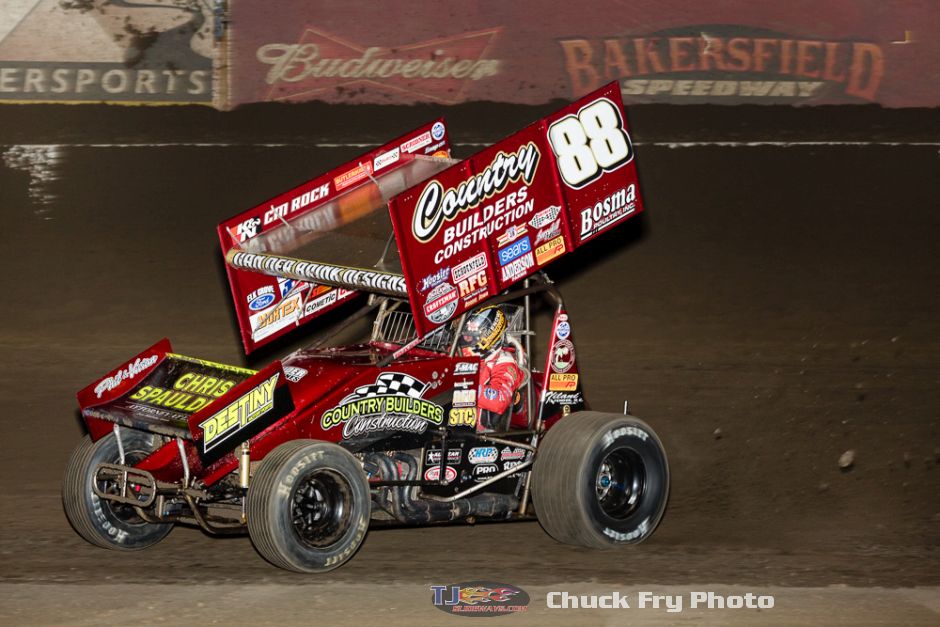 By Bill W
March 21, 2017 – For Dorothy, the was "No Place Like Home" in Kansas. That's where Terry McCarl and the TMAC Motorsports #24 team will be heading this weekend for a $15,000 to win event with the NCRA at 81 Speedway near Wichita. The Altoona, Iowa driver hopes to cap the weekend with the ASCS National Series at Randolph County Raceway near Moberly, Missouri on Sunday. The Altoona, Iowa driver competed with the World of Outlaws for four events at Las Vegas and Tulare, California the past two weekends.
TMAC would have liked to stay out west with the WoO, but has suffered some issues that need attention. "We have some engine issues that leave us without a 410," he says. "We'll be better off heading home and getting these sent off to the builders. We need to get home and get things done properly. It's just Doug (Rankin) and I out here and we want to get home and regroup."
It has been about eleven years since he has run at 81 Speedway. "I think the last time we ran Wichita was 2006," says TMAC. "It was one of my first races back from breaking my leg. I led for a while and ran third. (Donny) Schatz got by us along with someone else. It's also where I remember we found our dog Kasey, who was out in the 100 degree heat. I remember winning an All Star/NCRA race there one time too."
TMAC is appreciative of the big check being paid out on Saturday night. He's also looking forward to Sunday's event at Moberly, where he has always fared well on the high banks. "Wichita is a fun track and C. Ray Hall is putting up some big money," he says. "For teams like ours, who aren't following a particular series, it's important to support races like this. We appreciate events like that, and the one Gerry Olson is doing at Moberly on Sunday. We appreciate him putting that show on after Sedalia wasn't going to work."
He was also proud to represent Country Builders Construction last weekend at Tulare. "It's always fun to be with Country Builders Construction in California and represent the Offill family with the #88," says TMAC. "Tulare is one of my favorite racetracks. We didn't do the best this year, but as a fan I wouldn't miss it."
TMAC finished 17th in the prelim and pulled off in Saturday's finale. "We're just not getting qualified as well as we need to," he says. "It was heavy and rough, like usual, but I just love the racetrack. It really challenges you as a driver. You have to be up on the wheel just to time trial. I like challenging myself at tracks like that."
Things just didn't pan out as he had hoped at a track he has had great success. "We weren't too far off the pace," says TMAC. "We were going good in both features really. We just got caught on a few double-file restarts in the wrong place on the track. It just didn't work out for us, but getting track position is really important. I think the first night, we were 18th quick and we were one-tenth of a second off of eighth quick. We just need to improve a bit in that area."
McCarl Family Websites!
Driverwebsites.com develops the websites for the McCarl boys. Check out www.TerryMcCarl.com, as well as www.AustinMcCarl.com and www.CarsonMcCarl.com!
This Month in TMAC History!
TMAC set a new track record at the Thunderbowl Raceway in 2009. He set the mark at 12.713 seconds at the time.
"Tuesdays with TMAC"!
"Tuesdays with TMAC" is an up close and personal look at colorful sprint car veteran Terry McCarl. To receive "Tuesdays with TMAC", send an e-mail to sprntcar@hotmail.com with "TMAC" in the subject line.
TMAC Motorsports would like to thank sponsors SnowPlow Snow Pushers – www.TheSnowPlow.com, Country Builders Construction, Bosma Poultry, Destiny Motorsports, Simplot Grower Solutions, Price Chopper, Hiland Dairy, Searsboro Telephone Company, A.R.T. Speed Equipment, Berryhill Racing, Phil and Vivian, Justice Brothers/Gillund Enterprises, Vortex Racing, Hoosier Tire, Chris Spaulding – Attorney at Law, SuperFlow, Schoenfeld Headers, Rens Trucking, NutriShop – Maple Grove, MN, HRP, All Pro Cylinder Heads, Maxim Chassis, Bob and Beulah Elder, Engler Injection, Snap On Tools, Sposato Paint, Winters, Kilani Fender, Inc., DriverWebsites.com, CM Rock, Brown & Miller Racing Solutions, Pro Shocks, Bell Helmets, Burnett's Rock and Landscaping, Octane Ink, Morgan Strawberry Farms, Dynasty Stucco, Aurora Rod Ends, Crow Safety, KSE Steering, Snyder Lawn & Landscaping, Strange Performance, Saldana Racing Products, Scribner Plastics, Waterman Fuel Pumps, Butlerbuilt and Mote Fasteners.