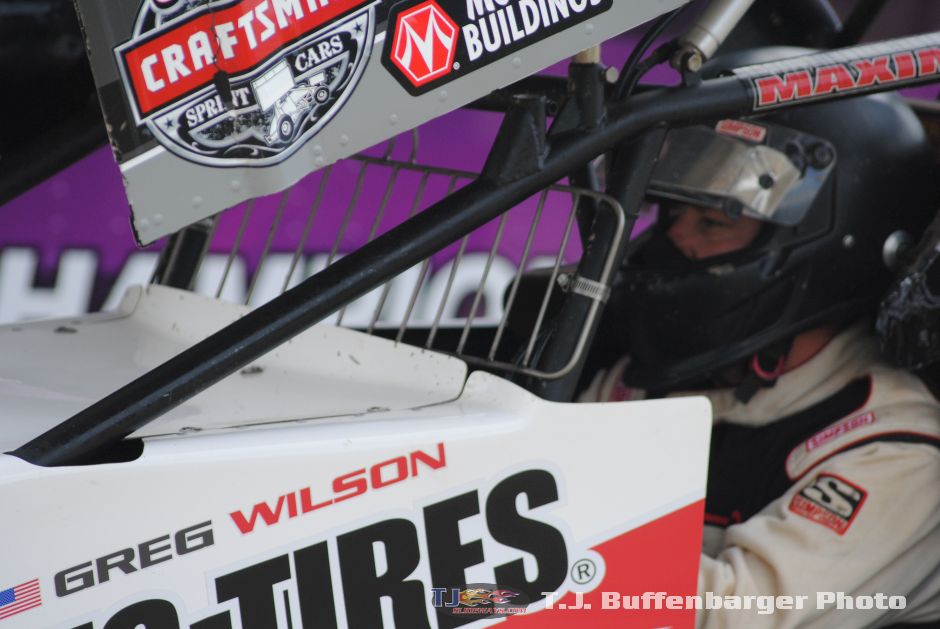 From Scott Daloisio
PERRIS, Ca. (March 26, 2017) — Just two days after the World of Outlaws Craftsman Sprint Car Series makes its lone 2017 Southern California appearance at Perris Auto Speedway this Saturday night, race fans will get the chance to meet series regular Greg Wilson at the Bud's Tire Pros location at 15967 Wood Road in Riverside on Monday, April 3rd, from 11:00 AM to 2:00 PM. In addition to meeting the driver, attendees can also enter for a chance to win a set of Hercules tires.
Wilson will be signing autographs, answering question and posing for photos throughout the day. In addition, his #20w Hercules Tires sponsored 900 horsepower World of Outlaws Sprint Car will also be available for photos and for fans to get an up-close look at one of the fastest sprint cars in the country.
The drawing for the tires will take place at the store at 1:00 PM on the 3rd. Fans can sign up for free when they arrive. As well as the set of Hercules Tires (maximum $400.00 value) there will be other prizes from Hercules and Bud's that will be given away during the appearance.
Wilson, 41, who is contesting his 24th season racing sprint cars in 2017, won the "Kevin Gobrecht Rookie of the Year" award with the World of Outlaws in 2016. The Benton Ridge, Ohio resident captured a main event win at "The Dirt Track at Charlotte" in North Carolina on his way to the prestigious rookie award. Prior to that, he won another World of Outlaws main event at the "Four Crown Nationals" at Ohio's Eldora Speedway in 2014. Before becoming a World of Outlaws regular last year, Wilson had already won more than 100 sprint car main events in the Midwest and was a two-time (2006 and 2007) champion with the All-Star Circuit of Champions.
As well as the autograph & photo session and giveaways, KOLA 99.9 FM will be on site broadcasting live with longtime, popular So Cal DJ Vic Slick.
Bud's Tire Pros has been proudly serving the Riverside, Moreno Valley communities for 20 years now. From their three locations, their knowledgeable and friendly staff of automotive professionals are committed to providing you with a first-class experience for you and your vehicle. Bud's serves customers from Riverside, Moreno Valley, Corona and surrounding areas. For more information on Bud's Tire Pros, please click on the following link: http://www.budstirepros.com/
Fans who purchase reserved seat tickets in advance to the "SoCal Showdown" will receive a free "World of Outlaws Fan Pit Pass." The fan pit pass will allow the spectators to get up close to the WoO's to take photos, meet the drivers, get autographs and purchase merchandise straight from their favorite teams. Advance tickets are available 24-hours a day at the following link: http://www.woosprint.com/perris-auto-speedway or by calling at 1-844-347-8849. For those who do not wish to purchase advance tickets, there will be plenty available for everyone at the ticket window on the night of the race.
The complete 2017 Perris Auto Speedway schedule is at the end of this release.
Perris Auto Speedway wants to thank its corporate partners for the 2017 season. All Coast Construction, Amsoil, Ayers Hotel and Spa, Brass and Bass Firearms & Fishing Supplies, Budweiser, Bud's Tire Pro, Center Point Church, Champion Towing, City of Perris, Country Values Magazine, Daytona Boat & RV Storage, Ed Moore Bullet Proof Driveshaft, Edelbrock, Green Sheet, HD Industries, Hoosier Tires, Indiana Truck Salvage, K&N Engineering, Luke's Transmission, Paul Oil Company, Pepsi-Cola, Pick-A-Part Auto Salvage, Pole Position, PrintItNow.com, Scott Sales, Shaver Specialties, Square H, Sunstate Equipment, Swedish Speed, Original Tommy's Burgers, Trench Shoring, Valley News, Vista Paint and Weedmaps.
To keep up with all the latest Perris Auto Speedway news, photos, gossip and receive special offers, please use the following links:
Facebook: https://www.facebook.com/pages/Perris-Auto-Speedway/113876798686480?ref=hl
Twitter: Perris Auto Speedway on Twitter.
Instagram: https://www.instagram.com/perrisautospeedway/
Website: http://perrisautospeedway.com/
Video and DVD productions of all racing events at Perris Auto Speedway are available from Loudpedal Productions. For more information on these productions you can contact them by calling (805) 844-3854, E-mailing mailto:trtruex@gmail.com or you can visit the web site LoudPedal Productions
Perris Auto Speedway is located on the Lake Perris Fairgrounds (home of October's Southern California Fair), approximately one-hour east of Los Angeles and one-hour North of San Diego. To get to the track, take the 215 freeway, exit on the Ramona Expressway and go three miles east to the fairgrounds.