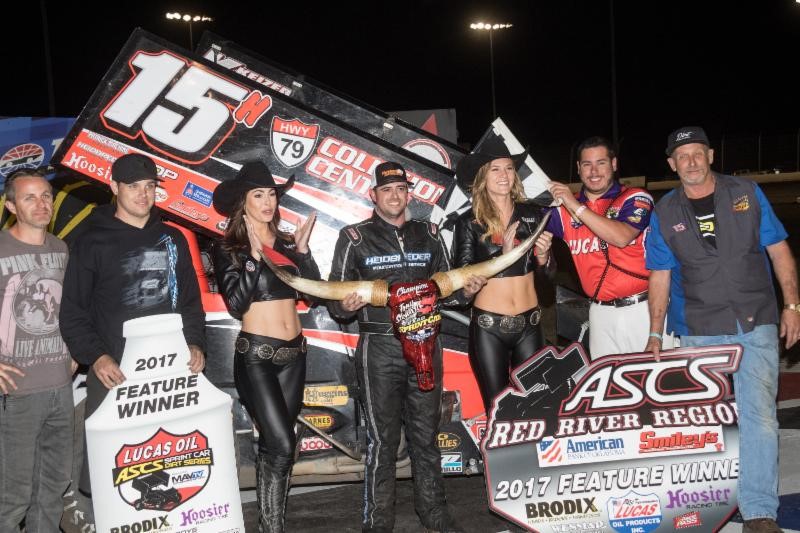 By Bill W
April 10, 2017 – Sam Hafertepe Jr. and the Keith Dobbs #15H sprint car team are officially in the record books with ASCS after sweeping the Tony Stewart Texas Sprint Nationals at the dirt track at Texas Motor Speedway in Fort Worth last weekend. The four straight wins to open a season is a record with the Lucas Oil ASCS National Series. The Sunnyvale, Texas native will try to tie Gary Wright's series' record of consecutive wins (five set in 2005) this Saturday at the Missouri State Fair Speedway in Sedalia.
Sam would have to work in Friday night's preliminary. He drew the pole for his heat. "We really didn't want to draw the pole for the heat on Friday," he says. "You have to win it, and even if you do, it kills you on points a little bit. There wasn't a lot of passing though, and we were able to win it."
That set him up to start fifth in his Qualifier. "They reworked the track," says Sam. "When we got out there, there really wasn't anywhere to go. You had to ride behind the guy in front of you and hope they messed up. We got beat on the start and fell back a little bit. We were able to get by a couple of guys and get back up to fifth."
Sam would start back in row seven, so getting to the front would not be easy. "They had worked on the track and it started getting wider," he says. "I knew we had some laps before it might take rubber all the way around. We thought about some things we'd done in the past. I looked at the notes and made some adjustments. We knew we had to get after it right away."
He started his charge right away. "We had a yellow after the first lap, and we had picked up four spots," says Sam. "We were running fourth after lap five when we had a red. I looked at my left rear, and I thought we were in trouble. I had been running the car pretty hard. I decided to try and take it a little easier to get by the next few guys. I was really confident that we had the best car out there at that point. We started diamonding turns one and two and it paid dividends. We were getting such a good drive off of two that we were able to pass quite a few that were in front of us. We were able to get by (Aaron) Reutzel and (Danny) Jennings that way."
The last target for Sam was leader, Wayne Johnson. "The rubber was down on the bottom," he says. "I pulled next to Wayne on the outside in three and four and decided to try it out there. I got as close as I could to him, and grabbed some of that rubber. Once we got around him, I ran two more laps hard, and then kind of rode to the checkers. I knew we had a good car. I was just concerned about the left rear tire at that point. None of the harder compounds that we would have chosen were available, and it was bald when we were done."
For Saturday's finale, the draw saw Sam pull the pole for the main event. "I don't normally like to start on the pole," he says. "You're in a position where you can't see what drivers are doing behind you. There may be different lines that are forming, and you could be a sitting duck. But I knew we had a really good car."
The track conditions surprised the team a bit. "They kept up with the track better on Saturday," says Sam. "They misted it right before we got out there, and that caught us off guard a little bit. We were way too tight early on. Wayne was able to get a good run on us the first few laps. At that point, the track started to get the moisture off. It started to come to us a little bit and we were able to get by him."
From there, Sam went on to win and remain perfect on the early ASCS season. "We knew if we ran a solid pace and didn't catch lapped cars too fast, that we would be able to win the race," he says. "We caught lapped cars around lap ten or eleven, and I think Wayne was reeling us in. We had a red there that kind of saved us. Out in clean air, we definitely had the best car. We were tight in lapped traffic. We had another red and that got me out in clean air and we were going good. It was a great feeling to win both last weekend. Hopefully, we can keep it going in Sedalia."
Sam Online
Website: www.Sam15.com
Twitter: @SamHafertepeJr
Facebook: www.facebook.com/pages/Sam-Hafertepe-Jr-and-The-Plumbfast-Racing-Team/116304711773031?ref=br_tf
Sam's Weekly Releases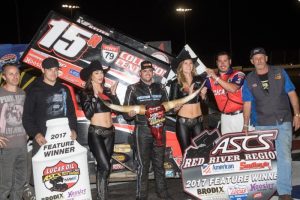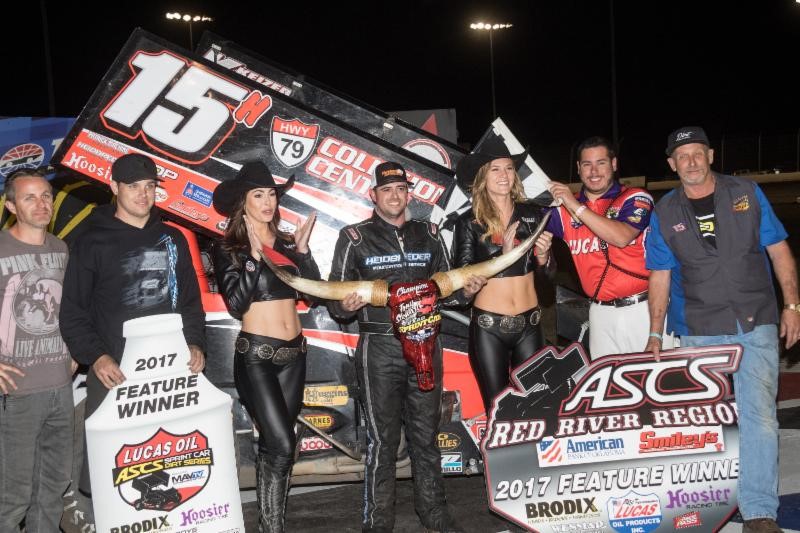 If you'd like to be added to Sam's e-mail list for weekly releases, e-mail sprntcar@hotmail.com with "Sam" in the Subject Line.
Sam would like to thank Highway 79 Collision Center, the Sparks Family, Kiebler & Sons Lawn and Landscaping, Keizer Aluminum Wheels, Champion Oil, NAPA Auto Parts of Franklin and Sherwin Williams, FK Rod Ends, 21R Youth Racing League, Huggins Cams, CP Carrillo, Callie's, Simpson Racing Products, Kinsler Injection, Barnes Oil Systems, DMI, Fisher Racing Engines, Moose Blocks, J&J Auto Racing, KSE, Smiley's Racing Products, Hoosier Tire, Brown & Miller Racing Solutions.