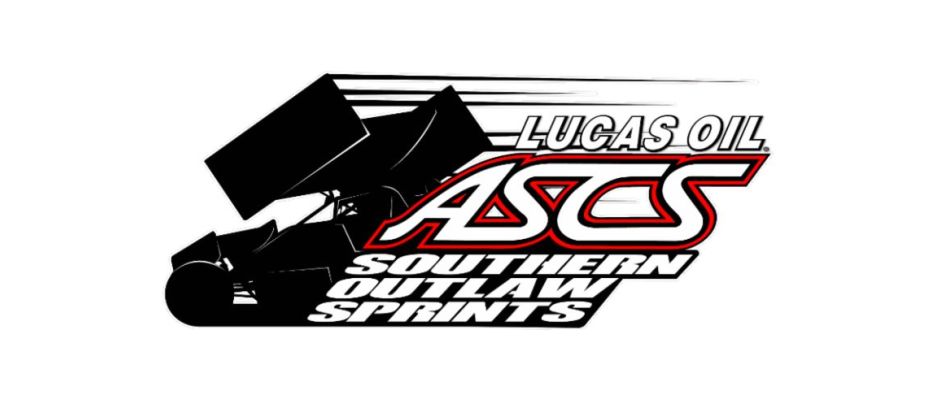 From Bryan Hulbert
LOXLEY, Ala. (April 29, 2017) — Having to settle for Silver on Friday night, Mississippi's Michael Miller upgraded to Gold on Saturday with the Lucas Oil ASCS Southern Outlaw Sprints at the Deep South Speedway for his ninth career victory and first of the 2017 season.
Taking the green from the second row, Miller wasted little time advancing to the point. Chased by Friday night's feature winner, Timmy Thrash, the current series point's leader advanced into slower traffic as Thrash was left to contend with Brian Bell, then Harli White.
Through two cautions to settle the final laps of Saturday's feature event, Miller was able to stave off any challenges from the No. 09 with Thrash able to hold on to the runner-up position. Harli White crossed third but would ended up being docked to fifth for a restart infraction, thus advancing Florida's A.J. Maddox to the final podium step with Kyle Amerson moving to fourth.
Bouncing back from an early caution, Lane Whittington came back to finish sixth with Andy McElhannon in tow. Jake Knight from 14th came up to eighth with Terry Witherspoon from 16th to ninth. Looking to end his night with a top-five finish, Brian Bell would ended up tenth following a spin in the closing laps.
The Lucas Oil ASCS Southern Outlaw Sprints are scheduled to race again on May 20 at the Southern Raceway in Milton, Fla.
For updates on the Lucas Oil ASCS/SOS, the Lucas Oil ASCS National Tour, or any of the seven overall regions that make up the over 150 dates of racing in 2017 across the ASCS Nation, log onto http://www.ascsracing.com.
Race Results:
ASCS Southern Outlaw Sprints
Deep South Speedway – Loxley, Ala.
Saturday, April 29, 2017
Car Count: 18
Heat 1 (8 Laps): 1. 13-Todd Fayard[2]; 2. 9-Lane Whittington[3]; 3. 3A-A.J. Maddox[7]; 4. 01-Shane Morgan[4]; 5. 43M-Bruce Durden[6]; 6. 52-Cody Karl[1]; 7. 0X-Clint Weiss[5]
Heat 2 (8 Laps): 1. 23B-Brian Bell[3]; 2. 00-Tristan Lee[2]; 3. 116-Nick Snyder[1]; 4. 42-Andy McElhannon[6]; 5. 93-Jake Knight[5]; 6. 43-Terry Witherspoon[4]; 7. 99-Ray Stevison[7]
A Feature (25 Laps): 1. 4M-Michael Miller[3]; 2. 09-Timmy Thrash[1]; 3. 3A-A.J. Maddox[5]; 4. 29-Kyle Amerson[4]; 5. 17W-Harli White[2]; 6. 9-Lane Whittington[9]; 7. 42-Andy McElhannon[10]; 8. 93-Jake Knight[14]; 9. 43-Terry Witherspoon[16]; 10. 23B-Brian Bell[6]; 11. 13-Todd Fayard[7]; 12. 00-Tristan Lee[8]; 13. 116-Nick Snyder[11]; 14. 99-Ray Stevison[18]; 15. 01-Shane Morgan[12]; 16. 43M-Bruce Durden[13]; 17. 0X-Clint Weiss[17]; 18. 52-Cody Karl[15]