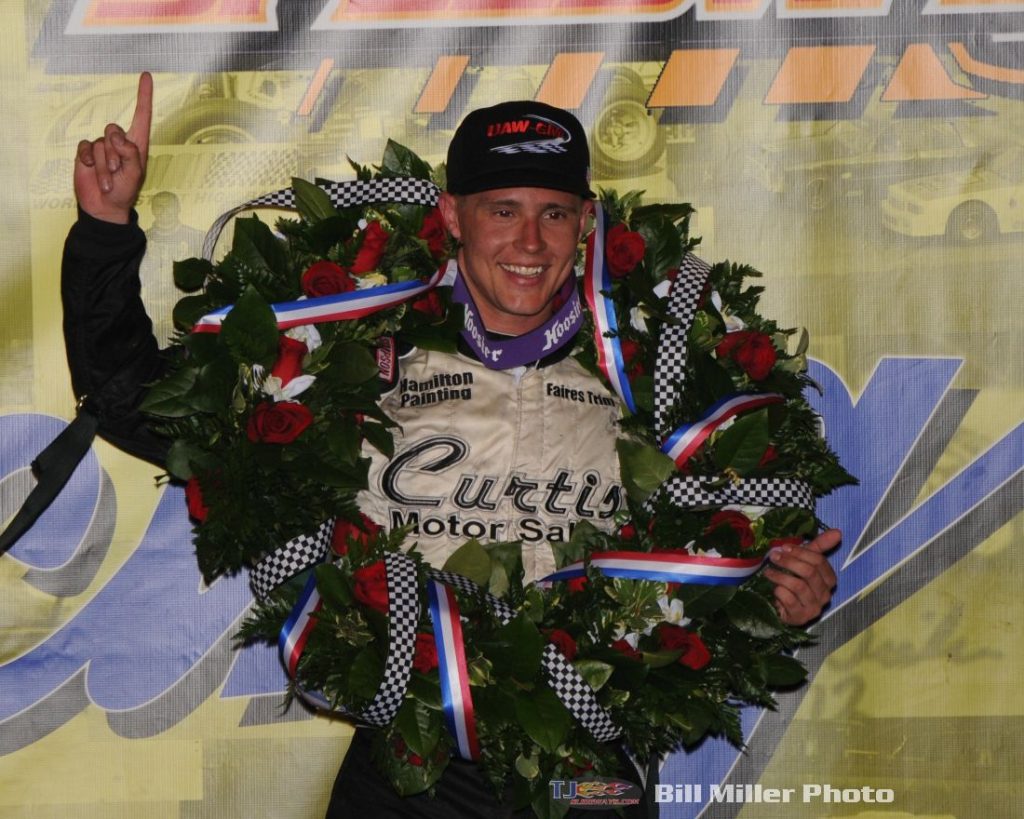 By T.J. Buffenbarger
ANDERSON, Ind. (May 27, 2017) – Kyle Hamilton broke through to victory lane in the Pay Less Little 500 Saturday night at Anderson Speedway. After three top five finishes including one podium finish Hamilton and the Klatt Motorsports team combined a fast car with tremendous late race strategy for the victory.
"We've been right there in the top five, but had some unfortunate events that prevented us from getting the win. Tonight, we pulled it off," said Hamilton. "A lucky pit stop early played into our favor and we were gaining on the leaders exponentially. Just a crazy race, I can't believe we won it."
Hamilton pitted before the lead duo of Kody Swanson and Bobby Santos, III late in the race. That caution was followed by the longest green flag run of the race, putting Swanson and Santos in poor position late to make their second required pit stop. Hamilton took advantage passing Santos under green flag conditions and taking the lead from Swanson when he spun after nearly tangling with a car coming out of the pit area under green.
"I knew it was going to be (Bobby) Santos and (Kody Swanson). You go to any pavement race in the country and its going to be Santos and Swanson up front. I knew it was going to be between those two and they kind of got the upper hand on me in the first half, but give it up to Bob East. He made us pit earlier than them and sure enough get the longest green flag run of the race. That's what put us in victory lane tonight."
Once Hamilton saw the leaders struggling during the long green flag run over the last 150 laps of the event he picked up the pace.
"When I noticed the leaders didn't get a chance to pit. I saw them out there struggling and it was like smelling blood in the water. We were gaining on them so quick, and I was putting laps on them.
Pole sitting Caleb Armstrong led the opening laps with Swanson and Hamilton in pursuit at the lead trio distanced themselves from the rest of the field. After several early caution flag periods including rookie Austin Nemire's hard contact with the turn one wall Armstrong found himself under fire from Swanson for the lead.
On lap 102 Armstrong slipped up the track racing with Swanson and allowed Hamilton to take the lead. Hamilton pulled away until Armstrong spun on the backstretch. As Armstrong spun Aaron Pierce went over a wheel and slid upside down to bring out the red flag. The red was a huge break for Armstrong as the lap counter stopped while only losing two positions because of the spin.
After giving up the lead during the first cycle of pit stops around lap 200 Shane Cottle assumed the lead after pitting earlier in the stint. Cottle pulled away while Hamilton, Swanson, Santos found themselves racing up through the field.
When the caution appeared on lap 297 Swanson, Santos, and Hamilton found themselves behind Cottle for the lead. When Cottle pitted on lap 300 Swanson inherited the lead and took off opening a full straightaway advantage.
On lap 339 a key caution flag appeared when Don Hamilton Jr. came to rest on top of a safety barrier on the backstretch. Several of the leaders including Hamilton pitted while Santos and Swanson stayed out. Green flag laps began to tick off without a caution flag to allow Swanson or Santos to pit. Eventually Hamilton worked into third and passed Santos for second on lap 445.
When Swanson needed a caution while leading with 32 laps to go he became the caution after spinning in an unusual sequence while racing for position while Cottle was being pushed out of the pits after an unscheduled green flag pit stop. Santos used the late caution to pit, but this put him one lap behind Hamilton.
Late in the race Santos hustled around Hamilton to get his lap back. After having a couple of close calls with slower traffic Hamilton paced himself over the final 13 laps to pick up his first career Little 500 victory. Santos held on for second while former NASCAR champion Tony Stewart picked up the final spot on the podium during his first Little 500 start.