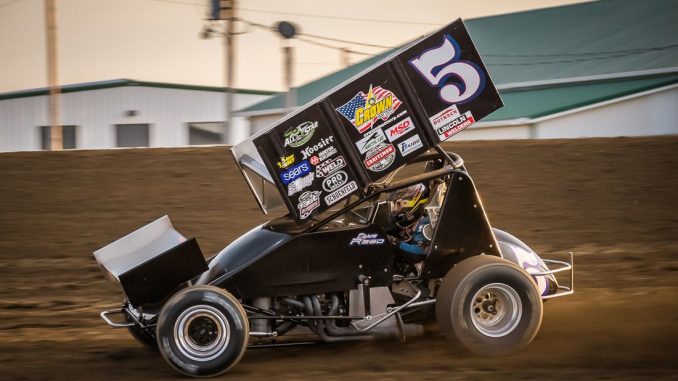 By Brian Liskai
ATTICA, Ohio (June 2, 2017) – Byron Reed debuted a new car Friday, June 2 at Attica Raceway Park and promptly dominated the feature for the All Pro Aluminum Cylinder Heads FAST Championship 410 Series presented by Ohio Logistics for his second straight win at the track. Reed evened the score in round #3 of the North verses South battle for sprint car supremacy in Ohio as the FAST series hosted the Ohio Sprint Car Series (OSCS).
Reed, an eight time Attica track champion and four time FAST champion, crossed under the checkers in the 30 lap feature on Kear's Speed Shop/Edward Jones Investments/Sutton Bank/AmeriGas Night nearly 12 car lengths ahead of Andrew Palker. It was his 37th career win at "Ohio's Finest Racing" speedplant.
"I hate to be leading there at the end because you don't know if anyone is coming. I just tried to hit my marks…I adjusted my entry into turn three, entering a little higher so I wouldn't be so close to hitting the infield tires and that seemed to help. This is actually a new car. I wasn't so sure about it early in the night; it didn't feel too good. We just did what we normally do and hoped the track would come to us and it did. I want to thank Shirley (Kears). She's been a long time support of racing and it's nice to see her smiling face in the pits every night. I want to thank my crew, Dick, Kevin, Kurt and my mom and dad and son," said Reed of his Crown Battery backed #5.
Bellevue, Ohio's Mike Bores came out on top of the Summit Racing Equipment UMP Late Model feature for his second win of the season. It was easy though as Dave Hornikel and Devin Shiels battled him the entire 25 laps. It was Bores fourth career win at Attica.
"I heard a motor and all I had in the back of my mind was hustle…hustle the car. This is a new car. We've been playing with it and finally got it on the horse track," said Bores beside his Underground Utilities Inc., Kistler Engines, York Fabrication; Kistler Engines; Cam Tech Industrial Services; Hawk's Auto Reconditioning backed #15B.
Fremont, Ohio's Paul Weaver – the defending track champion of the Fremont Fence 305 Sprints – dominated the 25 lap feature, taking the checkers 3.8 seconds ahead of Kyle Capodice for his fifth win of the season at Attica. Weaver leads all 305 sprint competitors in career wins at the track with 40. While everyone else was glued to the bottom groove Weaver blasted away at the thin cushion on the top.
"I was looking for the area where the 410s put a little rubber down. You had to get brave and slide up to it and have faith you wouldn't go over the edge. I figured it out because I screwed up one time. I want to thank Bob Hampshire, Dave Rice, my wife Andrea and if it wasn't for Daniel for working on the car and helping me I wouldn't even have a way here. I want to thank Bruce and Rob Robenalt for building me a shock dyno," said Weaver beside his M&L Excavating; Hampshire Racing Engines; Schiets Motorsports, Weaver Performance Center; Tender Touch Car Wash; Miller Rigging backed machine.
Palker and Jody Keegan brought the field to green for the Hammer Pallets 410 Sprint feature with Palker gaining the advantage over Chris Andrews, Keegan, DJ Foos, Broc Martin and Reed gained five spots on the opening lap. Palker pulled away slightly as Andrews and Foos ran nose to tail while Reed took fourth by the second lap. Sean Zemunik brought out the caution with six laps scored just as Reed drove under Foos and Andrews into the runner-up position.
On the ensuing restart Palker stayed on the bottom groove with Reed glued to his rear bumper while Andrews and Foos continued to battle for third. With 10 laps scored Palker led Reed, Foos, Carson Macedo and Andrews. Palker edged up the track entering turn three on the next lap and Reed pounced, diving under for the lead. Reed encountered lapped traffic on lap 13 but was able to build on his lead as Palker held off Foos, Andrews and Macedo.
The caution flew for Dale Blaney who slipped off the track on lap 15. Reed executed a fantastic restart and pulled away from Palker, Foos, Macedo, Andrews, Jordan Ryan and Martin. Macedo took third on lap 18 and tried to close on Palker as Reed's lead grew. Martin stopped with six laps to go, giving the field one final shot at Reed. Reed got another great restart and drove away for the win. Palker held on for second while Foos got around Macedo on that lap 24 restart to claim third to continue to lead the FAST point standings. Macedo, Andrews, Ryan, 14th starting Danny Smith, 17th starter Stuart Brubaker, Shawn Valenti and Thomas Meseraull rounding out the top 10.
Hornikel and Jeff Warnick paced the field for the 25 lap late model feature. Hornikel grabbed the lead at the drop of the green with third starting Bores darting into second with Larry Bellman, Warnick, Doug Drown, Shiels, Rusty Schlenk and Cody Scott giving chase. Bores immediately raced under Hornikel to challenge for the lead but a caution for Ryan Markham and Ken Hahn with three laps scored kept the running order Hornikel, Bores, Bellman, Drown, Shiels.
When the green returned so did the battle between Hornikel and Bores with Shiels moving into third on lap six just as the caution flew for debris. Now on the restart it was a three car battle for the top spot between Hornikel, Bores and Shiels with Drown, Bellman and Schlenk giving chase. That three car war continued until lap 10 when Bores slipped under Hornikel for the lead. But, Hornikel didn't give up as he and Shiels hounded Bores until a caution flew for Schlenk with nine laps remaining.
On the restart Shiels slipped into second and pressured Bores with Hornikel staying within striking distance as Drown closed. Bores could not shake Shiels who flashed under the leader several times only do see Bores slam the door. Bores hit his marks perfectly and took the victory over Shiels, Hornikel, Drown and Scott.
In the 25 lap 305 sprint feature Jason Keckler and last week's winner Jamie Miller comprised the front row with Keckler taking the lead. Keckler built on his advantage as Weaver had his hands full with Kyle Capodice with Jordan Ryan, Miller, Landon LaLonde, Nate Dussel and Kevin Mingus in tow. Once Weaver found the top side to his liking, he closed on Keckler before the caution flew for Chase Baker on lap 8. On the restart Weaver blasted to the top of the track and took the lead and quickly pulled away as Capodice took second on lap 10.
With 10 laps to go Weaver held a three second lead over Capodice, Keckler, Dussel, Steve Rando, Ryan, LaLonde and John Ivy. Lap after lap Weaver built upon his lead and when the checkers flew his margin of victory was nearly four seconds. Capodice, Keckler, Rando and Dussel rounded out the top five.
Attica Raceway Park will be back in action Friday, June 9 for Burns Electric/Gordon Lumber Mid-Season Championship Night. It is a point night for the All Pro Aluminum Cylinder Heads FAST Championship 410 Series and the JLH General Contractor FAST 305 Championship Series. It will be double points for the sprints as the dirt trucks also join the racing card.
For more information go to www.atticaracewaypark.com or follow the track on Twitter @atticaracewyprk or on Facebook at www.facebook.com/atticaracewaypark and Instagram at attica_raceway_park.
Attica Raceway Park
June 2, 2017
AmeriGas/Sutton Bank/Kear's Speed Shop/Edward Jones Investments Night
[*] indicates starting position
Hammer Pallets 410 Sprints
Qualifying
1.16-Chris Andrews, 12.263; 2.68G-Tyler Gunn, 12.397; 3.35-Stuart Brubaker, 12.504; 4.5K-Adam Kekich, 12.545; 5.27Z-Sean Zemunik, 12.681; 6.97-Broc Martin, 12.695; 7.9X-Thomas Meseraull, 12.697; 8.5R-Byron Reed, 12.743; 9.7-Shawn Valenti, 12.779; 10.60-Jody Keegan, 12.815; 11.7J-Joe Swanson, 12.857; 12.9Z-Duane Zablocki, 12.875; 13.8J-Jess Stiger, 12.889; 14.5T-Travis Philo, 12.892; 15.17-Jared Horstman, 12.904; 16.3G-Carson Macedo, 13.029; 17.11N-Dale Blaney, 13.047; 18.7K-Cale Conley, 13.077; 19.23-DJ Foos, 13.084; 20.9-Jordan Ryan, 13.117; 21.56R-Ryan Myers, 13.157; 22.4-Danny Smith, 13.186; 23.57X-Andrew Paulker, 13.254; 24.59-Bryan Nuckles, 13.395; 25.22M-Dan McCarron, 13.443; 26.7C-Phil Gressman, 13.448; 27.91-Cale Thomas, 13.549; 28.83X-Nate Reeser, 13.699; 29.45L-Brian Lay, 13.726; 30.22D-Josh Davis, 13.778; 31.14-Daryl Daugherty, 14.363; 32.12-Daniel Harding, 99.999;
Heat 1, Group A – (8 Laps, top 4 to A)
1. 16-Chris Andrews[4] ; 2. 27Z-Sean Zemunik[1] ; 3. 68G-Tyler Gunn[3] ; 4. 5R-Byron Reed[5] ; 5. 35-Stuart Brubaker[2] ; 6. 8J-Jess Stiger[6] ; 7. 14-Daryl Daugherty[7] ; 8. 12-Daniel Harding[8]
Heat 2, Group B – (8 Laps, top 4 to A)
1. 97-Broc Martin[3] ; 2. 60-Jody Keegan[2] ; 3. 9Z-Duane Zablocki[5] ; 4. 7J-Joe Swanson[1] ; 5. 22M-Dan McCarron[7] ; 6. 22D-Josh Davis[6] ; 7. 5K-Adam Kekich[4]
Heat 3, Group C – (8 Laps, top 4 to A)
1. 3G-Carson Macedo[1] ; 2. 7-Shawn Valenti[3] ; 3. 9-Jordan Ryan[7] ; 4. 9X-Thomas Meseraull[4] ; 5. 17-Jared Horstman[2] ; 6. 11N-Dale Blaney[5] ; 7. 7K-Cale Conley[6] ; 8. 56R-Ryan Myers[8]
Heat 4, Group D – (8 Laps, top 4 to A)
1. 23-DJ Foos[4] ; 2. 57X-Andrew Paulker[2] ; 3. 4-Danny Smith[3] ; 4. 7C-Phil Gressman[5] ; 5. 59-Bryan Nuckles[1] ; 6. 91-Cale Thomas[6] ; 7. 45L-Brian Lay[8] ; 8. 83X-Nate Reeser[7]
B-Main 1 – (8 Laps, top 2 to A)
1. 35-Stuart Brubaker[1] ; 2. 8J-Jess Stiger[3] ; 3. 12-Daniel Harding[7] ; 4. 5K-Adam Kekich[6] ; 5. 22D-Josh Davis[4] ; 6. 22M-Dan McCarron[2] ; 7. 14-Daryl Daugherty[5]
B-Main 2 – (8 Laps, top 2 to A)
1. 11N-Dale Blaney[3] ; 2. 17-Jared Horstman[1] ; 3. 56R-Ryan Myers[7] ; 4. 45L-Brian Lay[6] ; 5. 59-Bryan Nuckles[2] ; 6. 83X-Nate Reeser[8] ; 7. 91-Cale Thomas[4] ; 8. 7K-Cale Conley[5]
A-Main 1 – (30 Laps)
1. 5R-Byron Reed[11] ; 2. 57X-Andrew Paulker[1] ; 3. 23-DJ Foos[5] ; 4. 3G-Carson Macedo[9] ; 5. 16-Chris Andrews[3] ; 6. 9-Jordan Ryan[13] ; 7. 4-Danny Smith[14] ; 8. 35-Stuart Brubaker[17] ; 9. 7-Shawn Valenti[7] ; 10. 9X-Thomas Meseraull[8] ; 11. 7C-Phil Gressman[16] ; 12. 68G-Tyler Gunn[10] ; 13. 11N-Dale Blaney[18] ; 14. 60-Jody Keegan[2] ; 15. 9Z-Duane Zablocki[12] ; 16. 8J-Jess Stiger[19] ; 17. 17-Jared Horstman[20] ; 18. 27Z-Sean Zemunik[6] ; 19. 97-Broc Martin[4] ; 20. 7J-Joe Swanson[15]
Hard Charger: 5-Byron Reed +10
Fremont Fence 305 Sprints –
Heat 1 – (8 Laps)
1. 25-Jason Keckler[2] ; 2. 19R-Steve Rando[8] ; 3. 1-Nate Dussel[3] ; 4. 09-Justin Adams[6] ; 5. 47-Matt Lucius[5] ; 6. 66D-Chase Dunham[7] ; 7. 3X-Brad Keckler[1] ; 8. 14-Luke Daugherty[4]
Heat 2 – (8 Laps)
1. 1W-Paul Weaver[2] ; 2. 8-Bobby Clark[3] ; 3. 66-Jamie Miller[1] ; 4. 12-Kyle Capodice[7] ; 5. 77I-John Ivy[5] ; 6. 36-Seth Schneider[6] ; 7. 9R-Dustin Rall[4] ; 8. 23-Chase Baker[8]
Heat 3 – (8 Laps)
1. 11X-Jordan Ryan[3] ; 2. 2-Ricky Peterson[1] ; 3. 2L-Landon LaLonde[4] ; 4. 94K-Kevin Mingus[2] ; 5. 11G-Luke Griffith[7] ; 6. 4*-Tyler Street[5] ; 7. 75-Jerry Dahms[6]
A-Main 1 – (25 Laps)
1. 1W-Paul Weaver[6] ; 2. 12-Kyle Capodice[3] ; 3. 25-Jason Keckler[1] ; 4. 19R-Steve Rando[11] ; 5. 1-Nate Dussel[12] ; 6. 77I-John Ivy[14] ; 7. 36-Seth Schneider[17] ; 8. 2L-Landon LaLonde[8] ; 9. 8-Bobby Clark[10] ; 10. 2-Ricky Peterson[9] ; 11. 47-Matt Lucius[13] ; 12. 11X-Jordan Ryan[5] ; 13. 9R-Dustin Rall[20] ; 14. 11G-Luke Griffith[15] ; 15. 4*-Tyler Street[18] ; 16. 94K-Kevin Mingus[7] ; 17. 75-Jerry Dahms[22] ; 18. 14-Luke Daugherty[19] ; 19. 66-Jamie Miller[2] ; 20. 23-Chase Baker[21] ; 21. 09-Justin Adams[4] ; 22. 66D-Chase Dunham[16]
Hard Charger: 36-Seth Schneider +10
Late Models –
Heat 1 – (8 Laps)
1. 91-Rusty Schlenk[3] ; 2. 77-Steve Kester[1] ; 3. 59-Larry Bellman[5] ; 4. 69-Jeff Warnick[2] ; 5. 19-Cody Scott[9] ; 6. 30-Nate Potts[8] ; 7. 28-Kent Brewer[6] ; 8. 42*-Bob Mayer[7] ; 9. 69R-Doug Baird[4]
Heat 2 – (8 Laps)
1. 240-Doug Drown[1] ; 2. 71-Dave Hornikel[2] ; 3. 15B-Mike Bores[3] ; 4. 51-Devin Shiels[8] ; 5. X3-Dan Wallace[5] ; 6. 27-Ken Hahn[6] ; 7. 5M-Ryan Markham[7] ; 8. 03-Jim Gingery[4]
A-Main 1 – (25 Laps)
1. 15B-Mike Bores[3] ; 2. 51-Devin Shiels[7] ; 3. 71-Dave Hornikel[1] ; 4. 240-Doug Drown[4] ; 5. 19-Cody Scott[9] ; 6. 59-Larry Bellman[5] ; 7. 77-Steve Kester[8] ; 8. 5M-Ryan Markham[14] ; 9. 30-Nate Potts[11] ; 10. 28-Kent Brewer[13] ; 11. X3-Dan Wallace[10] ; 12. 03-Jim Gingery[16] ; 13. 69-Jeff Warnick[2] ; 14. 42*-Bob Mayer[15] ; 15. 91-Rusty Schlenk[6] ; 16. 69R-Doug Baird[17] ; 17. 27-Ken Hahn[12]
Hard Charger: 5M-Ryan Markham +6