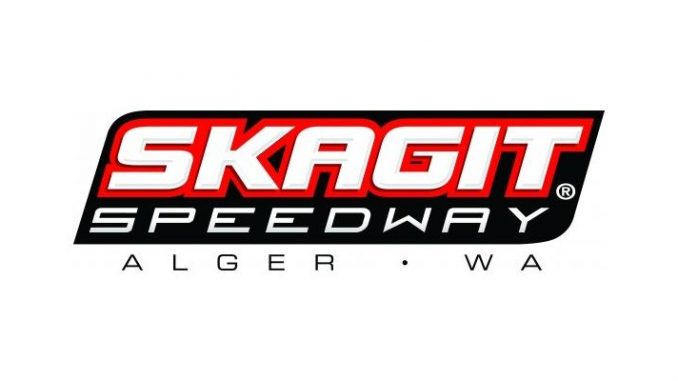 ALGER, Wa. (June 3, 2017) – Sun drenched Skagit Speedway put on a great night of racing Saturday night, with a fast track providing track record speeds and awesome racing to go with it. Kelsey Carpenter recorded a night for the ages in setting a track record in the Cook Road Shell Sportsman Sprints and winning the main event. Lawrence O'Connor, Tristin Thomas and Curtis Cameron also collected wins.
Kelsey Carpenter has had many great nights of racing at Skagit Speedway, but topping this one will be hard to do. After breaking the previously established track record by two tenths of a second, Carpenter came from eighth place to take the win in the Cook Road Shell Sportsman Sprint division. Carpenter was hauling early, sitting second after the opening lap. By lap four, he'd found a smooth line around the outside of Brett McGhie to take the lead. Steve Parker and Trevor Cook found their ways forward on the field as well, challenging Carpenter at times as Kelsey approached slower cars, but the night belonged to Carpenter who took his third Skagit Speedway win of the year and fourth overall in six total races. Cook took second with Parker third. Heat wins went to Michael Millard, James Bundy and Devin Barnes.
It was a tale of two races for Lawrence O'Connor on his way to victory lane in the High Society Modifieds. O'Connor made multiple lines changes early in the race while figuring out where his car would be happiest. After finding the outside lane in turn three to his liking, he passed Rick Smith to take the lead on lap 16. From there, O'Connor committed to the low groove, forcing any potential competition to drive around him as opposed to underneath. The move worked flawlessly, as Kevin Smith kep O'Connor close but never close enough to get him as the Port Hardy, BC driver took the win. Smith settled for second with Adam Holtrop racing his way to third. Heat winners were O'Connor and Mel Decker won the heats.
Tristin Thomas returned to victory lane at Skagit Speedway in the Northwest Focus Midget Series. Sawyer Lind led the first four laps before Tristin made an inside pass in turn one to take the top spot. Despite a couple of cautions, Thomas would lead the rest of the way for his first win of the year at Skagit and second of the season with the Series. Garrett Thomas ran second with Eric Turner finishing third. Heat race wins went to Tristin, Lind and Nick Evans.
Curtis Cameron dominated the Outlaw Tuner main event, collecting his first Skagit Speedway win in the process. Cameron led all 17 laps, with his lead stretching at times to three full seconds over eventual runner up Clint Meins. Last week's feature winner Jon Gunderson finished third. The heat winners were Cameron and Vance Hibbard.
Cook Road Shell Sportsman Sprints
Fast Time – Kelsey Carpenter NTR 12.066
Heat 1 – Michael Millard, Derek Roberts, Trevor Cook, Adam Hinds, Kelsey Carpenter, Clayton Sibley
Heat 2 – James Bundy, Michael Hodel, Brett McGhie, Paul Burdick, Bailey Sucich, Bill Rude, BErt Johnson Jr
Heat 3 – Devin Barnes, Steve Parker, Cory Swatzina, Kevin Kirkpatrick, Julian Fuentes, Ashleigh Johnson
Main – Kelsey Carpenter, Cook, Parker, Barnes, McGhie, Millard, Sucich, Hinds, Rude, Sibley, Kirkpatrick, Fuentes, Johnson, Roberts, Bundy, Burdick, Swatzina, Johnson Jr
Lap Leaders – McGhie 1-3 Carpenter 4-25
High Society Modifieds
Heat 1 – Mel Decker, Kevin Smith, Rick Smith, Dan Butenschoen, Brandon Berg, Bill Tomer, Mike Knox Jr
Heat 2 – Lawrence O'Connor, Craig Moore, Adam Holtrop, Jeff Blanton, Louis Nutter Jr, Becky Boudreau, Tom Warner
Main – Lawrence O'Connor, K Smith, Holtrop, R Smith, Knox Jr, Berg, Butenschoen, Nutter Jr, Tomer, Boudreau, Blanton, Decker, Moore
Lap Leaders – R Smith 1-15 O'Connor 16-25
Northwest Focus Midget Series
Heat 1- Tristin Thomas, Wade Spreckelmeyer, Eric Turner, Nate Vaughn, Jeremiah Franklin, Dave Mills, Shane Smith
Heat 2 – Sawyer Lind, Greg Thornhill, Garrett Thomas, Todd Hartman, Hannah Lindquist, Thomas Walker, Renee Angel
Heat 3 – Nick Evans, Brian Aune, Mickey Thompson, Hailey Bower, Dave Mead, Ray Stebbins, Ryan Cully
Main – Tristin Thomas, G Thomas, Turner, Lindquist, Evans, Spreckelmeyer, Walker, Lind, Thornhill, Cully, Aune, Hartman, Angel, Franklin, Mead, Mills, Bower, Thompson, Vaughn, Stebbins
Lap Leaders – Lind 1-4 T Thomas 5-25
Outlaw Tuners
Heat 1 – Vance Hibbard, Jon Gunderson, Brian Michelson, Clint Meins, DJ Beaver, Intars Spunde, Casey Cobert, Howard Vos
Heat 2 – Curtis Cameron, Kerry Bostrom, TJ Campbell, Zach Dalrymple, Jalen Vick, Terra Arnett, Paul Urqhart
Main – Curtis Cameron, Meins, Gunderson, Michelson, Dalrymple, Spunde, Hibbard, Vick, Arnett, Beaver, Urqhart, Cobert, Bostrom, Campbell
Lap Leaders – Cameron 1-17