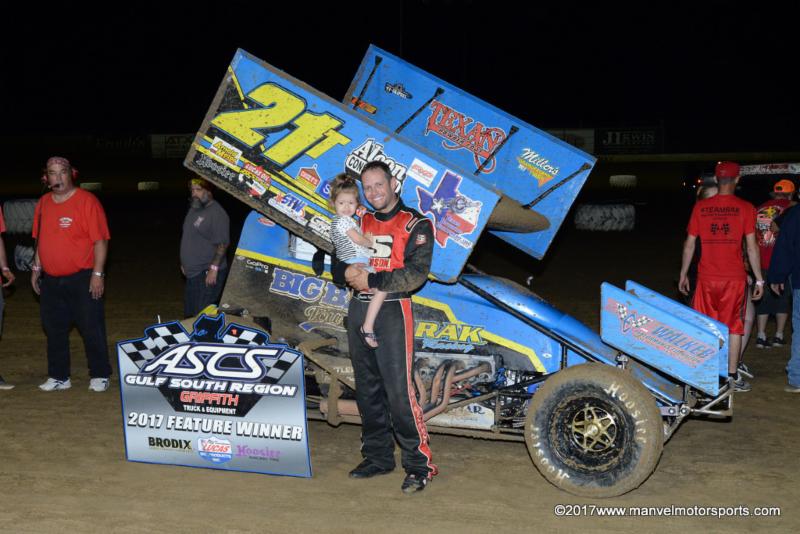 By Bryan Hulbert
PAIGE, Texas (June 3, 2017) Able to outrun Mother Nature, Ray Allen Kulhanek put his No. 21t in Victory Lane for the second time in 2017 with a triumph coming at Cotton Bowl Speedway on Saturday night with the Griffith Truck and Equipment ASCS Gulf South Region.
| | |
| --- | --- |
| | |
| | Image Credit: Manvel Motorsports |
Coming from eighth to win, Kulhanek's 24th ASCS Gulf South triumph padded his advantage in the 2017 driver standings to 136 markers over Zane Lawrence.
Racing from fifth, Dustin Gates earned second with Canada's Skylar Gee third. Losing an engine as he crossed the state/finish line, Zane Lawrence grabbed fourth with Scottie McDonald fifth after starting 12th. Jacob Lucas, from 10th, crossed sixth with Martin Edwards seventh.
Making the trip from Australia, Chris Soloman was eighth from 17th. Brandie Jass and Bobby Barksdale made up the top-ten.
The Griffith Truck and Equipment ASCS Gulf South Region is back on track again on Friday, June 16 at Bronco Motor Speedway and Saturday, June 17 at Battleground Speedway as the series takes on the Lucas Oil ASCS Southern Outlaw Sprints.
For continued updates on the American Sprint Car Series, from the National Tour to any of the seven regional tours that make up the over 150 races across the ASCS Nation, log onto
http://www.ascsracing.com
.
Race Results:
ASCS Gulf South Region
Cotton Bowl Speedway – Paige, Texas
Saturday, June 3, 2017
Car Count: 18
Heat 1: 1. 12-Scott Smith, [4]; 2. 4-Austin Mundie, [1]; 3. 57-Jacob Lucas, [3]; 4. 48-Cody Stacy, [6]; 5. 45-Martin Edwards, [5]; 6. 58-Gary Floyd, [2]
Heat 2: 1. 6-Dustin Gates, [1]; 2. 99-Skylar Gee, [4]; 3. 83-Chris Solomon, [2]; 4. 51-Caleb Martin, [6]; 5. 24-Brandie Jass, [5]; 6. 11-Jerry Cox, [3]
Heat 3: 1. 21T-Ray Allen Kulhanek, [4]; 2. 76-Zane Lawrence, [1]; 3. 88-Scottie McDonald, [3]; 4. F13-Bobby Barksdale, [5]; 5. 36-John Pate, [2]; 6. 02-Tony Russell, [6]
A Feature (25 Laps): 1. 21T-Ray Allen Kulhanek, [8]; 2. 6-Dustin Gates, [5]; 3. 99-Skylar Gee, [6]; 4. 76-Zane Lawrence, [9]; 5. 88-Scottie McDonald, [12]; 6. 57-Jacob Lucas, [10]; 7. 45-Martin Edwards, [3]; 8. 83-Chris Solomon, [17]; 9. 24-Brandie Jass, [7]; 10. F13-Bobby Barksdale, [1]; 11. 51-Caleb Martin, [11]; 12. 4-Austin Mundie, [13]; 13. 48-Cody Stacy, [18]; 14. 11-Jerry Cox, [2]; 15. 12-Scott Smith, [16]; (DNS) 58-Gary Floyd, ; (DNS) 36-John Pate, ; (DNS) 02-Tony Russell,