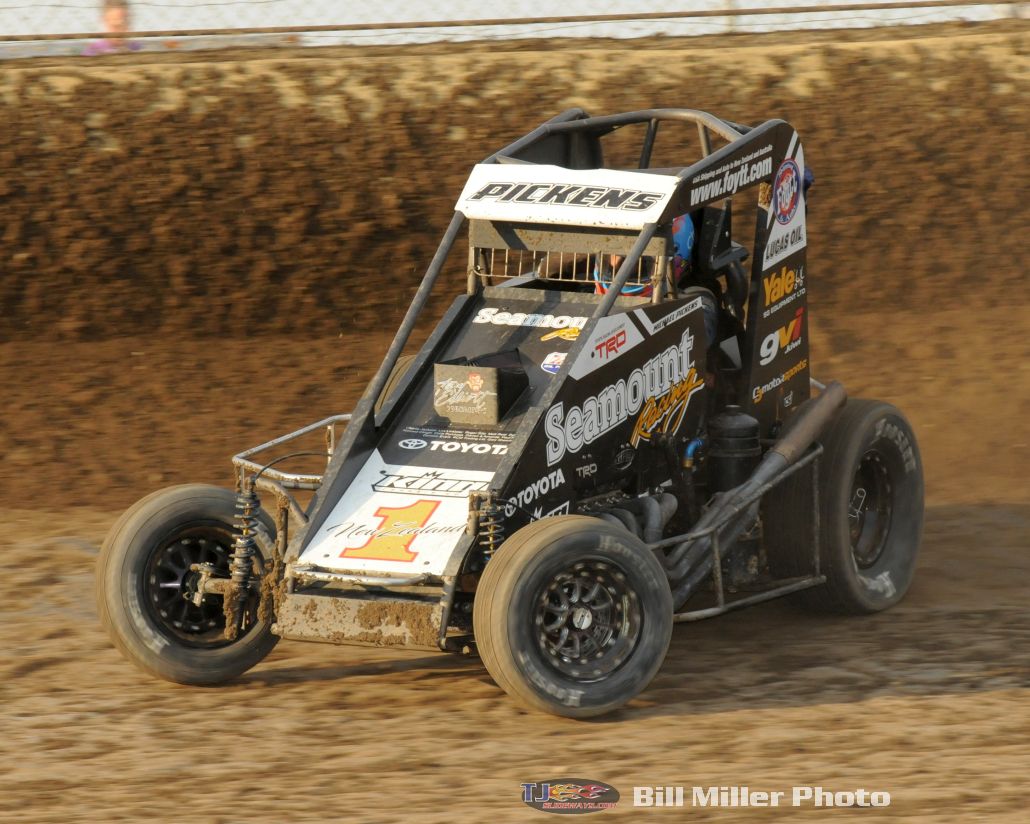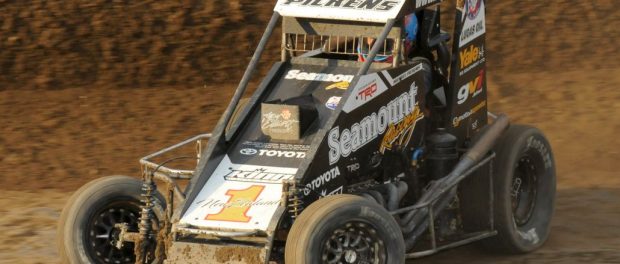 By T.J. Buffenbarger
The hot word around the TJSlideways.com office is "buzz". Over the past couple of weeks between social media, website traffic, and just word of mouth some really special events seem to be creating a lot of buzz throughout the racing world.
The USAC Amsoil National Sprint Car Series kicks off the Eastern Storm tour kicks off tonight at Grandview Speedway. As social media and web clips of non-wing sprint cars dancing on three, two, or even one wheel in slow motion are shared every day USAC Sprint Car racing seems to create more buzz when leaving their home region of Indiana than ever. Eastern storm has become must see racing for fans in the Central Pennsylvania area and gives them something different than their regular diet of top flight winged 410 sprint car racing.
Some of the combinations for the eastern storm tour are as fascinating at the tour itself. The regulars on the USAC tour are joined by several local entries including Alex Bright and Danny Dietrich. Then you have local car owners such as Mike Hephner fielding a car for Thomas Meseraull. Add to that several non-wing teams that compete rarely or part time with USAC from the Midwest to create an interesting menagerie of entries for the tour.
Indiana Midget Week last week created more "buzz" based on website traffic, our social media feeds, and based on photos of the crowds we saw than we have ever seen. If the USAC National Midget Championship series can maintain its car count midget week has a shot of equaling the popularity of Indiana Sprint Week.
With some of the guest stars like Rico Abreu and Kyle Larson and the early dominance of Michael Pickens through Illinois and Indiana Shane Golobic flew under the radar a bit on his way to the Indiana Midget Week title. While some of the drivers that garner more attention attention ended up with various issues during the week Golobic never finished outside of the top 10, including a strong finish to the week with three top five finishes.
Pickens incredible two weeks drew lots of attention stateside and home in New Zealand. Finishing the two week tour with the Illinois Speedweek championship and pair of Indiana Midget Week victories Pickens headed back to New Zealand after the Midget Week final at Kokomo. With Pickens becoming more proficient at winged sprint car racing one has to wonder when he will garner attention from someone in that division.
Entries like Pickens gives Midget Week a bit of a different feel with the international competition and midget/sprint car double headers every night. It's still difficult to say if midget week could stand on its own without the sprint car support division, but this creates a win for fans that get to see both classes every night.
Ohio Sprint Speedweek always moves the needle when it comes to fan and competitor interest. This year's edition continues to grow interest internationally as several Australian teams plan their arrivals around the start of Speedweek. With all but one of the races available on streaming via SpeedShift.tv or the Eldora Speedway website fans can take part in the "grind" from home.
Brian Lay had buzz for good and not so good reasons this past week. Lay went from the low from being suspended by the World of Outlaws earlier in the week to winning the feature at Fremont Speedway on Saturday. Keep in mind how the process is done and there are multiple ways to not pass the test. Outlaws won't release what conditions the test was failed on and Lay has not replied back for comment. Implications for non-full time racers as well. If your day job boss read that how would they feel? It's an interesting scenario in the new world that is professional sprint car racing.
Today's surprise buzz is from the World of Outlaws Craftsman Sprint Car Series having Kyle Larson as a guest star tonight at Eagle Raceway during the Eagle Nationals. Larson announced on Twitter this morning he will drive a second car for Stenhouse Jr. Wood Racing as a teammate to Joey Saldana. Larson has one top five finish this season with the Outlaws
You can still purchase tickets for tonight's event from our friends over at SLS Promotions by (clicking here) https://slspromotions.ticketforce.com/eventperformances.asp?evt=152
Only halfway through June with plenty of major events ahead, the sport of short track racing is enjoying some really great storylines. If you look close enough the buzz is there, just make sure to not get lost in a sea of complaints about water being too wet to notice them.