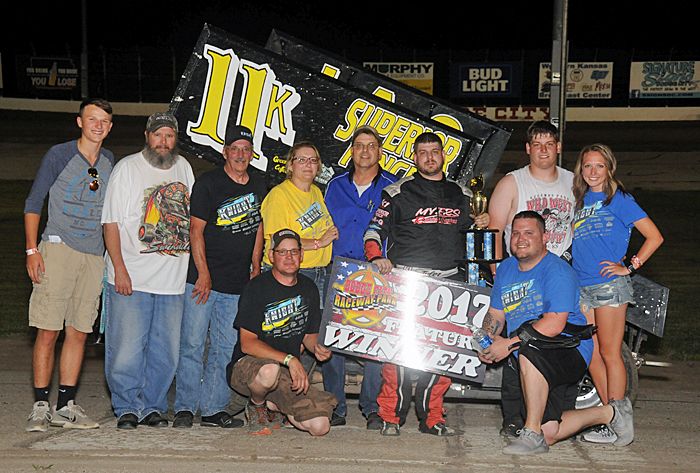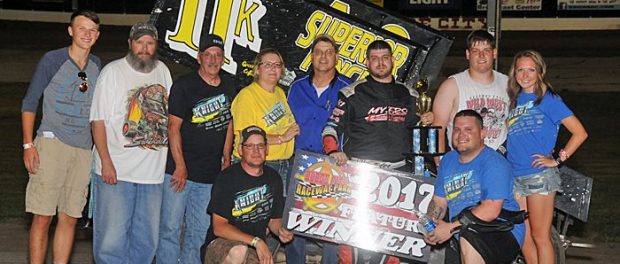 From Lonnie Wheatley
DODGE CITY, Kan. (June 16, 2017) – Tyler Knight kicked off the Lewis Automotive DCRP Sprint Car Nationals by wiring the field in Friday night's 20-lap preliminary feature atop the 3/8-mile Dodge City Raceway Park clay oval.
While Knight survived a late caution to post his first Precise Racing Products DCRP Sprint Car win of the season aboard the Knight Racing/Myers Racing Engine/Superior Fence No. 11k, Randle McRoberts captured his first IMCA Modified feature victory.
With a field of 31 DCRP Sprint Cars checked in to get dialed in for Saturday night's $3,000-to-win, $600-to-start championship event, Knight of Wright, KS, advanced two positions from fourth to second in his heat race and then redrew the front row outside starting position for the 20-lap main event.
Knight took full advantage of the front row start, outgunning Colorado's Austin McLean for the lead at the outset and slipping away in the early going as Nebraska's Trevor Grossenbacher slid past McLean for second on the fourth round.
Knight began working traffic near the midway point and had his pursuers at bay until the race's only caution flew with just four laps remaining when fourth-running Luke Cranston got into the turn two wall.
Grossenbacher made a big slide attempt for the lead entering turn one on the restart, but Knight was up to the challenge.
Knight denied the Cornhusker's move and raced on to the stripe to make it three consecutive years of posting a DCRP win with Grossenbacher settling for runner-up honors. New Mexico's James Mosher raced around McLean on the restart to claim third while Colorado's Jake Bubak made a last-lap pass to snare fourth after gridding the feature field in 14th.
McLean rounded out the top five with the rest of the top ten including Jetmore's Ray Seemann, Liberal's Koby Walters, Oklahoma's Ty Williams, Dodge City's Kris Moore and Wichita Falls shoe Chad Koch.
McLean, Moore, Seemann and Mosher topped heat race action with Zach Blurton winning the "B" Main. Liberal's Tracey Hill walked away from a wild ride in turn three during "B" Main action.