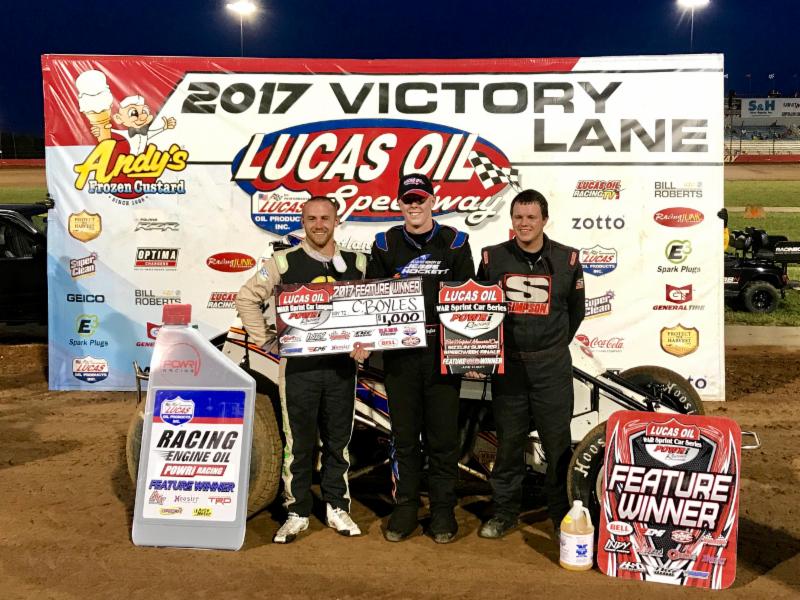 By Chad Buford
Wheatland, MO (June 16, 2017) – After missing a handful of POWRi Lucas Oil WAR Sprint shows over the past couple of weeks, Clinton Boyles returned to the league and found himself in victory lane on Saturday night at Lucas Oil Speedway for the first time.
Boyles started on the pole and moved into the lead once the green flag flew. Outside front-row starter Chance Morton was running a strong second on lap two when he bicycled in turn one and backed into the wall. He sustained too much damage to continue and was taken to the pits.
On the restart, Boyles assumed the lead as Wyatt Burks moved into second from his seventh starting spot. Also moving forward was Katlynn Leer running in the fourth position. As she challenged Korey Weyant for third, the race's final yellow came out on lap four for Rob Hockett who spun around in turn two.
When racing resumed, Burks was able to make the bottom work and got past Boyles for the top spot. Burks and Boyles battled each other over the next five laps with Burks holding the spot. On lap ten, Boyles got a good run off the top of turn two down the backstretch and was able to move back in front of Burks.
After this point, Boyles set sail to his sixth career Lucas Oil POWRi WAR Sprints win in his Jesse Hockett Racing/Lucas Oil/Rod End Supply Maxim with RMS power. The win moved Boyles into the top five on the career win list. Weyant was a solid second in his Ealey Transportation/Weebles Bar and Grill/Tosti's Transmission Eagle with Automotive Machine power. Burks ran third in his RCB Motorsports/Clem Signs/Jadon's Hope Foundation Salina-powered Maxim. Leer was a strong fourth in her A&A Electric and Underground/Staikor Farms/Kollision Korner/DAV Stealth with Chevy power. Rounding out the top five was Craig Carroll in the Risley's Trash Service/Hesselbein Tire/Eaton Industrial Coatings XXX with Risley power. Slater Helt was sixth and he was followed by Warren Johnson. Chris Parkinson, Hockett, and Steve Thomas rounded out the top ten.
The POWRi Lucas Oil WAR Sprints will next be in action on Friday, June 30 at Belle-Clair Speedway in Belleville, Illinois for day one of BORDER WARS where they will be challenged by the WAR East League. Day two of BORDER WARS is at St. Francois County Raceway in Farmington, Missouri Saturday, July 1.
POWRi Lucas Oil WAR Sprint League
6/17/17
Lucas Oil Speedway – 17 cars
Hinchman Racewear Heat 1 – 8 laps
1. 99-Korey Weyant, Springfield, IL (4); 2. 15B-Quinton Benson, Emma, MO (3); 3. 41-Brad Wyatt, Kearney, MO (7); 4. 2-Zach Clark, Lenexa, KS (1); 5. 22S-Slater Helt, Harrisonville, MO (8); 6. 42-Warren Johnson, Overland Park, KS (5); 7. 93X-Taylor Walton, Warrensburg, MO (6); 8. 77H-Rob Hockett, Lone Jack, MO (2); 9. 93-Steve Mahannah, Springfield, MO (DNS)
Wilwood Disc Brakes Heat 2 – 8 laps
1. 7M-Chance Morton, Coweta, OK (5); 2. 77-Clinton Boyles, Greenwood, MO (8); 3. 11W-Wyatt Burks, Topeka, KS (3); 4. 77K-Katlynn Leer, Moulton, IA (2); 5. 24C-Craig Carroll, Collinsville, OK (7); 6. 65-Chris Parkinson, Gladstone, MO (6); 7. 20-Steve Thomas, Ludlow, IL (4)-DNF; 8. 82-Vinny Ward, Warrenton, MO (1)-DNF
POWRi Lucas Oil WAR Sprints A-Main – 25 laps
1. 77-Clinton Boyles (1); 2. 99-Korey Weyant (3); 3. 11W-Wyatt Burks (7); 4. 77K-Katlynn Leer (9); 5. 24C-Craig Carroll (8); 6. 22S-Slater Helt (6); 7. 42-Warren Johnson (12); 8. 65-Chris Parkinson (11); 9. 77H-Rob Hockett (15); 10. 20-Steve Thomas (14); 11. 15B-Quinton Benson (5)-DNF; 12. 2-Zach Clark (10)-DNF; 13. 93X-Taylor Walton (13)-DNF; 14. 41-Brad Wyatt (4)-DNF; 15. 7M-Chance Morton (2)-DNF; 16. 82-Vinny Ward (DNS); 17. 93-Steve Mahannah (DNS)
Article Credit: Chad Buford
Photo Credit: High Fly'N Photos