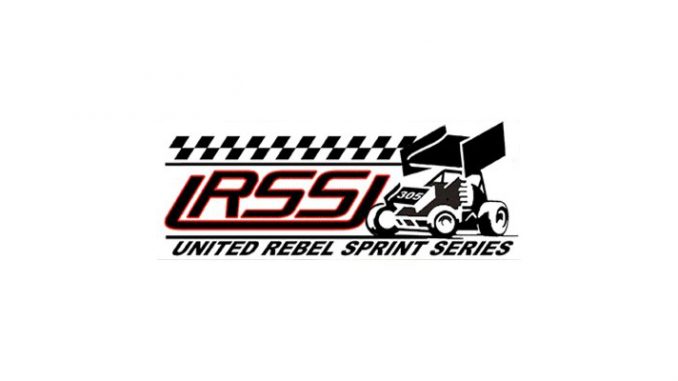 From URSS
BELLEVILLE, Ks. (July 3, 2017) — Nebraska's Toby Chapman used his pole starting position to his advantage as he led every lap of the Battle at Belleville between the United Rebel Sprint Series vs the Sprint Series of Nebraska at the Belleville High Banks in Belleville KS to claim his first win with the United Rebel Sprint Series along with the first night of the URSS Summer Sizzler four race tour.
Chapman and Blain Peterson would bring the field to the green with Chapman jumping to an early lead with Peterson, Zach Blurton, Chase Weiler and Stu Snyder rounding out the top 5 after lap one. Lap two saw the yellow come out when 12th starting Ty Williams made contact with the turn three guard rail damaging his car and sending him to the pits.
On the ensuing restart the Tim Hilfiker would get sideways in turn two collecting Peterson and John Webster and bringing out the red flag. During the cleanup of cars, Williams would repair his mount and return to the back of the field along with Blurton as his right front tire lost air during the red relegating him also to the rear.
On the restart 10th starting Jason Martin would make a bold move to move himself to 2nd and began waging a race long battle with Chapman. Darren Berry would work his way past Snyder and Weiler and would begin putting pressure on Martin by lap 9 with Williams starting a charge up through the field and would be 6th on lap 10.
Williams would continue his charge up on the guard rail and would move to 5th on lap 11 and 4th on lap twelve. On lap 13 he would make contact with Berry passing for third and sustain enough damage to bring out the final caution and with crowd giving him a standing ovation would be relegated to the pits.
Chapman would hold off Martin and Berry the final 8 laps with ninth starting Tyler Drueke and 15th starting Jed Werner crossing the line in 5th. After the race Berry and Drueke would be light at the scales resulting in a DQ and would move Werner to 3rd, B Feature winner Steven Richardson to 4th and 18th starting Matt Richards to 5th earning him the Keizer Wheels Hard Charger Award.
The Rebels will next head to Thomas County Speedway in Colby Ks on Friday the 7th, then to Lincoln Co. Raceway in North Platte, NE on Saturday the 8th and then complete Summer Sizzler week at Lexington Raceway in LexingtonNE on Sunday.
Results
Heat 1
1 Jason Martin
2 Ty Williams
3 Blain Petersen
4 Steven Richardson
5 Tim Hilfiker
6 John Webster
7 Kayla Stoops
8 Tom Belsky
9 Aaron Ploussard – DNF
Heat 2
1 Tyler Drueke
2 Jason Danley
3 Chase Weiler
4 Terry Richards
5 Toby Chapman
6 Jed Werner
7 Matt Richards
8 Ryan King
Heat 3
1 Stuart Snyder
2 Darren Berry
3 JD Johnson
4 Zach Blurton
5 Tim Fricke
6 Adam Gullion
7 Howard Van Dyke
8 Nathan Weiler
B Feature
1 Steven Richardson
2 John Webster
3 Jed Werner
4 Terry Richards
5 Adam Gullion
6 Matt Richards
7 Tim Fricke
8 Nathan Weiler
9 Kayla Stoops
10 Ryan King
11 Aaron Ploussard
12 Tom Belsky
13 Howard Van Dyke
A Feature
1 Toby Chapman
2 Jason Martin
3 Jed Werner
4 Steven Richardson
5 Matt Richards
6 Jason Danley
7 Stuart Snyder
8 Chase Weiler
9 Adam Gullion
10 Zach Blurton
11 Terry Richards
12 JD Johnson
13 Ty Williams
14 Nathan Weiler
15 Tim Fricke
16 John Webster
17 Blain Petersen
18 Tim Hilfiker
19 Darren Berry
20 Tyler Drueke