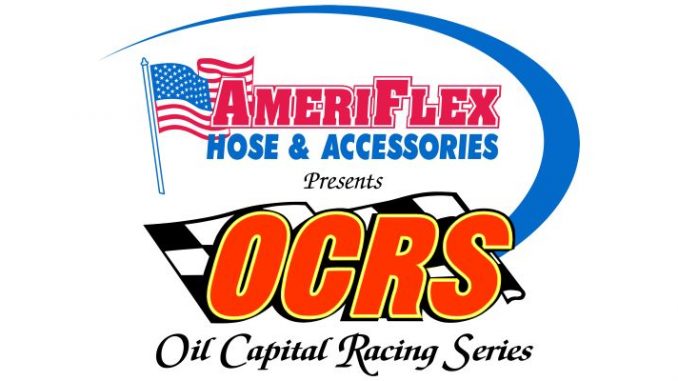 From John Lemon
TULSA, Ok. (July 18, 2017) – After last weekends doubleheader gave way to soggy grounds and coupled with the scheduled break prior to the weekend, the teams of the Ameri-Flex / OCRS sprint car series are anxious to get back to slinging dirt. The venue this Saturday night will be the 4/10-mile oval of the Oklahoma Sports Park on the outskirts of the city of Ada.
This weekends event will be the second of three scheduled events at OSP for the 2017 season. Back in May, it was Tuttle Oklahoma's Shane Sellers taking the victory in the 9th Annual Harold Leep Jr. Memorial. Sellers also took over the point lead in the series after that night and has held it since. The lead has shrunk in the past couple of events as Talala's Zach Chappell has withered the lead to just 16 markers (576-560). Both drivers are looking for their first series crown as is the third place driver, Alex Sewell. Mickey Walker sits just 3 points behind Sewell and Sheldon Barksdale rounds out the top five.
There will be a first time champion this season as you need to go all the way down to the 12th place driver on the list to find a former champion, that being Jamie Passmore, a 4-time titlist. Barksdale, Whit Gastineau and 2-time defending champion, Robert Sellers were all OSP winners in 2016. All three will be in action this weekend along with Gary Owens of Pauls Valley who has bagged some nice wins of his own at OSP. Longtime fan favorite Shayla Waddell will also be running this Saturday. Waddell has 2 career wins in the series and will be looking for her first OSP triumph.
Race time is set to begin at 7:30pm with hot laps firing off at 7pm. Spectator gates will open at 5pm.
Nutz n' Boltz
Padded Backside:
With the recent rainouts of both events last weekend (Humboldt Speedway Friday & Caney Valley Speedway Saturday), the 2017 racing season will be stacked on the back end. With the 8 remaining races booked (after this Saturday's OSP event) and the possibility of adding a rescheduled date or two of the rainouts, plus another possible event in the works, the series looks to be quite busy for the end of summer and early fall.
Maybe We Won't Miss Much:
Joseph Miller and Perry Pickard were going to miss last weekend's doubleheader due to motor woes. The rainmakers have given them time for their return to action. Pickard has been out since competing at the Leep Jr. Memorial event. He is set for his return this week. Miller is hopeful to make OSP this week. The team is hard at it trying to get the Ford power plant installed and ready to go. Thrash it guys, thrash it.
Down To The Home Stretch For The Big One:
The Ameri-Flex Challenge II presented by Grand National Trailer is getting very close. Mother Nature threw a monkey wrench into some race teams plans to attend the August 26th race at the Salina Highbanks Speedway. For some, it hindered their chances to make the program. For others, Mother nature bought teams more time to prepare equipment. The teams needing to make the final 3 Ameri-Flex / OCRS Events to become eligible are: Jamie Passmore, Andrew Deal, Tim Kent, Brayden Voigt, Frank Taft, James Fabian and Robert Sellers. Good luck racers.
From 10 To When?
Last year Sheldon Barksdale and Whit 'Gasman' Gastineau combined for 10 A-Feature wins (7 for Barksdale & 3 for Gastineau). 2017 still has each of these lead footers looking for their first win of the season. Each of these drivers excel quite well on faster surfaces such as the speed joint of OSP. If not this Saturday, when will they breakthrough once more?
Here is your itinerary for this weeks event:
What: Ameri-Flex / OCRS Sprint Cars (with stock car & modified classes)
Where: Oklahoma Sports Park / Ada Oklahoma
When: Saturday July 22, 2017
Time: Main Gates Open 5pm / Hot laps 7pm / Racing 7:30pm (Ameri-Flex / OCRS drivers meeting at 6:30pm)
Tickets: Adults: $15 / Seniors & Kids 11-15: $13 / 10yrs & Under Free / Pit Pass: $30
Oklahoma Sports Park is home to a 4/10-mile clay oval track and is located just 10 miles northwest of Ada, Oklahoma on state highway 3W.
Track Phone: 580-332-5535 / Promoters Phone: 580-332-5383
Track website: www.oklahomasportspark.com