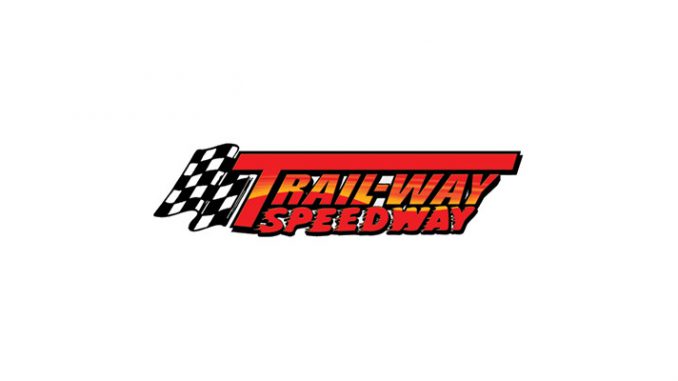 From Kalida Landis
HANOVER, Pa. (7/21/2017) – Mike Bittinger raced to his second win of the season in the 25-lap 358 sprint car feature at Trail-Way Speedway Friday night.
"It's warm out, but I'm not quite as warm as I was the last time I was here," quipped the Abbottstown driver after exiting his Apple Automotive/Big Mike's Crabhouse/Three Hogs Barbecue #12 in victory lane.
The last time Bittinger raced at Trail-Way, he dove to the infield with his car on fire. He jumped from the car and rolled on the ground.
"My daughter told me I looked like Ricky Bobby," joked Bittinger, "Next time I'll have to rip my suit off and run down the track!"
Not only was Bittinger hot, but he was tired, too.
"I felt good for 20 laps, and then I don't know what happened. I guess the Geratol wore off. I ended up bouncing off the curb a time or two, but it didn't hurt us," said Bittinger, "Without my crew and sponsors, I wouldn't be standing here."
His final margin of victory was a half-second over Kody Hartlaub, who completed his best-ever TW finish. Isaac Sneeringer crossed third, followed by hard charger Steve Owings, who started 12th and went into the pits for some adjustments after sustaining some damage in a four-car crash that resulted in a Cody Fletcher flip on turn one of lap two. Joe Trone, Jr. rounded out the top five.
Qualifiers for the 14 sprint cars were won by Hartlaub and David Holbrook.
The Mason Dixon 270cc micro-sprints ran two feature events.
In the make-up feature rained delayed from a few weeks ago, Levi Peck was declared the winner when Mike Rutherford was penalized two spots for passing before the cone on a restart. Chad Myers finished second and Rutherford was credited with third. Jeff Arigo and Joe Long Jr. completed the top five.
In the regularly-scheduled feature, Steven Cox won his first Trail-Way race of the year, crossing ahead of Peck, with Brent Bull, Chad Myers and Tim Mc Clelland rounding out the top five.
Bull land Cory Myers won heats for the 19 micros on hand.
Mason Chaney raced to his second Trail-Way win of the year and his sixth 2017 win overall in dthe Service Master Clean Central PA Legends feature.
Chris Transeau, 11th-starting Bill Diehl, Justin Mitchell, and Scott Houdeshell crossed second through fifth. Houdeshell actually came from the back twice after early-race incidents.
Heats for the 20 Legends were won by Rick Hartwig and Hayden Pascoe.
Scott Rickrode claimed the win in the 20-lap Les Coghill Memorial for the Penn Mar Vintage cars, a race made up from a June 23rrd rainout.
Randy Minich, Glenn Pobbletts, John Marks, and Mark Rickrode, Jr. rounded out the top five.
Robbie Carroll inherited the lead when Shannon Weaver made contact with a lapped car and struck the outside backstretch wall on lap nine, then went on to win his second TW race of the year n the 15-lap limited stock feature.
Terry Hartlaub, Kyle Rohrbaugh, Jason Chronister, and Jeff Foster crossed second through fifth.
Next Friday, July 28th, Trail-Way swings back into action with the 358 Sprints, along with the 600 Micro Sprints, Limited Stocks, Street Stocks and the Classic Cars competing in the 20-lap "Lyle Adcock Memorial." Gates open at 5:30 p.m., with heats scheduled to begin at 7:45 p.m
For all the latest news and related information from Trail-Way Speedway, fans are reminded to visit the speedway website at www.trail-wayspeedway.com. The complete story and agate from each race night is posted shortly after the final checkered flag.