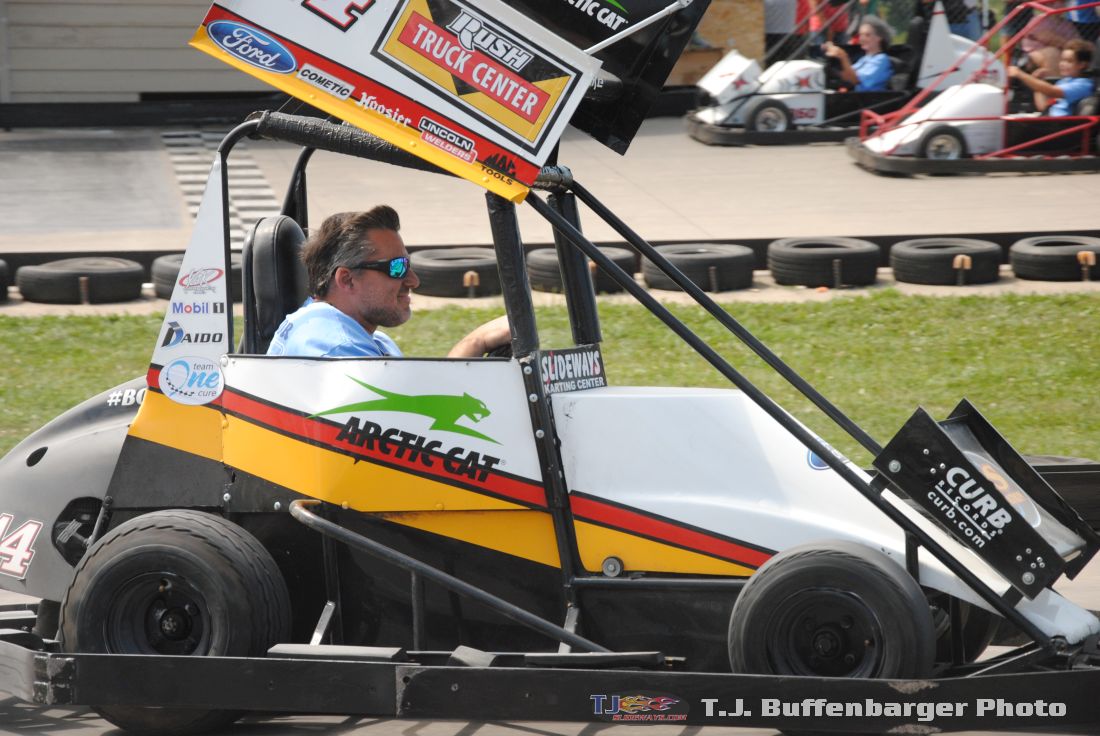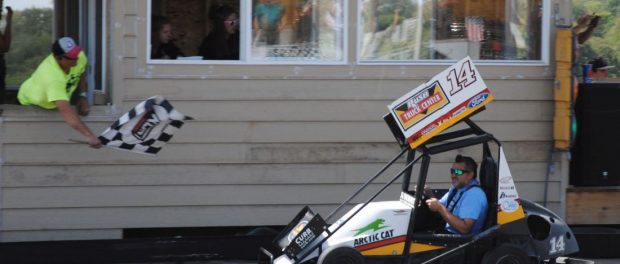 By T.J. Buffenbarger
One year after Tony Stewart stepped away from driving duties in NASCAR the difference is visible. From Anderson to Eldora I've crossed paths with Stewart and seen one thing every time.
A smile.
Wednesday Stewart was all smiles competing in a charity go kart race to benefit his foundation at Slideways Karting Centers at Knoxville Raceway with Kyle Larson, Ricky Stenhouse Jr, Chris Kamikaze from Street Outlaws, and Shea Holbrook from the Pirelli World Challenge series.
"We all have fun. It's not uncommon after the races are over at Knoxville to come out here at Midnight and Larson is making laps. You don't have to twist his arm much and Ricky is always game to do whatever. It's fun to always have your buddies support and come out to be a part of it."
For Stewart being at Knoxville since the 360 Nationals is part of his new life pattern that doesn't exactly resemble the word retirement.
"Who told you retirement?" Stewart exclaimed jokingly to a reporter that asked how he was enjoying retirement. "I don't' know why people say retirement, I'm busier now than I've ever been.
For Stewart being able to pick and choose his events on his own terms has been fun, even if the decision is based on weather.
"We've been to a bunch (of race tracks). There are a bunch of them we were scheduled to go to that rain's got us and kept us from going to," said Stewart. "It's just fun to finally be in position where we just can go. With the way the weather has been all over the country we were looking at different regions saying 'If it's going to rain up there this weekend what's south of there that we can get away from the weather and go run?' It's like being Peyton Manning and just calling audibles left and right. We might be scheduled to run a 410 race and if the weather is bad where we are going we can change the motor and go run a 360 race where the weather is going to be good."
As far as running the 410 Nationals Stewart says it is still in the cards, but not this year based on a decision he made due to prior performances this year in the 410 sprint car.
"Oh yeah, it's on my too list. I just haven't ran enough this year," said Stewart. "We came out and ran a weekly show and I didn't feel like I ran very good. We committed to run the 360 Nationals and I didn't do very good there either, so I need practice a lot more to run the 410 (Nationals)."
For Stewart part of that enjoyment is being able to stay at Knoxville all week without having to depart for another race.
"I've been here since last Thursday, so it's nice to just plant my feet on the ground this week."