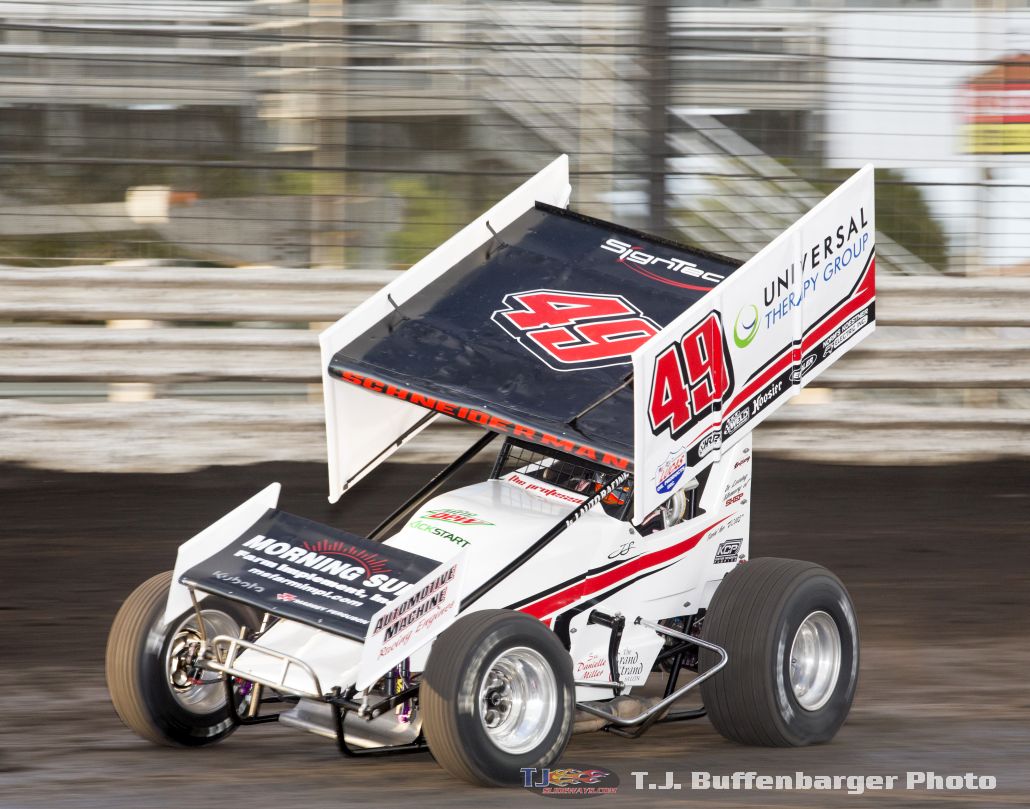 By Bill W
September 28, 2017 –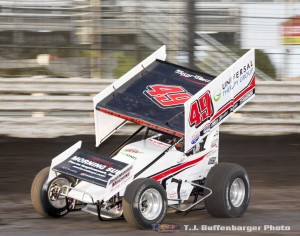 The team brought home a victory in the season finale for the series. The West Burlingotn, Iowa driver is looking at a possible run at the two-day IRA/MOWA events at Fairbury American Legion Speedway October 6 and 7.
It was a rare pole heat draw for Josh Saturday. "The boys talked Jessi Dryden into drawing for us, and she came through!" he says. "The track was quick in the heat race, and that was good for us starting on the pole. We were able to win and it was good to get locked into the Dash."
He would dominate the Dash as well. "We drew the outside pole for the Dash, and got out to the lead," says Josh. "We were just really on. We were on cruise control. We had made some changes after Quincy on some stuff that I wasn't happy with. Usually the Dash draw kills us, but we came up with a three this time."
Starting inside row two, Josh and the team made the necessary adjustments for the main event. "The last time at Burlington, we weren't quite as good as we had been and needed to be," he says. "We made some changes that helped the car. The track was coming around as far as racing the bottom. I thought maybe I could get a jump in one and two, hit the bottom and pass those guys."
His plan came to fruition. "We were able to get (Dave) Getchell there, and we were able to get by Ryan (Jamison) in turn three," says Josh. "We were able to kind of set sail from there. Lapped traffic got hairy with four or five laps to go. It was three-wide, and I was trying to get through them."
Josh was up to his neck in lapped traffic. "We were up to tenth place as far as the cars we'd lapped," he says. "There was a caution with three to go, and I was actually kind of happy to see it. I didn't want to get picked off in traffic and we felt good out in clean air."
The team's momentum of late finally paid off. "We've been really good the last six weeks or so, but it's been one of those years," says Josh. "We've been taken out by other cars and parts have broken. It seemed like we have been snake bit, and it was good to break through and get the win."
World of Wheels
World of Wheels has proudly been servicing the Des Moines area for over 25 years, selling quality pre-owned vehicles. World of Wheels #1 priority is helping you find the vehicle of your choice. At the World of Wheels location you will find one of the nicest showrooms in town, in addition to a friendly, knowledge sales staff, backed with an exceptional service department. Please visit World of Wheels today for your next vehicle purchase or let them assist you with your automotive service and maintenance needs. World of Wheels has recently opened their second location in Ankeny, IA. Visit their website at www.worldofwheelsonline.com.
Universal Therapy Group
Universal Therapy Group offers comprehensive therapeutic care and support service. They offer a variety of services including; pre and post-surgery rehab, work-related injury prevention and rehab, sports enhancement, and personal training. With locations in Burlington, IA; Chesterfield, MO; Fort Madison, IA; and a new location coming to North Liberty, IA, they are here to help you with your health care needs. Universal Therapy Group has also recently added a new fitness facility, Universal Fitness located in Burlington, IA. Universal Fitness features state of the art training equipment, along with a knowledge staff to help you train properly and efficiently. Visit them today and let them show you how they can assist you with your health care goals. Visit their website at www.universaltherapygroup.com.
Universal Therapy Group
www.universaltherapygroup.com
physical therapy provider
Cars for Sale Ankeny – World of Wheels Des Moines
www.worldofwheelsonline.com
If you are looking to buy a used car, truck, or SUV in Des Moines or Ankeny, World of Wheels has you covered. Shop us online or come on by our lot today .
Josh on Twitter and Facebook
Be sure to keep up with Josh and the Deuce Motorsports #49 team…
Twitter: @JSRACING49
Facebook: https://www.facebook.com/jsracing49?fref=ts
Log In or Sign Up to View
www.facebook.com
See posts, photos and more on Facebook.
Josh's Weekly Releases
If you'd like to be added to Josh's e-mail list for weekly releases, e-mail sprntcar@hotmail.com with "Josh" in the Subject Line.
Deuce Motorsports would like to extend thanks and are honored to announce their partnerships with: World of Wheels, Universal Therapy Group, MD Orthopedics, Morning Sun Farm Implement, Land Pride, Matteson Marine, Norm's Koestner Electric, Grand Strand Salon, Gearhead for Gods, Man Stuff Ministries, J&J Auto Racing, Automotive Machine, Engler Injection, Hoosier, Weld Racing, Blackbird Motorsports, Hepfner Racing Products, and Mountain Dew Kick Start .
Bill W Media
sprntcar@hotmail.com
Twitter: @BillWMedia
Website: www.OpenWheel101.com
Monroe, IA USA