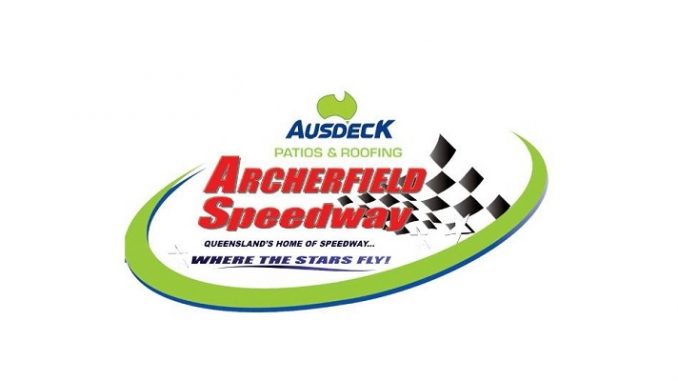 From Archerfield Speedway
BRISBANE, Au. (October 14, 2017) — Unfortunately, inclement weather curtailed round three of the East Coast Logistics Sprintcar Track Championship at Ausdeck Patios Speedway on Saturday night (October 14), with rain sweeping across the venue at the conclusion of the opening round of heat races. Given that no rain had fallen during the day and the weather had improved throughout the afternoon, it was disappointing that several nominated drivers failed to fulfil their obligations, however the meeting proceeded on schedule until a change in conditions brought light, but persistent precipitation and forced the abandonment of the remainder of the program.
Despite a change in the qualifying format that saw drivers time trial in three separate pools, with the fastest from each group earning maximum points, the end result had a very familiar feel with defending track champion and current point leader Luke Oldfield emerging with KRE Fast Time. Oldfield clocked 11.511 to outgun Peter Lack (11.592), Mitchell Gee (11.720), Ben Hilder (11.867) and Steve Greer (11.885). There was a surprisingly high number of casualties in the race against the clock, with Steve Rowell, Callum Walker, Stewart Craig, Brett Minett and Andrew Liebke failing to make it back on track for heat races.
Mark Pholi took out the opening heat with a minimum of fuss, leading David Whell and Scheuerle to the line.
Heat two was a similarly sedate affair with Brent Kratzmann downing Andrew Marks and Brad Ayers.
Just when it looked as though maybe the track wasn't conducive to passing, Oldfield debunked such a theory when he charged through the field in heat three to finish ahead of Dan Murray and Lack.
The opening round of the Shock Absorber Therapy AMCA Nationals Track Championship produced good competition across the two completed heats. Nathan Durston prevailed in the opener in advance of Lewis Gamble and Ricky Sendall, while Steve Price downed Tony Blanch and Michael Mason in heat two.
Geoff Davey romped home in the opening Wingless Sprint heat, finishing more than seven seconds clear of Michael Reid and Michael Lampard. The second heat was a closer affair, although Cody O'Connell was untroubled in leading throughout to defeat Brian Dixon and Michael Butcher.
Terry Leerentveld chased down national champ Aaron Prosser to win the first of the Modlite heat races, with Kyle Honour clinching third. Heat two saw a similar scenario play out, although this time it was Klinton Hancey reeling in Sean Rose to grab a win, with Leerentveld third.
Ryan McNamara prevailed in the only Formula 500 heat race to be completed, leading home Nick Hodges and Liam Williams. The second heat was abandoned as light rain made track conditions too treacherous to continue, denying Williams in his bid for a third consecutive feature race win.
As the worst offenders in the absentee stakes, a somewhat pitiful field of just six Lightning Sprints fronted for the night and it was Jason Rae who won the only completed heat from Jason George and Aaron Kelly.
The next event at Ausdeck Patios Archerfield Speedway is on Saturday, October 28 featuring round four of the East Coast Logistics Sprintcar Track Championship plus Dirt Modifieds, Formula 500s, Compact Speedcars, Open Sedans and Ford vs Holden vs Sigma sedans.
Those who attended this event can use their tickets or armbands to secure a 50% entry discount at any of the next four events.