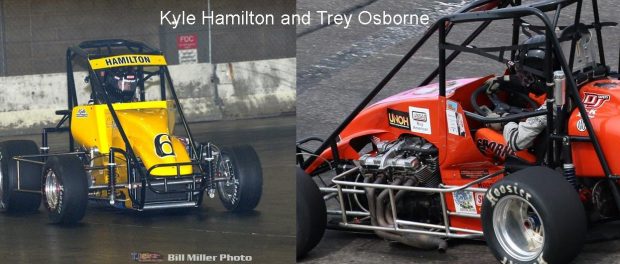 From Kenyon Brothers Racing
LEBANON, Ind. (November 22, 2017) — Don and Mel Kenyon have named their drivers for the 2017 edition of the Rumble in Fort Wayne indoor races. Don Kenyon will rely on experience while Mel Kenyon will be working to coach a Rumble Rookie to Victory Lane.
Kyle Hamilton will take the seat in Don Kenyon's indoor special for the second year in a row. Hamilton began a career season with a win the Saturday edition of the Rumble. He went on to win the Pay Less Little 500 presented by UAW GM as well as taking the checkers in every UAW Kenyon Midget race he entered. In addition to his Midwest wins, Hamilton competed at the front of the pack in Northeast pavement Midget Racing.
UAW American Made Mel Kenyon Midget Series veteran Trey Osborne will be behind the wheel of Mel Kenyon's legendary #61 midget when the Rumble in Fort Wayne rolls off on December 29 and 30. Columbus, Ohio native and Rumble Rookie Osborne is a time visitor to the UAW Kenyon Midget victory lane as well as a former series Simpson World Rookie of the Year. Being able to draw on Mel Kenyon's depth of indoor racing experience will help ease Osborne's challenge as a rookie on the flat concrete for the Fort Wayne Coliseum.