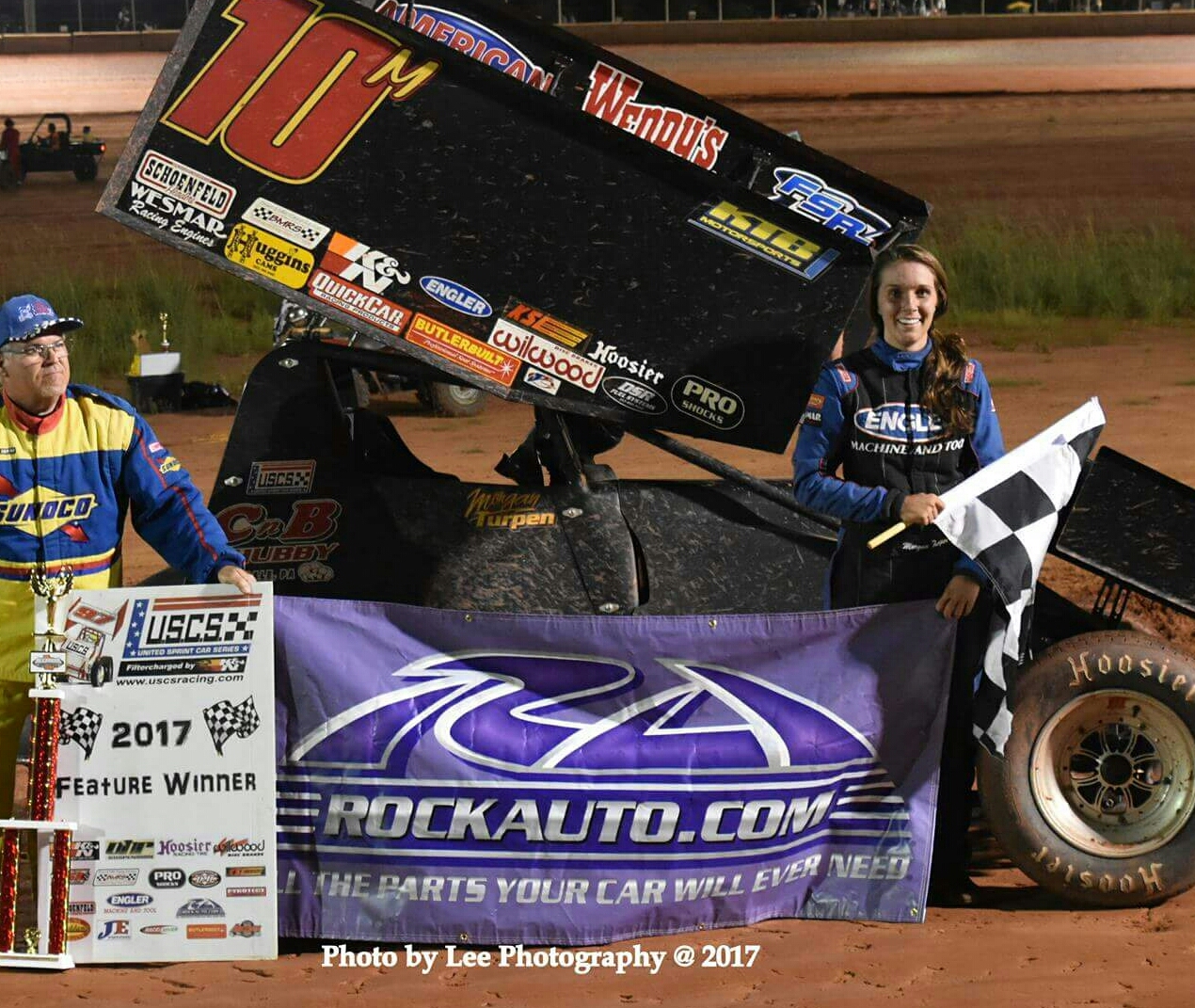 From Pete Walton
ATLANTA, Ga. (December 4, 2017) – 24 year-old Morgan Turpen from Cordova, Tennessee didn't win the United Sprint Car Series presented by K&N Filters National Championship as she did in 2015 and 2016 during the 40-event 2017 season, but she did lead the series win totals amongst all drivers with nine trips to the www.rockauto.com USCS Victory Lane as the main event winner. Additionally, she claimed the title in two USCS regionals series. She was the Champion of the tough USCS Mid-South Thunder Tour regional series by besting a number of great drivers including the division runner-up, 2013 USCS National Champion, Derek Hagar from Marion, Arkansas and 2017 National Champion, Jordon Mallett over the course of sixteen events for the title. She also wears the crown as the Champion of the new USCS Deep South Thunder Tour regional series as well. She won the USCS season opener at Hattiesburg Speedway in Hattiesburg, Mississippi on March 3rd, then led the standings of the Deep South region all season long to claim the title.
Turpen also finished in a respectable third place in the USCS Outlaw Thunder Tour National Championship standings behind 2017 National Champion Jordon Mallett and her team-mate and car owner, 11-time USCS National Champion, Terry Gray from Bartlett, Tennessee. Due to other commitments, she focused on wins in 2017 and would have had a real shot at a third National crown if she wasn't absent at several events. Turpen has 21 total USCS career feature wins including the nine this season.
The final 2017 USCS Mid-South Thunder Tour point standings showed Morgan Turpen with 2425 points followed by Hagar with 2407 point. Hagar edged out Mallett with 2405 by two points for the runner-up spot. Terry Gray claimed the fourth place with 2360 points and past series Champion and two-time 2017 USCS feature winner, Marshall Skinner from Marion, Arkansas rounded out the top five drivers in the Mid-South region.
The 2012 USCS Rookie of the Year, Jeff Willingham from Ripley, Mississippi finished sixth followed by Tony Agin from Ft. Myers, Florida in seventh place and Andy McElhannon from Hernando, Mississippi who got his career-first USCS feature win at Columbus Speedway on July 7th was eighth. The 2012 USCS National Champion and two-time 2017 USCS feature winner, Tim Crawley from Benton, Arkansas followed in ninth place. Dale Howard from Byhalia, Mississippi got a career-first USCS feature win at Riverside International Speedway on October 20th and completed the top ten drivers in the USCS Mid-South Thunder Tour 2017 point standings.
The final point standings for the USCS Deep South regional series, where 90 drivers competed during the 2017 season, were even closer for the title. Morgan Turpen is on top of the final standings with 2420 points. The 2017 USCS National and Southern Thunder Tour regional series Champion, Jordon Mallett finished a scant 10 points back with 2410 points. Veteran Terry Gray chased those two all season long to finish third in the inaugural USCS Deep South standings with 2331 points. Jeff Willingham followed Gray with 2034 points and Floridian Tony Agin rounded out the regional series top five with 1802 points.
Sixth place in the standings went to past series Champion, Derek Hagar followed by another past Champion, Marshall Skinner in seventh place. The 2016 USCS National Rookie of the Year, 15-year-old, Danny Sams III from Northport, Florida finished eighth in the Deep South standings. Rookie contender, Don Warren from Clarksville, Tennessee followed Sams III in ninth place and Columbus Speedway winner, Andy McElhannon rounded out the top ten in the 2017 USCS Deep South Thunder Tour standings.
The United Sprint Car Series presented by K&N Filters would like to gratefully thank its sponsoring partners for their involvement in the 2017 and 21st USCS Outlaw Thunder Tour: K&N Filters, www.rockauto.com,Engler Machine and Tool, Butlerbuilt, Wilwood Disc Brakes, Saldana Racing Products, Pyrotect Racing Cells, DMI/Bulldog Rear Ends. PRO Shocks, KSE Racing Products, DHR Suspensions, Schoenfeld Headers, Bell Helmets, DSR Fuel Systems, Brown and Miller Racing Solutions, Arizona Sport Shirts and Hero Graphics.
For information on the USCS series, please visit www.uscsracing.com For USCS rules, updated schedules and other information, please visit the www.uscsracing.com website as well or you may contact the USCS office at 770-460-7223 or 770-865-6097. Uscs also has a social media presence at USCS Racing on Facebook and on Twitter @uscsracing
USCS Mid-South Thunder Tour 2017 FINAL STANDINGS:
Pos. Car# Driver Point
1 10m Morgan Turpen 2425
2 9jr Derek Hagar 2407
3 14m Jordon Mallett 2405
4 10 Terry Gray 2360
5 26 Marshall Skinner 2152
6 28 Jeff Willingham 2080
7 38 Tony Agin 2060
8 42 Andy McElhannon 1690
9 88 Tim Crawley 1496
10 47 Dale Howard 1353
11 07 Brandon Taylor 1347
12 44 Ronny Howard 1236
13 44c Chase Howard 1204
14 27 Curt Terrell 1126
15 40 Howard Moore 1106
16 99 Don Warren 1074
17 61 Cody Howard 882
18 24D Danny Sams III 853
19 93 Jake Knight 850
20 12m Greg Merritt 802
Tie 1s Joey Schmidt 802
22 39 Brad Bowden 797
23 01 Shane Morgan 783
24 10k Dewayne White 756
25 3 Sammy Swindell 716
26 29a Kyle Amerson 692
27 88r Cody Gardner 691
28 1a Lee Moore 600
29 4 Danny Smith 582
30 13 Todd Fayard 554
31 33 Joe Larkin 526
32 91a Ernie Ainsworth 513
33 21 Butch David 496
34 b52 Bill Mason 440
35 94 Jeff Swindell 390
36 31 Justin Webb 389
37 16 Anthony Nicholson 372
38 25 Ray Bugg 360
39 8z Zach Pringle 352
40 88 Brandon Blendon 348
41 92 Nick Woolsey 340
42 d6 Dakota Gaines 324
43 95 Matt Covington 295
44 1x Gary Taylor 286
Tie 5d Zach Daum 286
46 67 Brian Thomas 278
47 29 Chad Jones 274
48 83 Bob Auld 272
49 09 Timmy Thrash 270
50 23 Lance Moss 266
51 89 Robbie Stillwaggon 263
52 21b Brandon McLain 262
Tie 14 Tony Stewart 262
54 22 Travis Senter 258
55 84 Brandon Hanks 252
56 17w Harli White 244
57 83 Curt Schumacher 236
58 29w Wade Woolsey 232
59 01T Brandon Olson 230
Tie 52 Cody Karl 230
Tie 23 Seth Bergman 230
62 55 Donny Howard 226
63 121 Jan Howard 210
64 21b Brandon Hinkle 200
Tie 2one Kevin Hinkle 200
66 3g Garrett Green 136
67 00 Tristan Lee 134
68 21 Aubrey Black 132
Tie 14b Bo Barber 132
Tie 22 Shawn Murray 132
71 15j Jeremy Middleton 128
72 6 Sean Hosey 126
73 44x Marty Meredith 116
Tie 11 Michael Hampton 116
75 24 Nathan Brown 114
76 17 Jacob Necaise 112
77 11 Mike Hampton 108
78 12b Don Ryder 100
Tie 7d Dylan DeJournett 100
Tie 43jr Richard Beasley Jr 100
Tie 32x Robert Richardson 100
Tie 29s Rusty Stanford 100
USCS Deep South Thunder 2017 FINAL STANDING:
Pos. Car# Driver Point
1 10m Morgan Turpen 2420
2 14m Jordon Mallett 2410
3 10 Terry Gray 2331
4 28 Jeff Willingham 2034
5 38 Tony Agin 1802
6 9jr Derek Hagar 1230
7 26 Marshall Skinner 1213
8 24D Danny Sams III 1128
9 99 Don Warren 1102
10 42 Andy McElhannon 985
11 67 Brian Thomas 936
12 88 Tim Crawley 918
13 47 Dale Howard 894
14 1a Lee Moore 877
15 29a Kyle Amerson 846
16 1s Joey Schmidt 818
17 07 Brandon Taylor 806
18 13 Todd Fayard 794
19 01 Shane Morgan 783
20 93 Jake Knight 738
21 21 Butch David 704
22 4 Danny Smith 603
23 44 Ronny Howard 598
24 44c Chase Howard 590
25 14 Tony Stewart 564
26 1x Scott Hunter 558
27 61 Cody Howard 528
28 33 Joe Larkin 512
29 21b Brandon McLain 510
30 27 Curt Terrell 494
31 83 Bob Auld 454
32 52 Bill Mason 440
33 40 Howard Moore 426
34 43 Terry Witherspoon 408
35 22 Shawn Murray 368
36 12m Greg Merritt 362
37 99 Tanner Witherspoon 356
38 88 Brandon Blendon 348
Tie 3g Garrett Green 348
40 14 Tyler Clem 304
41 10b Mitch Brown 292
42 3a AJ Maddox 287
43 1x Gary Taylor 286
44 82 Matt Kurtz 284
45 21k Thomas Kennedy 279
46 91a Ernie Ainsworth 278
47 83 Mark Ruel Jr 272
48 09 Timmy Thrash 270
49 10k Dewayne White 268
Tie 43m Michael Miller 268
51 16 Anthony Nicholson 266
Tie 24 Danny Martin Jr 266
53 89 Robby Stillwaggon 263
54 29 Jeff Oliver 254
Tie 116 Nick Snyder 254
Tie 1 Tyler Cross 254
57 22g Johnny Gilbertson 248
58 17w Harli White 244
59 6s Robbie Smith 240
60 83 Curt Schumacher 236
61 34 Darren Orth 234
62 01T Brandon Olson 230
Tie 52 Cody Karl 230
Tie m1 Micha McCall 230
65 8z Zach Pringle 220
66 1 Matt Carr 218
67 d6 Dakota Gaines 214
68 121 Jan Howard 210
69 21b Brandon Hinkle 200
Tie 2one Kevin Hinkle 200
71 3 Sammy Swindell 158
72 39 Brad Bowden 151
73 88r Cody Gardner 148
74 5w Ryan Coniam 144
75 00 Tristan Lee 134
76 0x Clint Weiss 132
77 21 Aubrey Black 130
78 15j Jeremy Middleton 128
79 sr4 Charlie Sweetser 126
Tie 55 Donny Howard 126
81 92 Nick Woolsey 124
82 44x Marty Meredith 116
83 17 Jacob Necaise 112
84 29w Wade Woolsey 110
85 14b Bo Barber 106
86 111 Brandon Grubaugh 100
Tie 20 Frank Carlsson 100
Tie 43jr Richard Beasley Jr 100
Tie 29s Rusty Stanford 100
Tie 23 Seth Bergman 100
Photo/Caption 10m: Past USCS presented by K&N Filters National Champion, Morgan Turpen from Cordova, TN captured both the2017 USCS Mid-South Thunder Tour and 2017 USCS Deep South Thunder Tour regional series titles