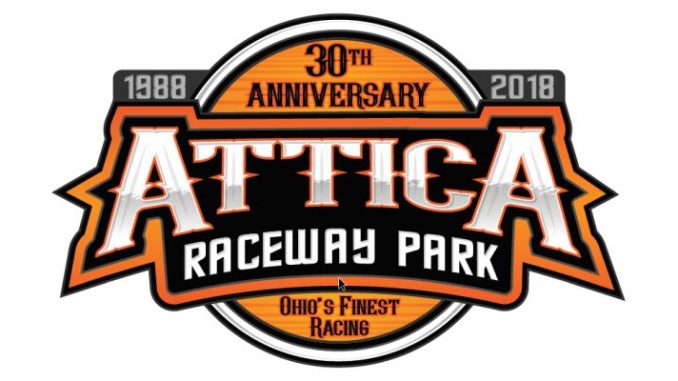 From Brian Liskai
ATTICA, Ohio – Despite the cancellation of the first four events of 2018, Attica Raceway Park Promoter John Bores is committed to rewarding the loyal race teams that support "Ohio's Finest Racing" speed plant with a great point fund and strong weekly payout once again.
To celebrate the track's 30th anniversary season, the total point fund for the three divisions will remain at $47,000. The teams in the Callies Performance Products 410 Sprints will battle for a total point fund for the top 10 of $22,000 with the champion taking home $8,000. The Summit Racing Equipment UMP Late Model champion will pocket $5,000 with a total of $15,000 going to the top 10 in points. The champion of the Fremont Fence 305 Sprints will once again collect $3,000 with a total of $10,000 being divided up among the top 10 in points.
Also the top 10 in points in all three divisions will receive gift cards from Summit Racing Equipment and product/gift certificates from Ultra Shield Race Products. The "mulligan" rule will once again be in affect in 2018. If a driver misses one night of competition he/she will receive 75 points one time only providing they did not compete at another race on that night.
"We wanted to let our teams know how much we appreciate them. Just because the weather hasn't cooperated early on doesn't mean we won't reward them with a great point fund for 2018. Our weekly purses and season point fund are some of the best in Ohio. We are able to reward our race teams because of the tremendous support we get from our area business partners and of course the fans," said John Bores, Attica Raceway Park Promoter.
The weekly 410 sprints will pay $3,000 to win while the late models will pay $1,200 to win and the 305 sprints will pay $750 to win.
The complete purses and point funds can be found at www.atticaracewaypark.com under the purse tab at the top.
Attica Raceway Park opening night is planned for Friday, April 13. Whiteford Kenworth, Construction Equipment & Supply, Merrill Lynch Night will feature the Callie's Performance Products 410 Sprints, Summit Racing Equipment UMP Late Models and Fremont Fence 305 Sprints. Gates will open at 5 p.m. with racing under way at 7:45 p.m.
For more information go to www.atticaracewaypark.com or follow the track on Twitter @atticaracewyprk or on Facebook at www.facebook.com/atticaracewaypark and Instagram at attica_raceway_park.