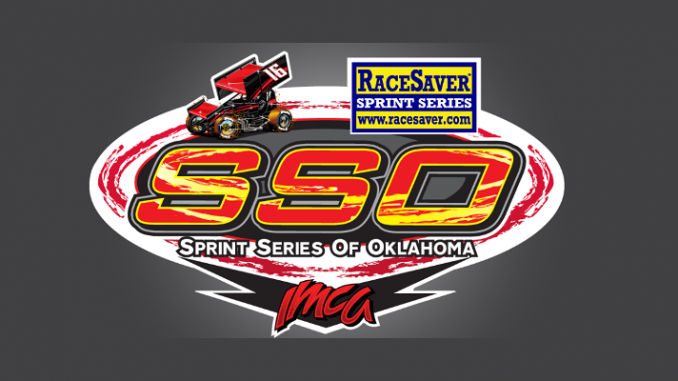 From David Smith Jr.
OKLAHOMA CITY, Ok. (April 10, 2018) – The Sprint Series of Oklahoma IMCA RaceSaver presented by Smiley's Racing Products/Hoosier Racing Tire Southwest kicks back into racing action this Saturday night as they make their first of three scheduled appearances at Lawton Speedway in Lawton, Oklahoma.
This event will kick off four straight weekends of racing for SSO at four different tracks and will be the series second ever trip to the quarter-mile, red-clay oval. Last year it was two-time and defending tour champion Andy Shouse of Oklahoma City taking advantage of race-long leader Blake Dacus' misfortune to take the lead with eight laps to go to pick up the victory. Thirty-one drivers from three states were pit side and close to the same car count is expected this weekend.
Shouse comes into the night with a slim seven-point lead over Mustang's Shane Sellers. Sellers picked up his first-career SSO victory at Enid Speedway two weeks ago.
Chris Kelly of Moore, who picked up the season-opening victory at Southern Oklahoma Speedway in Ardmore back in March, sits fifteen points out of the lead in third while Gary Owens (-16) and Brandon Jennings (-24) are the current top five in the standings.
Sitting sixth through tenth are Travis Scott, Cody Whitworth, Kevin Ramey, Michael Day and Blake Scott. All the above-mentioned drivers are expected to compete except Ramey and Day.
Other drivers slated include Joe Wood, Jr., Loyd Clevenger, Tanner Conn, Dillon Laden, Eric Matthews, Justin Mowry, Dacus, Sterling Hoff, Duane Baker, Justin Fisk and Matt Arkel.
Several area track regulars are also expected as Lawton Speedway became the first track, in the state of Oklahoma, to become IMCA RaceSaver 305-ci sanctioned on their 2018 weekly race program.
Gates will open at 6:00 PM with race action slated for an 8:00 PM start time. Grandstand admission are: Adults $15 – Seniors(60+), Military ID & Students(12-15) $10 – Kiddos(6-11) $2 – 5 & under Free. All pit passes will be $30.
Lawton Speedway is located off I-44 to Lee Blvd. Go west on Lee to Sheridan Road then back south (left at the light) and go 1.5 miles to the race track. Track information can be obtained by accessing their official website www.lawtonspeedway.com and their official facebook page: Lawton Speedway. Track phone is (580) 355-6417.
This 2018 race season will be the third year for the Sprint Series of Oklahoma IMCA Racesaver Sprint Series presented by Smiley's Racing Products/Hoosier Tires Southwest and currently has an eighteen-race schedule. For more information on the SSO check out their official facebook page: Sprint Series of Oklahoma or call competition director Jim Messmer (405) 417-2202.
Officials with the SSO would like to thank Smiley's Racing Products for once again becoming series presenting partner and will again award the 2018 series point champion $1000 cash. Also, would like to welcome Hoosier Racing Tires Southwest as a series presenting partner as they will award a set of Hoosier Racing tires to one lucky driver at the year-end points banquet in a random draw. Drivers must finish in positions second through tenth in the final point standings to be eligible.
Contingency and event partners for 2018 include Rod End Supply; Saldana Racing Products; Pyrotech Fuel Cells, Keizer Wheels, Super Shox, Bishop Racing Components, Martens Machine Shop, Young Tool Company, Pole Position Raceway, Carter-Maxwell Goodyear, David Grace and Lynda Maxwell.
In the staging area: After this Saturday night's event at Lawton Speedway, the tour will head south for their third appearance of the season at Southern Oklahoma Speedway in Ardmore on Friday night, April 20.
Current SSO Point Standings: 1) Andy Shouse 114, 2) Shane Sellers 107, 3) Chris Kelly 99, 4) Gary Owens 98, 5) Brandon Jennings 90, 6) Travis Scott, Cody Whitworth 88, 8) Kevin Ramey 76, 9) Michael Day 74, 10) Blake Scott 72, 11) Austin Mundie 67, 12) Loyd Clevenger 66, 13) Tanner Conn 63, 14) Dillon Laden 54, 15) Eric Matthews 52, 16) Ty Williams 79, 17) Taylor Courtney 43, 18) Elliot Amdahl 42, 19) Justin Mowry 40, 20) Zach Blurton 37