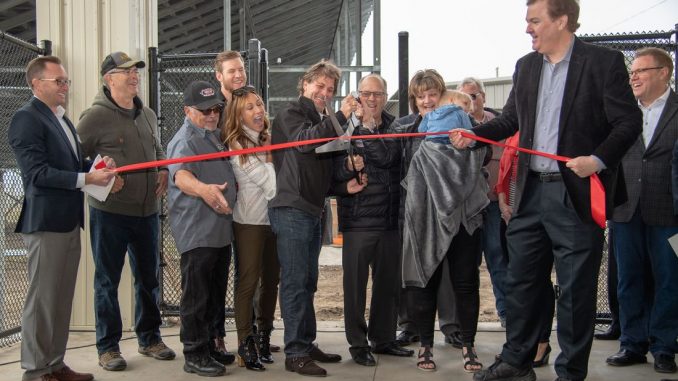 From Bob Baker
KNOXVILLE, Iowa (April 12, 2018) – The Grand Opening for the Bryan Clauson Suite Tower was a huge success on Wednesday. The event, held at the National Sprint Car Hall of Fame & Museum, commemorated the opening of the new six-story suite tower looking over turn two of the famed Knoxville Raceway.
About 400 guests gathered for speeches from the several donors, dignitaries and Knoxville officials gathered. The ribbon cutting was done with everyone yelling, "Parked It", a moniker used by Bryan Clauson in Victory Lane. Helium balloons were released following the event, just as they were, when the ten month project saw its ground breaking last June.
The guests then, through the Gil Sonner elevator, explored the new suite tower which features twelve suites overlooking the Knoxville Raceway, as well as the Richard and Jennifer Marshall Sixth Floor Observation Deck. They then made their way to the second floor of the National Sprint Car Hall of Fame & Museum where they received a commemorative coin, and enjoyed a catered lunch from Rib Shack.
With this weekend's activities at the Knoxville Raceway postponed due to inclement weather, racing will get underway at the "Sprint Car Capital of the World" with practice night, Friday, April 20, and the season opener, Saturday, April 21.
The final funding for the project is still being sought. To find out how you can contribute, visit www.BCForever.com!
For more information on the National Sprint Car Hall of Fame & Museum, follow us on Facebook and Twitter, and at our website www.SprintCarHoF.com!