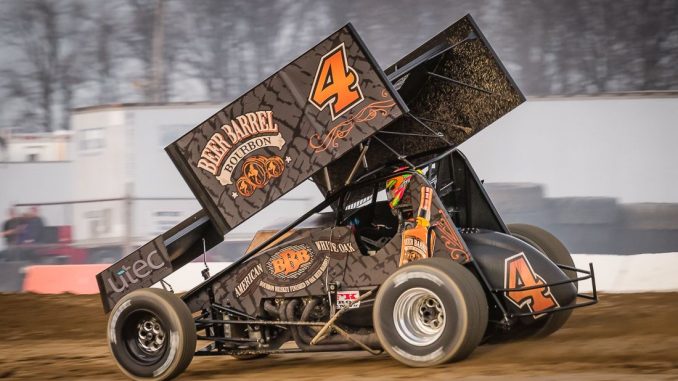 By T.J. Buffenbarger
Every year I try to predict before the season begins, which Michigan based team might be the fastest that given year. Popular answers this year would be Ryan Ruhl driving for Steve Smith, Dustin Daggett with his family team, or even Dan McCarron on the Ohio scene. This year's candidate might be a team you didn't realize was based out of Richmond, Michigan.
Brett Lane may not be a familiar name to some Michigan fans. Lane made a handful of starts in the Ohio 305 sprint car division and also brought his car north for a handful of starts with Sprints on Dirt over the years. Over two years Lane and his father transitioned from the 305 to the 410 division and eventually to a role as owner instead of driver.
"I made the move for the love of the game," said Lane of his departure from the driver's seat. "I felt like there needed to be more owners willing to put together a deal for young, talented drivers along with veterans so we could keep putting fans in the stands."
After trying some different drivers Brian Smith, who had been driving for Lane, pointed the owner to Cap Henry shortly after he parted ways with Blazin' Racing.
"When I first called him I told Brett I wanted to go up and install my seat at the shop," said Henry. "After putting my seat in we went over the entire car from the back and changed the setup around. We worked well together doing that and he was open to do that, so I figured we would be ok."
That extra effort impressed Lane before Henry event turned a lap in his car.
"Cap was ready to hop in our car and go," said Lane. "I think he was determined to make anyone's car go to the front. We were the lucky ones to get the phone call."
It turned out the combination was better than okay finding victory lane in their second start together. After a successful 2017 season that included a big win at the end of the year at Berlin Raceway during the Sprints on Dirt season finale Henry and Lane agreed to team up for the 2018 season. For Henry it was a relief having solid plans going into this season.
"It's nice not having to look for a ride. It's hard to find one," said Henry. "Teaming up with Brett made for an easy winter. He's been busy getting the cars and spare parts around and even got a new trailer ready for this year. It's been fun to see all the new toys and everything come together."
For Lane and his family seeing the car they took two years to piece together running up front was highly rewarding.
"We were just as determined as Cap to see the car run up front," said Lane. "I think from the start we had the same goals. That helped us click right from the start."
After the 2017 season Henry and Lane remained in contact and by December they had put together a deal for 2018 along with a new sponsor coming on board in New Holland Spirits with their Beer Barrel Bourbon product.
"One of the distillers was invited to my wedding in 2016. We had the car on display and got to talking and he asked me to send a proposal. He brought that to his boss and stayed in touch. Last February we sent an updated proposal and kept sending updates on how the season was going. We kept e-mailing back and forth and ended up on a conference call about what we could do as a team to promote Beer Barrel Bourbon."
The Lane team with Henry behind the wheel is off to a fast start this season finishing third in the season opening event at Attica Raceway Park. The plan is to race around the Northern Ohio area with a handful of other shows sprinkled in. Even with the new sponsorship the team is still in their building phase with only a single engine.
"I'm trying to create a team that people want to partner with. I feel like we are getting the right pieces into place. That always adds pressure, but having a driver that puts as much effort into driving the car as (Henry) is a relief though."