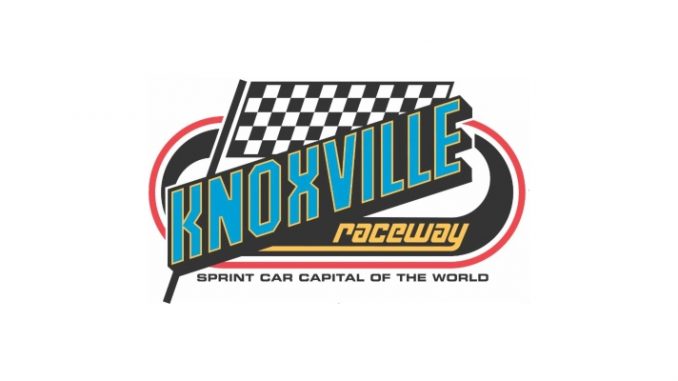 From Knoxville Raceway
KNOXVILLE, Iowa (May 8, 2018) — The time tested battle of which school is better – University of Iowa or Iowa or Iowa State University – will take center stage at Knoxville Raceway on Saturday, May 12.
Vermeer Iowa vs. Iowa State Night will feature three classes of action-packed sprint car racing but also host a contest asking fans to "vote" for which school they like better. To vote, fans are asked to make a donation of any amount throughout the night to the school of their choice. At the end of the night, the school that raised the most money will have its flag flown over the historical racing venue throughout the rest of the 2018 racing season. Fans are encouraged to wear their favorite school's apparel as well.
The University of Iowa has chosen the University of Iowa Stead Family Children's Hospital as their charity of choice to receive all funds raised for their school.
"We are so grateful for the support our patients and families receive from community partners like Knoxville Raceway," said Alexandra Westlund, Assistant Director of Corporate and Community Development for the University of Iowa Stead Family Children's Hospital. "Funds raised through Iowa vs Iowa State Night will be used for the most urgent needs at University of Iowa Stead Family Children's Hospital. Though the needs are always changing, donations allow UI Stead Family Children's Hospital to offer programs and amenities that enhance the emotional well-being of patients and their families, purchase advanced medical technology that can more easily diagnose or treat childhood conditions, and seek more knowledge about childhood disorders through medical research."
All "votes" and funds raised for Iowa State University will benefit the school's general scholarship fund.
"More students from Iowa attend Iowa State than any other four-year institution in the state. So gifts to Iowa State through the Knoxville Raceway challenge mean these students get the opportunity to reach their full potential – and return to their towns and cities able to contribute to their growth," says Steve Biever, Vice President for Development at the Iowa State University Foundation.
In the 2017 inaugural Iowa vs. Iowa State Night, Iowa received more than $800 in donations, besting Iowa State supporters by nearly $500. The University of Iowa Hawkeyes flag has presided over the raceway ever since. The flag will be taken down at the start of Vermeer Iowa vs. Iowa State Night on May 12, with the winning school's flag raised at the end of the night.
"The races at Knoxville Raceway provide a fun, competitive activity in our community and Vermeer is proud to be a part of it," said Mark Core, Executive Vice-President and CMO at Vermeer. "At the same time, we're excited for our community to have the opportunity to meet our talent acquisition team and learn more about Vermeer as a top, local employer."
Vermeer will have a large display set up at Knoxville Raceway on Saturday night, complete with a simulator. Race fans who try their hand at the simulator will be entered to win pace truck rides in the Kraig Ford Raptor throughout the night. Vermeer staff will also be on hand to discuss employment opportunities at the Pella, Iowa based corporation.
Tickets for Vermeer Iowa vs. Iowa State Night can be purchased at the ticket office on the day of the event. Hot laps will begin at 6:30pm with 410, 360 and 305 sprint car racing to follow. Adult tickets are $15; teens $10 and children 12 and under are free.
For more information on Knoxville Raceway, including a season schedule and information on the world famous 5-hour ENERGY Knoxville Nationals presented by Casey's General Store, please visit www.knoxvilleraceway.com and follow the track on Facebook, Twitter and Instagram. Fans can also call the ticket office at 641-842-5431 or email KendraJ@knoxvilleraceway.com.