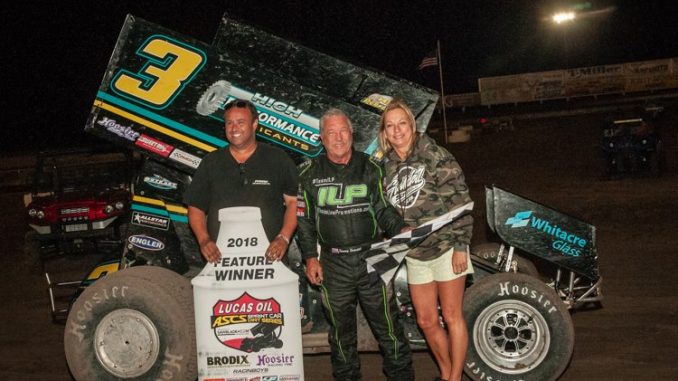 From Bryan Hulbert
AMARILLO, Texas (June 9, 2018) – Fighting through a rain delay that kept track crews busy all night, Route 66 Motor Speedway was lightning fast with Tennessee's Sammy Swindell wrestling the A.G. Rains owned No. 3 to victory with the Lucas Oil American Sprint Car Series presented by Sawblade.com in round-two of the ASCS Sizzlin' Summer Speedweek.
"I feel really blessed to be here. There's not too many people my age who get to come out here and do this or be this competitive, so I'm grateful to the Lord for that. Looking forward to a lot more wins and it's great that everyone stayed, they did the best they could with this track and made it pretty fast at the end," stated Swindell who at 62 years old picked up his 16th career win with the Lucas Oil American Sprint Car Series presented by Sawblade.com.
Nearly seeing his A-Feature end as it started, the first attempt at green saw Swindell and Colt Treharn make contact going into the first turn; ending the night for Colt with his front axle in two pieces. Able to continue, the contact left Sammy with his hands full the remainder of the 30-lap event as the right rear shock was ripped from the lower arm along with a damaged Jacobs Ladder.
"The incident we had on the start, I didn't know the guy was still there, but we broke the shock and bent the ladder up. The car was good, just a little bit tight, but when I got into traffic it was real tight," commented Swindell. "Even being broke, the car still rolled good."
Keeping any challenge at bay through several restarts, traffic, and dirty air played havoc on Swindell, but it was not enough to allow anyone a chance to advance. Winning by 2.841 seconds, the runner-up position went to Matt Covington who came to the line with Travis Rilat in tow. Rolling from the 12th starting spot, restarts were pivotal for the BDS Motorsports No. 1. Opening his entry into turn one, Rilat would diamond to the bottom and rocket down the backstretch, clearing three and four drivers at a time before finally settling into third, despite several holes in the right sideboard from Colt Treharn's front axle.
Coming from eighth, Blake Hahn crossed fourth with Harli White posting her best finish of the 2018 season in fifth. Ripping through the field from 18th, series point's leader Sam Hafertepe, Jr. was the night's CP-Carrillo Hard Charger with a run to sixth. Tony Bruce, Jr. in seventh was trailed by Scott Bogucki from 14th. Skylar Gee was ninth with Jamie Ball moving up six spots to tenth.
The Lucas Oil ASCS Sizzlin' Summer Speedweek heads for the Devil's Bowl Speedway in Mesquite, Texas for action on Tuesday, June 12. Track information, ticket prices, and directions can be found at http://www.devilsbowl.com.
For other news, notes, and information on the American Sprint Car Series, from the National Tour to any of the Regional Tours that make up the over 150 across the ASCS Nation in 2018, log onto http://www.ascsracing.com, follow on Facebook, on Instagram, and on Twitter (@LucasOilASCS).
Race Results:
Lucas Oil ASCS National Tour
Route 66 Motor Speedway – Amarillo, Texas
Speedweek Round 2
Saturday, June 9, 2018
Car Count: 22
BMRS Heat Races (All transfer to the A-Feature. Top 8 Redraw)
Heat 1 (8 Laps): 1. 99-Skylar Gee, [2]; 2. 12H-Tony Bruce Jr, [1]; 3. 17W-Harli White, [4]; 4. 1-Travis Rilat, [3]; 5. J2-John Carney II, [5]; 6. 5J-Jamie Ball, [6]; 7. M1-Mark Smith, [7]; 8. 24-Ben Silliker, [8]
Heat 2 (8 Laps): 1. 23-Seth Bergman, [1]; 2. 3-Sammy Swindell, [3]; 3. 95-Matt Covington, [4]; 4. 45X-Johnny Herrera, [5]; 5. 44-Chris Martin, [7]; 6. 6-Kaden Taylor, [6]; 7. (DNF) 2C-Wayne Johnson, [2]
Heat 3 (8 Laps): 1. 52-Blake Hahn, [2]; 2. 7X-Colt Treharn, [1]; 3. 74B-Jake Bubak, [4]; 4. 11-Roger Crockett, [3]; 5. 28-Scott Bogucki, [6]; 6. 15H-Sam Hafertepe Jr, [5]; 7. 77X-Alex Hill, [7]
Protect the Harvest A-Feature:
A Feature (30 Laps): 1. 3-Sammy Swindell, [1]; 2. 95-Matt Covington, [5]; 3. 1-Travis Rilat, [12]; 4. 52-Blake Hahn, [8]; 5. 17W-Harli White, [7]; 6. 15H-Sam Hafertepe Jr, [18]; 7. 12H-Tony Bruce Jr, [3]; 8. 28-Scott Bogucki, [14]; 9. 99-Skylar Gee, [6]; 10. 5J-Jamie Ball, [16]; 11. 44-Chris Martin, [11]; 12. 2C-Wayne Johnson, [22]; 13. J2-John Carney II, [15]; 14. 45X-Johnny Herrera, [10]; 15. 77X-Alex Hill, [20]; 16. (DNF) 74B-Jake Bubak, [9]; 17. (DNF) 11-Roger Crockett, [13]; 18. (DNF) 24-Ben Silliker, [21]; 19. (DNF) 6-Kaden Taylor, [17]; 20. (DNF) M1-Mark Smith, [19]; 21. (DNF) 7X-Colt Treharn, [4]; 22. (DNF) 23-Seth Bergman, [2]
Lap Leader(s): Sammy Swindell 1-30
CP-Carrillo Hard Charger: Sam Hafertepe, Jr. +12
FSR High Point Driver: Skylar Gee
Provisional(s): N/A
2018 ASCS National Driver Points (Top 15): 1. Sam Hafertepe, Jr, 1,336; 2. Seth Bergman 1,294; 3. Blake Hahn 1,257; 4. Wayne Johnson 1,250; 5. Johnny Herrera 1,247; 6. Matt Covington 1,177; 7. Skylar Gee 1,099; 8. Scott Bogucki 1,096; 9. Roger Crockett 1,047; 10. Jamie Ball 1,047; 11. Harli White 1,034; 12. Chris Martin 960; 13. Alex Hill 899; 14. Robbie Price899; 15. Travis Rilat 848;
2018 ASCS Speedweek Points (Top 15): 1. Sammy Swindell 285; 2. Sam Hafertepe, Jr. 272; 3. Matt Covington 252; 4. Scott Bogucki 238; 5. Blake Hahn 238; 6. Harli White 238; 7. John Carney II 234; 8. Seth Bergman 230; 9. Travis Rilat 224; 10. Jake Bubak 223; 11. Johnny Herrera 218; 12. Tony Bruce, Jr. 217; 13. Chris Martin 214; 14. Skylar Gee 213; 15. Mark Smith 209;