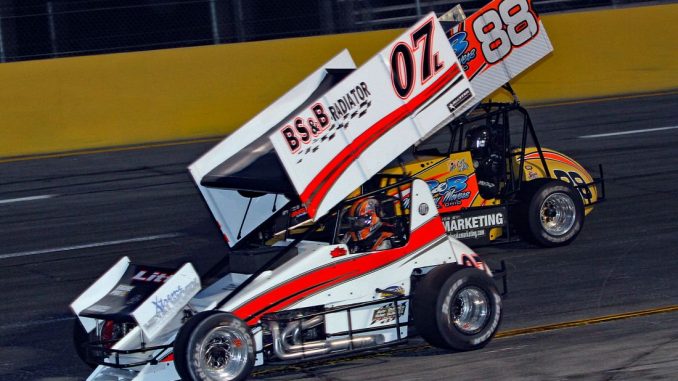 By T.J. Buffenbarger
Social media reaction to the Engine Pro Sprints on Dirt presented by ARP and Lane Automotive Michigan Traditional Sprints double header being rained out on Friday at Hartford Motor Speedway was plentiful and sometimes ferocious. It's natural to be disappointed because winged/non-wing sprint car double headers anywhere, let alone here in Michigan. Some of the negative reaction though was over the top.
My theory on rain outs is consistency. There are race tracks that you know will stick it out through the night and make every conceivable effort to get a program in and there, some tracks error on the side of caution and cancel early, while others can vary based on the magnitude of the event. Hartford has been fairly consistent with early cancellations under Tim and Leah Dibble's leadership, particularly since the track has been for sale. In my view the cancellation was consistent with others I've seen there and I wasn't bothered by the decision. Was I disappointed we didn't get to see the event? Absolutely, it's also not my money on the line (likely upwards of $20,000 for that program or more) promoting such a big show with threatening weather looming in the distance.
The number of support divisions, special programs, and even the concession menu varies a lot from track to track, and rain cancellations are handled the same way. There are facilities that don't have the means or the want to for a major rain delay, and there are some that try to draw fans because they know the staff will do everything in their power to race. For me as long as its consistent I don't have any issues with either methodology.
Notes:
Monday night capped off rare back to back sprint car races at Berlin Raceway featuring the Auto Value Bumper to Bumper Super Sprints on Saturday and Must See Racing sprint cars Monday. 20 total cars took part in both shows with 12 contesting the feature on Saturday and 14 starting the feature on Monday. I understand the ideology difference between the two series, but at what point does everyone notice that if all these cars showed up at the same time there would be a full field of cars? Granted a full field may scare away a few cars that would finish towards back half of the field instead of in the top 10, but it's getting to the point where the pavement side of the world needs something more cohesive to happen before they go the way of mini champs and midgets in the Mitten state.
Despite the lack of cars both winning performances were impressive at Berlin. Ryan Litt demolished the field on Saturday lapping into the top five. I've seen Jimmy McCune lose races at Berlin in a myriad of different ways. McCune, who has been consistently the strongest winged pavement sprint car team in the area the past couple of seasons, finally put a Berlin victory under his belt. Considering how many years he has competed in midget and sprint car racing its surprising that victory did not come sooner.
Jeff Converse was on hand to shoot the Lane Automotive Michigan Traditional Sprints at Merritt Speedway. MTS put on a pretty decent feature as a slick Merritt did provide some racing lanes in the feature. Steve Irwin has bounced back well from his early season crash at Waynesfield Racing Park picking up another MTS win.
Due to being in transit all day with moving items I didn't hear about Benny Rapp's passing until Sunday. Rapp was a fixture in my racing world growing up in midgets and sprint cars. The noteriaty he gained from his age later in his career was well deserved, but a lot of younger fans may not have realized what a good race car driver he was. Rapp was still up on the wheel when I was growing up winning Sprints on Dirt point title. After his driving career was over Rapp fielded cars for many years as well. Our thoughts are with Rapp's friends and family.
It was good to see Chase Ridenour back in action after his scary crash at I-96 Speedway during the World of Outlaws Craftsman Sprint Car Series program. More often than not when sprint cars hit that turn one wall with that kind of ferocity it does not end well. Thankfully Ridenour came out better than some of the drivers crashing in that position.
The Michigan Motorsports Hall of Fame has inductees with sprint car ties in their 2018 induction class. Jason Blonde, who doesn't seem that old because he's close to my age, was announced as a driver inductee this year. With his success on dirt and pavement Blonde was a shoe in for the honor and is well deserved.

 

The other inductee that many people may not know personally is Sue Lincoln. Sue is an extraordinarily good scorer who has decades of experience. I've worked with Sue at sprint car races every year of my career since 1996. Learning the craft from Pat Beebe, Sue in turn taught me a lot about the art of scoring and how it was done. While I'm not good at it, I gained a much better understanding about the rigors of that job. While drivers get the glory its nice to see the Michigan Motorsports Hall of Fame recognize those behind the scenes with difficult jobs that make racing possible.