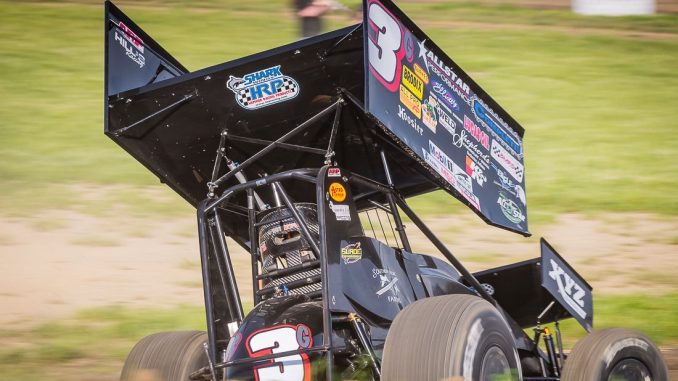 By T.J. Buffenbarger
In today's world racing is a 365 day a year business. All of the pre-season trade shows, hype, and spring racing leading into times like this week that are packed full of racing coast to coast. Thanks to the Must See Racing event that was rained out earlier in the year at Berlin Raceway that was rescheduled for Monday there is a sprint or midget car race every day this week.
The magnitude of the events taking place this week is astonishing. ASCS Sizzlin' Summer Speedweek finishes up leading right into the start of Ohio Sprint Speedweek and the USAC Eastern Storm tour.
Ohio Speedweek is one of my favorite events in all of sprint car racing. With a geographical layout that makes little to no sense travel wise and the quality of the competition Ohio Speedweek is one of the biggest challenges in all of sprint car racing. In addition the All Star Circuit of Champions this season has a strong cast of characters to take on the local Ohio contingent and whatever visitors migrate to Ohio for the event.
Paul McMahan and Carson Macedo finding victory lane for the first time in All Star competition last week could be a sign of parity in the competition. Macedo's back to back victories were particularly impressive and propelled him to second in the All Star point standings 22 markers behind Aaron Reutzel. With the entire top five in the point standings separated by less than 100 points Speedweek will be pivotal in determining the 2018 series champion.
The USAC Eastern Storm continues to gain in popularity every season, giving east coast fans a rare look at non-wing 410 sprint car racing in their home state. One could argue without the success of Eastern Storm Pennsylvania may not have a USAC regional sprint car series and non-wing super sportsman competition on a regular basis.
One of the best things to happen on Eastern Storm is the pairing on USAC with the weekly 410 sprint cars at Williams Grove and Port Royal Speedways. This gives local fans great added value and may entice some that are just non-wing or winged sprint car fans to broaden their horizons.
Another twist to this year's edition of Eastern Storm is the event on Tuesday at Weedsport Speedway in Weedsport, NY. The All Star Circuit of Champions competed at Weedsport last week to rave reviews of the facility.
Not to be forgotten the Greatest Show on Dirt, the World of Outlaws, will heads to River Cities Speedway which is widely regarded as one of the best race tracks the tour competes on every season. The Outlaws tour has a rare Saturday off before going to Nodak Speedway on Sunday.
This is just some of the national and higher profile region action taking place this week. Looking down the master schedule I see local and regional special events from coast to coast. As long as the weather holds out there should be a race to attend nearby.
Notes:
Kudos to Jerry Gappens and his team and the race teams at Gas City I-69 Speedway last Friday for getting their program in last Friday after a torrential downpour just before race time.   Gappens and the crew at Gas City were rewarded with a great crowd that stuck out the rain delay to catch the Great Lakes Super Sprints/Non-Wing 410 Sprint Car doubleheader. Even though they did not get an Indiana Sprint Week Show Gas City will host the USAC Sprint Cars September 7th on Brickyard 400 weekend.
While moving has hampered my ability to get to the race track in person I can't say enough about the quality of the streaming on Dirtvision this year. I was able to catch the tail end of the programs at Jackson Motorplex and the streams were outstanding every night. Since switching over to the satellite feed that goes back to the World Racing Group's office in Charlotte the stream has not wavered even once in both homes and at Mudclodbob's house as well.
The announcement of the two-day Corn Belt Nationals at Knoxville Raceway for 2019 is an awesome opportunity for non-wing sprint car racing. The good news early on is both the USAC National Sprint Car Championship and POWRi WAR Sprint Car Series are on board. All too often I've seen major non-wing events start out well and fizzle out or don't get the car count and crowd support needed for them to continue. So far the two recent USAC events at Knoxville Raceway have done well. Now it's up to the teams and fans to help make this new venture at Knoxville at success. If teams pass up going to Knoxville to pick off a $1,200 to win local show they can't complain if that program eventually goes away and there are not as many major non-wing races to participate in.
Bob Buffenbarger will be headed to Ohio to cover the opening weekend of Ohio Sprint Speedweek for us. While I finish unpacking boxes I'll take part of the local beat this weekend with the Great Lakes Super Sprints at I-96 Speedway on Friday before deciding on where to go Saturday.