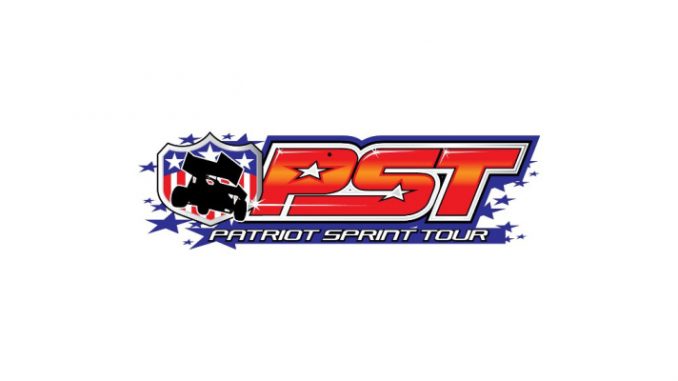 From Curtis Berleue
SPUDS, N.Y. (June 14, 2018 – After a one-week hiatus, the A-Verdi Storage Containers Patriot Sprint Tour will roar back into action this Friday and Saturday at Clinton County Motor Speedway and Selinsgrove Speedway, respectively. This will be the first of two trips south to Pennsylvania this season for the traveling winged warriors.
Up first on Friday night is a return to the Clinton County Motor Speedway. There have been two different winners at the Mill Hall, PA oval in two visits for the Patriot Sprint Tour. In the tours first visit in 2010, it was Alan Cole picking up the victory. Three years later in 2013, it was Jared Zimbardi who visited victory lane. Zimbardi is expected to be in attendance Friday night to defend his victory, and the defending American champion will also be making his first Patriot Sprint Tour start of 2018.
Saturday the tour travels further south down route 15 and makes its annual stop at the Selinsgrove Speedway for the Joe Whitcomb Memorial. This special event showcases a rare format for the Patriot Sprint Tour, with single lap Time Trials being held to start the evenings action. In four previous visits to the Snyder County half-mile there have been three different winners. In 2014 and 2015 TJ Stutts picked up the victory; in 2016 Davie Franek was victorious, and last season saw Nate Snyder pick up his first career Patriot Sprint Tour victory. This will be the first of two visits to Selinsgrove in 2018, with a return planned on September 2 as the finale of the 'Labor Day Triple Play' weekend.
Thus far in 2018, four full-point events have been held – Jason Barney picked up the season opener at Land of Legends Raceway, Chuck Hebing won two in a row at Albany-Saratoga and Ransomville Speedways, and sophomore tour competitor Jordan Thomas parked it in victory lane at Fulton Speedway. Hebing holds a 69 point lead over Thomas, with Paulie Colagiovanni currently sitting in third, Kyle Drum in fourth and Derek Jonathan rounding out the top five.
For more information on this weekends events, be sure to visit www.PatriotSprintTour.com, www.ClintonCountyMotorSpeedway.com and www.SelinsgroveSpeedway.com. You can also 'like' the Patriot Sprint Tour on Facebook and follow @PatriotSprints on Twitter and Instagram for the latest news, photos, videos and more.