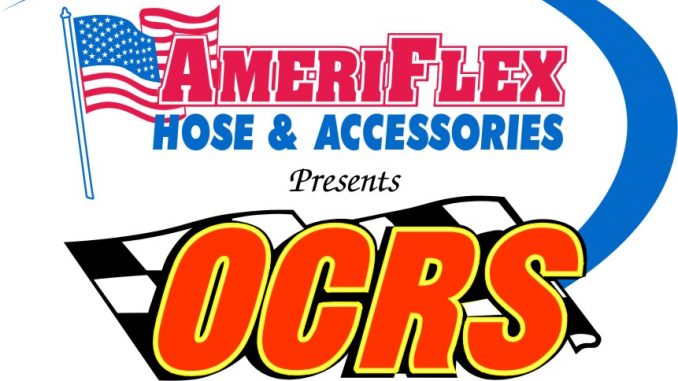 John Lemon
Tulsa Okla. (June 26, 2018) – After taking on the large 1/2-mile oval of the Thunderbird Speedway last Friday night, the drivers of the AMERI-FLEX / OCRS sprint car series will take on a complete polar opposite when they invade the 1/4-mile Caney Valley Speedway in Caney Kansas this Saturday night.
This will be the second 2018 tour stop to Caney Valley for the sprint cars with the previous visit taking place on May 26th where Moore Oklahoma's Whit Gastineau reigned supreme.
The event last month at CVS produced some of the greatest action ever put on by the fearless dirt jockeys as they fought their way for every possible position to steal from one another due to an extremely well prepared track surface. By the end of the race, there were several bumpers and nerf bars that were well used up from all the contact during the 30 lap affair.
The anticipated competitors that are expected to keep Gastineau at bay from going back to back are Sheldon Barksdale, who just scored a win worth over $2600 at the Harold Leep Classic last Friday, current points leader Alex Sewell, defending series champion Zach Chappell, local hero Andrew Deal, Mickey Walker, Layne Himebaugh, Matt Sherrell and Shayla Waddell along with several other challengers.
URSA B-Mods, Factory Stocks and Street Stocks will also be on the docket to make for a full racing program for  a great night of thrills. chills and spills.
NUTZ n' BOLTZ:
Payout For The Record Books
With multiple forecasts showing a 70-80% chance of rain for night two of the 4th Annual Harold Leep Classic presented by Carter – Maxwell at the Thunderbird Speedway, track & series officials opted to run the entire sprint car program on Friday night while keeping the over $16,000 purse intact thus it became the second highest paid event in series history. The $19,000 Ameri-Flex Challenge II in 2017 currently reigns at the top of the record books. The Ameri-Flex Challenge III on September 29th at the Salina Highbanks is set to be the all-time record holder with over $24,000 up for grabs. As for those weather forecasters, it must be nice to be so wrong at times and retain your job as the next evening was a great night to be racing. Go figure.
Meet & Greet The Legends Update
With the cancellation of the second night at Thunderbird, that also cancelled the "Meet & Greet the Legends" for the race fans. Racing heros of the glory days like Ray & Donnie Crawford, Jerry Stone, Tony Armstrong, Shane Carson, Terry Doss, Ray Rainey and others were set to participate. Options to reschedule the Meet & Greet session is being looked into. In the event a date is secured, we will announce it right away.
Breaking Loosing Streak In Style
After winning 7 races in 2016, which included the final two races of that season, Sheldon Barksdale never found the right trail in the maze to reach victory lane in 2017. After 4 races to start this season, the winless streak would reach 17. That all changed last Friday night when Barksdale earned over $2600 for winning the Leep Classic event. As they say, go big or go home.
New Track Record
Whit Gastineau was the Ameri-Flex Hose & Accessories quick time driver at Thunderbird with a time of 18.954 second run as the AMERI-FLEX / OCRS series held time trials for the first time. While several of Thunderbird's past records are unattainable, This is believed to be a new track record for open wheel cars at Thunderbird. The only other driver to crack into the 18 second barrier was Sheldon Barksdale with a 18.988 clocking. These times translate to an average speed of 94.5 mph on the huge track.
Spinless & Crashless
Through time trials, 3 heat races, 3 qualifiers and a 25-lap main event, the Leep Classic race never saw a spin out nor a crash. The only yellows of the night were for debris (once) and for Tim Kent stopping at the end of turn one with motor troubles. The rest of the night the drivers minded their P's and Q's in their flawless performance in front of a solid crowd.
Your Racing Schedule Docket For This Weekend…………..
What: Ameri-Flex / OCRS Sprint Cars (and support classes)
Where: Caney Valley Speedway / Caney KansasWhen: Saturday June 30, 2018
Time: Gates open at 4:00p / Hot laps 6:30p / Racing at 7:00p (OCRS drivers meeting at 6:00p)
Tickets: $15 (13yrs & up) / $10 Military Veterans / $5 ( kids 7-12 & Seniors) / 6 & under FREE / Pit Pass: $35
Track Phone: (620) 330-0485
Track website: www.caneyvalleyspeedway.net
Track Location: The track is just 1/2-mile west of the junction (intersection) of US 75 and US 166 on CR 1600.