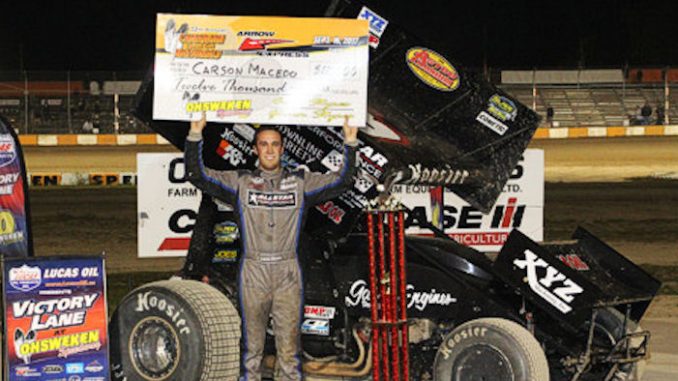 By T.J. Buffenbarger
When word hit the TJSlideways.com office that Carson Macedo would be taking the seat of the Jason Johnson Racing car for the Knoxville Nationals I felt it was a solid choice for the situation. Macedo's availability helps make him a good fit for a difficult situation.
When making rounds at the Kings Royal I stopped by the JG Racing team that Carson Macedo drives for  on the All Star Circuit of Champions tour to speak with Tim Norman, one of the co-owners of JG Racing. Norman indicated that they would not be taking their team to Knoxville due to having to keep up with their own business, XYZ Machining to get caught up so they can run the remainder of the All Star tour.
With a lot of the best drivers locked up in rides that they are likely not giving up mid-season for just a shot at the Knoxville Nationals, the unusual gap in Macedo's schedule fit in perfectly for the job. I have to admit that I was a little disappointed that I was not able to piece together that Macedo would get the nod for the Jason Johnson Racing ride at Knoxville once I found out that JG Racing would not attend the Knoxville Nationals.
When you look at the driver landscape most of the drivers you would select to drive a car at the Knoxville Nationals have a ride lined up or haven't been active this season. As much as drivers would love to help the Johnson family leaving their job to do a one off ride at Knoxville for Jason Johnson racing isn't practical for either side. Macedo's unusual schedule gap gives JJR a young up and coming driver.
Macedo is very mature young man for his age and has aspirations of racing at sprint car racing's highest level. Taking on this ride at the biggest event in sprint car racing under these circumstances is daunting. Filling the seat of a driver that became one of the endearing Knoxville Nationals champions followed by his tragic passing is a circumstance that is beyond comprehension for most of us. Throw in the fact the family aspect of Jason Johnson Racing and it's a situation many people would not be equipped to handle.
I believe Macedo the calm, level headed person that is well suited for the job. He's an up can coming star that is starting to develop into one of the future stars of our sport. The 2018 nationals will put Macedo's development in a very bright spotlight. Most importantly he will represent JJR well under extremely difficult circumstances.