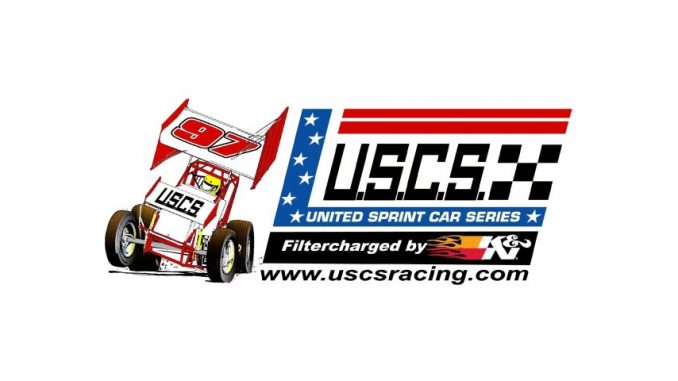 By Pete Walton
Atlanta, GA – August 15, 2018 – The Fayetteville, Georgia based United Sprint Car Series Outlaw Thunder Tour presented by K&N Filters winged sprint cars make their only 2018 visit to Senoia Raceway in Senoia, Georgia on Saturday, August 18th. The event is entitled the USCS Senoia Summer Nationals IX (nine) presented by FireAde. The series' 120 mile per hour USCS winged Outlaw type sprint cars headline the high-speed night of racing action at the 3/8-mile clay oval. The racing card also includes the 100+ mile per hour www.rockauto.com USCS 600 Sprint Car Series mini sprints plus four of the track's weekly racing divisions with special events of their own this Saturday night.
The United Sprint Car Series portion of the event expects to draw some of the top winged sprint car drivers from at least seven states including at least five of the series 2018 sprint feature winners.
Heading the entry list is 2017 United Sprint Car Series National Champion Jordon "The Jet" Mallett from Greenbrier, Arkansas. Mallett currently leads the USCS Outlaw Thunder Tour National point standings. The Arkansan has seven trips to the www.RockAuto.com USCS Victory Lane during 2018. He won six times during the 2017 season in route to his first title. Mallett is one of the top ranked sprint car drivers in the Nation and was ranked tenth in North America out of all of the 3500 drivers in the 2017 National Sprint Car Hall of Fame 360 Sprint Car Driver of the Year poll. He's only gotten better.
The 2015 and 2016 USCS National Champion, Morgan Turpen from Cordova, Tennessee who was the 2017 series wins leader with nine stops in the www.rockauto.com USCS Victory Lane during the 2017 season. Is entered as well. She was the 2016 USCS Senoia Summer Nationals Champion after grabbing her first win at the speedway on August 20th of 2016. Turpen is the top ranked female sprint car driver in the World and was ranked fifth in North America out of all 3500 drivers in the National Sprint Car Hall of Fame 360 Sprint Car Driver of the Year poll. Although third in the current USCS National standings, Turpen is the points leader in both the USCS Mid-South regional series and has two wins so far this season.
Eleven-time National Champion, Terry Gray from Bartlett, Tennessee who is currently in the runner-up spot in the National point standings behind the 25-year-old Mallett. The veteran driver has one win so far in 2018. Gray who is also a former Senoia Raceway USCS feature winner on both dirt and pavement surfaces at the historic facility is as previously mentioned, an eleven-time USCS Outlaw Thunder Tour presented by K&N Filters National Champion. Although being able to secure only one a win so far this season, he is always a threat to win and has had a number of podium finishes this year. He has also been a Championship car owner twice as Morgan Turpen's car owner.
The 2012 USCS Rookie of the Year, Jeff Willingham from Ripley, Mississippi who is in fourth place in the National standings is entered as is Tony Agin from Ft. Myers, Florida who is fifth in the series current National standings.
Several other veteran sprint car drivers from the state of Georgia are expected to enter including Joe Larkin from Suwannee, Georgia who is third in the USCS Southern Thunder regional series standings and Brian Thomas and Jeff Oliver both from Pendergrass, Georgia as well as Aubrey Black from Lookout Mountain, Georgia. Black's Son , Aubrey Black II will contend in the USCS Mini Sprint division.
Several drivers from other neighboring states including veteran drivers Lance Moss from Cherryville, North Carolina who was the most recent USCS Southern Thunder Tour regional series winner at Lancaster Speedway on July 21st and Bob Auld from Largo, Florida are both expected as is USCS Rookie of the Year contender Nick Drake from Concord, North Carolina.
The 2017 USCS National Rookie of the Year river, 18-year-old, Brandon Taylor from Cumming, Georgia will also be in attendance doing double-duty racing in both the USCS winged sprint car and the www.RockAuto.com USCS Mini Sprint division. He was last year's www.RockAuto.com USCS Mini Sprint Senoia Summer Nationals Champion as well.
Also entered is the USCS Southern Thunder regional series Rookie of the Year and former USAC Ford Focus Champion, Scott Hunter from Concord, North Carolina. Hunter is one of the few Rookie drivers to win a main event, when he did so un July of 2017 at Lancaster Motor Speedway in South Carolina. He was a recent USCS 2018 main event winner at Carolina Speedway on July 21st as well.
The Alabama Outlaw, young gun Kyle Amerson from Montgomery, Alabama who was the Southern Outlaw Sprint series 2016 Rookie of the Year is also entered and looking for his first USCS sprint car win. His chances look pretty good after a runner-up finish and several top five drives this season. Amerson is also expected to compete in the USCS Mini Sprint division as well, where he has accomplished some stops in victory lane with the www.RockAuto.com sponsored series.
The www.rockauto.com USCS 600 Sprint Car Series winged mini sprint series are also expected to draw entries from as far away as Florida and Mississippi. Those entries include Two-time Champion, Bobby Zaiontz from Columbus, Mississippi and several of his rivals for the 2018 title. Those include first year USCS Mini Sprint racer Michael Hall from Knoxville, Tennessee and Alex Lyles from Arlington, Tennessee who was the 2017 Rookie of the Year. 12 year old, Trynt Lloyd from Jacksonville, Florida who won the season-opener for the series is fourth in the series point standings and is also entered as is past USCS Mini Sprint regional series Champion, Bob Trapino of Alpharetta, Georgia.
Increased bonus purses are offered in the four Senoia Raceway weekly divisions on the schedule on Saturday night. The popular Senoia Raceway weekly racing Limited Late Models and Crate Late Models will duel it out for $1000 to win. The Senoia Late Model Sportsman division will battle for a $750 top prize. The Hobby and Bomber divisions shootout it out with one another for $500 to win with $250 bonus to the top finishing Bomber driver. In more war between the divisions, Mini Stocks take on the Hot Shots for $500 to win with 12 or more entries. The top finishing Hot Shot driver is eligible for a $250 bonus with a 10 car Hot Shot entry.
Grandstand admission prices on Saturday night are as follows: Adult grandstand admission is $20 and Youth 5-11 years are $5. Children 4 years and younger are FREE. A limited number of Reserved Top Row seats are available. To resereve Top Row Seats please visit www.senoiaraceway.com for details. Pit Pass/Trackside Passes are $35 for Adults. Youth/Children 5-12 years are $20 Kids 4 & Under are admitted for FREE to the grandstand, pit area or trackside with an adult. FREE CAMPING!
Senoia Raceway is located approximately five miles West of Senoia, Georgia just off State Highway 16 at 171 Brown Road, Senoia, GA. For event info please visit www.senoiaraceway.com or the speedway's Facebook page at New Senoia Raceway. The track phone number is 770-599-6161. The USCS series Official website is located at www.uscsracing.com The USCS phone numbers 770-865-6097.