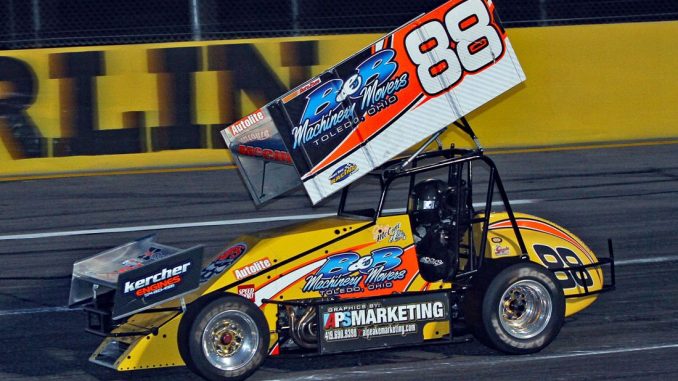 From Jacob Seelman
HOLLY, Mich. (September 11, 2018) – Jimmy McCune will wrap up his fourth consecutive Must See Racing Sprint Car Series championship just by signing in for next weekend's season finale at Jennerstown (Pa.) Speedway.
The David D. Mateer Tribute Race, which will pay $4,000 to win and $700 to start, will be the bookend on a 12-race season which has featured an immense amount of parity, including seven different feature winners in the first 11 events.
However, McCune has still risen above the pack, earning a series-high four wins this year and carrying an unassailable 68-point lead over nephew Anthony McCune entering the closing act.
With a total of 91 points on offer per event and 25 of those points being accrued simply by rolling into the gate, Jimmy McCune knows he can't be caught, and that's a sigh of relief for the Toledo, Ohio veteran as he chases one final victory to close out another championship campaign in style.
"That's a perfect ending, too," McCune noted. "I've raced for it all year long, so it's cool that I don't have to race for it at Jennerstown and we can just go out and have fun next weekend.
"It may seem like it's been easy for us to do all this, but we work hard on the car almost all the time," he continued. "We don't stop working on it; even last year when we made things look easy (with eight wins in 12 races). This year just seemed to be a bit more of a struggle. We couldn't get the handling on the car exactly where we wanted it, but we found a few things around the second Berlin race that will hopefully be a turning point in making the car better for the future."
As for what the fourth-straight championship means to him for the scope of his career, McCune pointed out that he's never been one to care much about points racing – he's more focused on race victories.
"I've never really worried too much about championships; they're cool to have on your resume, but at the end of the day, I like to win races," noted McCune. "Hopefully we can keep this roll going and keep winning races, and if more championships come out of that, you certainly won't see us complain.
"It'll be cool to look back on, years down the road, and tell my kids or grandkids what all we've done. Right now though, winning races means more to me than anything else."
With the top spot sealed up, the best battle in points during the final weekend will be for fifth in the standings, where Adam Biltz and Jerry Caryer are separated by just 18 points.
Anthony McCune has a solid hold on the runner-up position, while Charlie Schultz will lock up at least third in points simply by signing in at Jennerstown next weekend.
Further down the order, Virginia veteran Anthony Linkenhoker looks to move into the top 10 in points during the final meet of the year, as does former NASCAR Modified champion Bobby Santos. They sit 11th and 12th, respectively, in points entering the David D. Mateer Tribute.
The Jennerstown event will kick off with a practice night and pit party on Friday before the racing action hits the track on Saturday. The weekend will see the Super Cup Stock Car Series championship finale co-headline the weekend alongside the Must See Racing Sprint Car Series.
For more information on Must See Racing, visit the series on the web at www.mustseeracing.com.