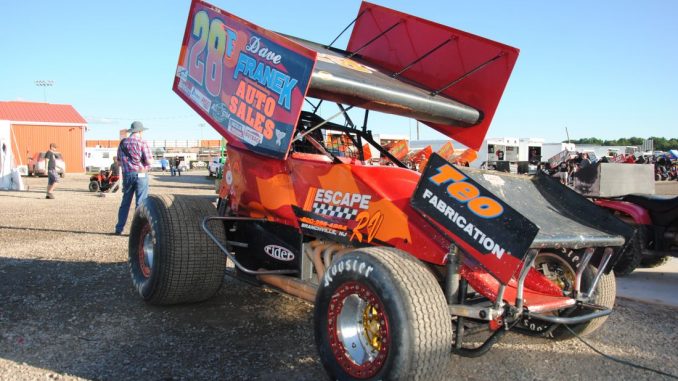 By Paul Harkenrider
(Dundee, NY) Davie Franek made the four-hour tow from Wantage, New Jersey to Outlaw Speedway on Saturday night for the Outlaw Fall Nationals and it was well worth it leading the final 23 laps and scoring the Third Annual Outlaw Fall Nationals.
The race was shortened to 27 laps in respect to Greg Hodnett, who lost his life this past week at sprint car event in Pennsylvania.
"Unbelievable, my guys worked so hard in the shop this week" Franek expressed." We didn't really have the year we set out and wanted to do, but to rebound and win a race like this, its like a shot in the arm to get us through the rest of the year."
It was Parker Evans and Steven Hutchinson Jr who started on the front by virtue of a dash put on by the Outlaw Speedway management that took place at the beginning of the night. Franek started in the third spot and wasted no time challenging for the lead.
Parker Evans would jump out for the lead in the first three circuits before Franek took over the on lap four.
Franek was just about to encounter lap traffic on lap eight which allowed Lucas Wolfe and Chuck Hebing to start to gain ground on the race leader.
The first caution would come out on lap ten as Denny Peebles would come to a stop on the front stretch just before turn one. At the same time, Mark Smith was parked at the top of turn two.
Franek would start to get challenged for the lead by Wolfe, Hebing and Steven Hutchinson Jr on the next restart, but Franek was still able to pull away as Wolfe and Hebing continued to exchange position. Jared Zimbardi would continue to move forward as well and was just outside of a podium position.
A couple of laps later, Zimbardi would come to a stop on turn four bringing the second yellow of the A Main which would restack the field once again. On lap 20, Franek would lead Wolfe, Hebing, Trenca and Steven Hutchinson Jr. Two drivers who came from back in the field were Jason Shultz who started 14th and B-Main Winner, Derek Locke who started 24th. Both drivers found themselves in the top ten by the lap 20 restart.
Franek would once again fire off a flawless restart and start to pull away from Wolfe and Hebing with just seven laps to go.
After Franek was able to place a few lap cars in between himself and the rest of the field, he would extend his lead and go on to score the $5,000 pay day.
Franek and his team knew what they had to do pick up the win over a very stout field.
"Writing down notes" the 2018 Selinsgrove Speedway Track Champion continued. "When you go to so many race tracks, you have to go back to your notebook and just know what you gotta do. We branched off that a little bit tonight."
After what was an emotional week for so many sprint car drivers across the country, Franek certainly dedicated this win to Greg Hodnett.
"This win is definitely for Greg back in PA and family. Racing against him just makes you so much better, he such a class act on and off the race track. What happened was such a shame, but his legacy is going to live on as one of the best in Central Pennsylvania."
Chuck Hebing was able to just get by Lucas Wolfe for the second spot and take home yet another podium finish with the Patriots in 2018.
"Its too bad we weren't swapping for the lead there" Hebing mentioned. "Me and Lucas had a good race and I just could never quite get to Davie as that top curve kept him in the ball park, we had another great year with another great track and everyone wants to dedicate this race to Greg."
Lucas Wolfe made the trip up from Pennsylvania and was quite satisfied with limited starts on New York race tracks.
"I think I held Chuck up a little bit" Wolfe admitted. "He was a little bit better on the bottom, I just wasn't good enough on the restarts and then to get by him completely, I couldn't do. I tried searching for something at the end and couldn't find it."
This was Franek's first ever win at Outlaw and his fifth career win with the Patriot Sprint Tour. Heat wins went to Mark Smith, Jared Zimbardi, Lucas Wolfe and Chuck Hebing. Franek would win the rows 2-5 dash while Derek Locke would take home the B-Main event.
That will do it for the 2018 Patriot Sprint Tour season. Chuck Hebing would go on to win the 2018 Championship over Jordan Thomas, Kyle Drum, Scott Goodrich, Pete Richardson and Steve Glover.
PST President Mike Emhof would like to thank all the drivers, crews and supporting sponsors for another fantastic season.
The end of the year banquet will be held on Friday, November 16 at the Vernon Downs Casino in Vernon, NY. It will once again be a combined program with the CRSA Tour.
For upcoming news and other special announcements, please be sure to log onto www.patriotsprinttour.com as well as following @PatriotSprints on Instagram and Twitter.
Patriot Sprint Tour
Outlaw Fall Nationals
Outlaw Speedway
Dundee, NY
Friday September 22, 2018
Heat Race #1:
1. 55 – Mark Smith
2. 49 – Scott Kreutter
3. 48j – Darryl Ruggles
4. 10-Jan – Jake Brown
5. 30 – Scott Goodrich
6. 9 – Ryan Linder
7. 1j – Derrick Juliano
8. 48A – Alysha Bay
Heat Race #2:
1. 82 – Jared Zimbardi
2. 98 – Joe Trenca
3. 1Q – Thomas Radivoy
4. 3 – Denny Peebles
5. 29 – Jason Shultz
6. 47 – Kyle Drum
7. 11J – Chris Jones
8. 121 – Steve Glover
Heat Race #3:
1. 5w – Lucas Wolfe
2. 28f – Davie Franek
3. 22x – Jonathan Preston
4. 79 – Jordan Thomas
5. 10M – Mitch Brown
6. 77 – Derek Locke
7. 16L – Roger Levesque
Heat Race #4:
1. 45 – Chuck Hebing
2. 99k – Dan Kuhn
3. 5 – Justin Barger
4. 36 – Steve Doell
5. 39 – Josh Weller
6. 67 – Pete Richardson
7. 38 – Brad Knab
Dash:
1. 28f – Davie Franek
2. 49 – Scott Kreutter
3. 45 – Chuck Hebing
4. 5w – Lucas Wolfe
5. 82 – Jared Zimbardi
6. 98 – Joe Trenca
7. 5 – Justin Barger
8. 55 – Mark Smith
B-Main:
1. 77 – Derek Locke
2. 47 – Kyle Drum
3. 9 – Ryan Linder
4. 67 – Pete Richardson
5. 121 – Steve Glover
6. 48A – Alysha Bay
7. 1j – Derrick Juliano
8. 38 – Brad Knab
9. 16L – Roger Levesque
Feature:
1. 28f – Davie Franek
2. 45 – Chuck Hebing
3. 5w – Lucas Wolfe
4. 98 – Joe Trenca
5. 29 – Jason Shultz
6. 54J – Steven Hutchinson
7. 22x – Jonathan Preston
8. 77 – Derek Locke
9. 61 – Parker Evans
10. 49 – Scott Kreutter
11. 5 – Justin Barger
12. 39 – Josh Weller
13. 79 – Jordan Thomas
14. 47 – Kyle Drum
15. 10M – Mitch Brown
16. 30 – Scott Goodrich
17. 36 – Steve Doell
18. 3 – Denny Peebles
19. 99k – Dan Kuhn
20. 10-Jan – Jake Brown
21. 48j – Darryl Ruggles
22. 121 – Steve Glover
23. 1Q – Thomas Radivoy
24. 67 – Pete Richardson
25. 82 – Jared Zimbardi
26. 55 – Mark Smith