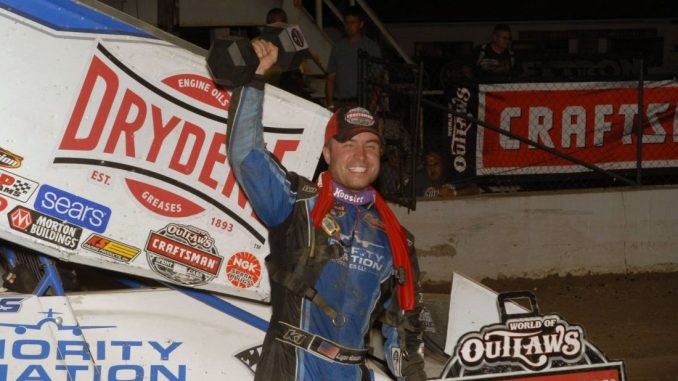 By T.J. Buffenbarger
After a wild night on a track suited for spurs and cowboy boots, here are my immediate takeaways from the World of Outlaws event at Stockton.
After a slow start to the 2019 season Shark Racing had a strong night with Logan Schuchart and Jacob Allen running first and second in qualifying and the dash. The duo ran several laps in podium positions before Allen slid off the track in turn four to bring out a caution flag.

Typically, I wouldn't expect a Bobby Allen owned team to be sniffing around the front on a heavy, rough race track like Stockton on Saturday. This might be where some of the additional support from Drydene Performance Products came into play where Schuchart and Allen could run competitively without the worry of having a car to make it to the next race if they crashed on a rough race track.
With enough rain recently that standing water was visible in the infield the World of Outlaws NOS Energy Drink Sprint Car Series produced a wild main event on Saturday, yet everyone stayed upright during the 30-lap main event. The rough race track did produce one of the wildest exchanges in recent memory during a Last Chance Showdown where five different cars were bouncing through the holes and off each other for the final transfer spot before Bud Kaeding made a late rally to take the final transfer spot on the last lap.

You can make a case for all the various track conditions the World of Outlaws face to show how talented they are, but it was amazing there were not more incidents as the surface seemed to get rougher as the night progressed. Its not often fans get to see the Outlaw teams "get the spurs on", and the drivers produced another entertaining feature during difficult circumstances.

The Stockton officials were faced with difficult circumstances, and kudos to them for getting the show completed in a timely fashion.
Daryn Pittman's point lead with the World of Outlaws over Donny Schatz shrunk again Saturday as Stockton. While heavy, rough race tracks are typically not Schatz's cup of team, Schatz had a steady night finishing in the eighth spot while Pittman finished 11th. Unofficially I have this taking Pittman's point lead down to four markers leading into next Friday's event at Ocean Speedway.

Normally I'd point this out as Pittman fading through the middle portion of the spring California swing, but the World of Outlaws are extremely competitive this season with six winners in seven races and a host of different regional and local faces up front throughout the California swing with the Outlaws. Once summer arrives and tracks start to slick off it will be interesting to see if the parity continues and if that keeps the point standings closer leading into the second trip out west after the Knoxville Nationals.