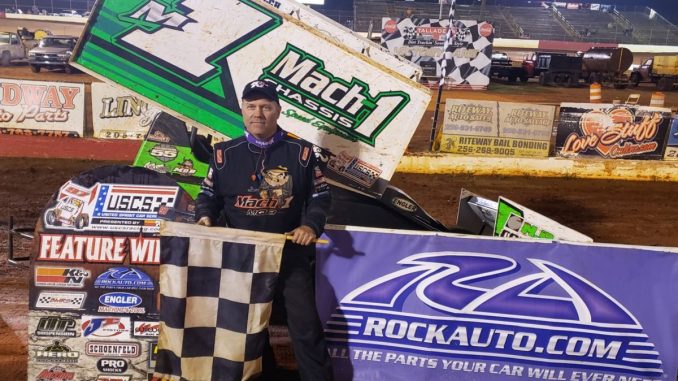 Chatham, LA – March 7, 2020 – USCS Outlaw Thunder Tour presented by K&N Filters Bayou State Sprint Car Nationals and USCS Winter Heat Round #7 results from Chatham Speedway on Saturday, March 7, 2020:
The current USCS National and USCS Winter Heat points leader, Mark Smith from Sunbury, PA raced to his 6th USCS win of 2020 in the 30-lap USCS Bayou State Sprint Car Nationals final at Chatham Speedway on Saturday night.
Smith bested the 23 car field and parked in the www.RockAuto.com USCS Victory Lane after chasing down Koty Adams from Haughton, LA who was the K&N Filters Pole Position starter, on lap seven and made what was the winning pass and raced away to dominate the next 27 laps all the way to the finish while surviving a lap-27 caution and restart with the field bunched behind him.
Benton Ridge, Ohio's Greg Wilson followed Smith across the finish line in 2nd place followed by Adams, Arlington, Texas' Channin Tankersley and NASCAR Hall of Famer and 3-time Champion, Tony Stewart from Columbus, IN to complete the top five.
The previous night's
winner, Dale Howard from Byhalia, MS lead the next group in sixth, Sprint Car Hall of Famer Danny Smith finished seventh followed by Howard Moore from Memphis, TN in eighth place, who was followed by defending USCS Champion Terry Gray from Bartlett, TN in ninth. The 2018 USCS Rookie of the Year, Jake Knight from Georgetown, MS completed the top ten.
Dale Howard won the evening's first race, the USCS Hoosier Speed Dash. Heat race winners were Mark Smith, Greg Wilson and Danny Smith. Jake Knight collected the Wilwoid Disc Brakes Hard Charger Award for advancing the most positions in the main event (seven).
The next USCS events are Rounds #8 & #9 of the USCS Winter Heat Series at North Alabama Speedway on Friday and Saturday, March 13th and 14th
For more event info visit www.NorthAlabamaSpeedway.com or www.uscs racing.com or the USCS Racing Facebook page. You may call USCS at 770-865-6097.
United Sprint Car Series
Chatham Speedway
Chatham, LA
Saturday March 7, 2020
Engler Machine Tool Heat Race #1 (8 Laps)
1. M1-Mark Smith[6]
2. 47-Dale Howard[5]
3. 10M-Morgan Turpen[4]
4. 14-Tony Stewart[8]
5. 49-Mallie Shuster[1]
6. 28-Jeff Willingham[3]
7. 13-Chase Howard[7]
8. 7E-Eric Gunderson[2]
BMRS Racing Solutions Heat Race #2 (8 Laps)
1. W20-Greg Wilson[1]
2. 17G-Channin Tankersley[5]
3. 10-Terry Gray[3]
4. 3-Howard Moore[7]
5. 2H-Tommy Hall[8]
6. 44-Ronny Howard[2]
7. 22-Conner Leoffler[6]
8. DNS: 5-Richard Reynolds
Butlerbuilt Heat Race #3 (8 Laps)
1. 4-Danny Smith[3]
2. 17-Alex Lyles[1]
3. 16-Koty Adams[5]
4. 10L-Landon Britt[4]
5. 20-Jim Shuster[7]
6. 93-Jake Knight[2]
7. DNS: 3B-Chris Banja
Dash for Cash Hoosier Speed Dash (6 Laps)
1. 47-Dale Howard[1]
2. M1-Mark Smith[2]
3. W20-Greg Wilson[3]
4. 10-Terry Gray[6]
5. 22-Conner Leoffler[4]
6. 4-Danny Smith[5]
A Main (30 Laps)
1. M1-Mark Smith[6]
2. W20-Greg Wilson[2]
3. 16-Koty Adams[1]
4. 17G-Channin Tankersley[3]
5. 14-Tony Stewart[8]
6. 47-Dale Howard[4]
7. 4-Danny Smith[5]
8. 3-Howard Moore[9]
9. 10-Terry Gray[10]
10. 93-Jake Knight[17]
11. 17-Alex Lyles[7]
12. 20-Jim Shuster[13]
13. 10L-Landon Britt[12]
14. 49-Mallie Shuster[14]
15. 28-Jeff Willingham[15]
16. 13-Chase Howard[18]
17. 2H-Tommy Hall[19]
18. 7E-Eric Gunderson[21]
19. 10M-Morgan Turpen[11]
20. 44-Ronny Howard[16]
DNS: 22-Conner Leoffler
DNS: 5-Richard Reynolds
DNS: 3B-Chris Banja