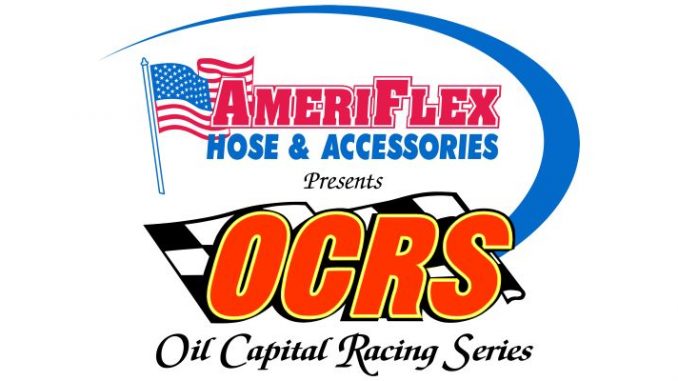 By John Rittenoure
MONETT, Mo. (May 23, 2020) – Last year was a frustrating experience for Kinzer Edwards. A blown engine forced the team to miss six races only to come back and lose a possible victory late in the season when the rear differential broke.
However, that was not the case Saturday at Monett Motor Speedway for the AmeriFlex / OCRS season opener. Edwards set the pace in the 25-lap feature on the Monett 3/8's mile oval and went the distance to win his first sprint car feature.
"This is a dream come true," Edwards said as he was trying to keep his composure. "This is what I dreamed of doing and too have success is huge.
"I was out an engine at the start (of last year) then got this Mark Warner engine. This thing is a beast."
The win made up for the one that got away last season.
"Especially after heartbreak in the last race at Caney last year," recalled Edwards. "The rear end broke and it jumped out of gear."
In the offseason Edwards worked hard to have his sprinter ready for the season which was delayed two months due to COVID-19.
"I put a lot of hard work into this thing over the season getting everything prepared and I think we have a good one for this year," Edwards said. "We put in a new rear end, front end and shocks.
"Jason Foster helped us get the motor program going. I got to thank Mark Warner. I ran with him for ten years."
For most of the 25 laps Edwards was worried about Terry Easum who was giving chase until late in the race when defending AmeriFlex / OCRS champion Zach Chappell took over the runner-up spot.
I was really worried about Terry Easum coming,' Edwards said. "I saw him on every restart so I knew he was fast. Luckily I got the start I needed and the lead and took off from there. I had the line and they were going to have to take it from me.
"On the yellows I kept saying mistake-free."
Fortunately the race ended when it did as Edwards heard a strange sound coming from the engine on the final lap.
"When I was taking the checkered it made a blubbering sound," he said. "It was not out of fuel. We will have to check the engine."
At the finish Chappell was second with Easum hanging onto third. Past champion Alex Sewell charged from tenth to fourth earning him the DFR Tire Hard Charger award, and 2019 Rookie of the year Jase Randolph rounded out the top five.
Oil Capital Racing Series
Monett Motor Speedway
Monett, MO
Saturday May 23, 2020
Car and Fleet Heat Race #1 (8 Laps)
1. 88-Terry Easum[1]
2. 50Z-Zach Chappell[2]
3. 15D-Andrew Deal[4]
4. 8-Alex Sewell[3]
5. 30J-Larry Bratti[6]
6. 2L-Brandon Leland[5]
M W Aluminum Heat Race #2 (8 Laps)
1. 15-Jase Randolph[2]
2. 2C-Whit Gastineau[5]
3. 55-Johnny Kent[1]
4. 62-James Shoun[3]
5. 9-Casey Buechler[4]
WESMAR Heat Race #3 (8 Laps)
1. 9E-Kinzer Edwards[4]
2. 5-Joe Bob Lee[3]
3. 31-Casey Wills[5]
4. 44-Jared Sewell[1]
5. 22T-Frank Taft[2]
AmeriFlex Hose and Accessories A-Main (25 Laps)
1. 9E-Kinzer Edwards[1]
2. 50Z-Zach Chappell[6]
3. 88-Terry Easum[3]
4. 8-Alex Sewell[10]
5. 15-Jase Randolph[4]
6. 5-Joe Bob Lee[5]
7. 31-Casey Wills[8]
8. 55-Johnny Kent[9]
9. 44-Jared Sewell[12]
10. 15D-Andrew Deal[7]
11. 22T-Frank Taft[15]
12. 2L-Brandon Leland[16]
13. 62-James Shoun[11]
14. 9-Casey Buechler[14]
15. 2C-Whit Gastineau[2]
16. 30J-Larry Bratti[13]