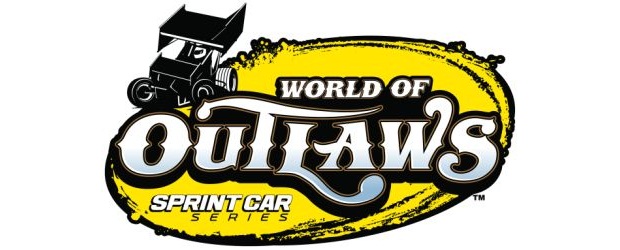 By Tony Veneziano
Concord, NC-May 24, 2010-
Standing room only: One of the largest crowds ever packed into I-96 Speedway under unseasonably warm condition on Saturday for the World of Outlaws only stop of the year in the Great Lake State for the Rumble in Michigan. Heavy rain throughout the week left the pit area and parking lot very wet, though the staff from SLS Promotions and the track crew worked countless hours getting the pit area in shape for the competitors and fans, as a huge contingent of fans arrived early to visit the pit area prior to racing action.
"To have the crowd they had is great," said I-96 winner Jason Meyers in Victory Lane. "It was near a capacity crowd, if not capacity. There are great dirt track fans here in Michigan and they saw a great race."
A new track record: Joey Saldana shattered the old track record at I-96 Speedway on Saturday night, touring the half-mile in a blazing fast 14.834 seconds at 121.343 mph to lay down the first sub-15-second lap in track history in time trials. A total of four drivers broke the existing mark including former track record holder Steve Kinser, race winner Jason Meyers and Lucas Wolfe. Saldana was the only driver of the four to be in the 14-second bracket. It marked the fifth time this season that a track record has been broken or established in a World of Outlaws event.
Taking it all in: Eric Malies, who drives Work'N Woody- the Official Push Truck and Safety Vehicle of the World of Outlaws-, went on a tour of the Goodyear Tire plant in Akron, Ohio prior to last weekend's race. Along with Malies, Kerry Madsen and his crew chief Sonny Kratzer, a long time Goodyear supporter were on hand with their race car on display. Malies also displayed Work'N Woody for Goodyear employees to get an up close look at the iconic machine.
"It was pretty impressive," said Malies after the tour. "You would think it would be all automated, but each tire is handmade and it takes about three to four man-hours for each race tire. It was enlightening. You never knew that they worked that hard on just one tire. The amazing part is that in November, they had an inventory of zero tires, so they've had to build all of these tires since November. They've been working very hard and it's impressive. I'd like to thank Justin Fantozzi and Dan Curtis for inviting me over and it was a pleasure getting to go over there."
A season best finish: Chad Kemenah scored a season-best fifth-place finish on Saturday night after lining up 13th in the 30-lapper at I-96 Speedway. The Ohio native was sixth fastest in time trials with a very strong 34-car field signed in. For Kemenah, who recently added veteran crew chief Bonzai Bruns to his team it was his second consecutive Top-10 finish after a strong ninth-place effort at Virginia Motor Speedway on May 15.
"We had a really good race car," said Kemenah. "We had a not so good start to the race, but whether it was attrition or people falling out or whatever, we were able to move forward. I think it's starting to show here with the help of Bonzai coming on board. I don't have to think so much. He takes a lot of that away for me and I can actually go out and race."
A good decision: Craig Dollansky's team changed engines prior to the feature at I-96 Speedway and the veteran was able to power his way from the 12th starting spot to finish second, earning the KSE Racing Products Hard Charger Award in the process. The runner-up finish also helped vault Dollansky from 11th to eighth in the series standing and he is now just 31 points out of the sixth spot. He was victorious earlier this season at Lone Star Speedway in Texas and has finished seventh or better in six of his last eight starts.
"This team has been working very hard all year and things have been running pretty well the last couple of weeks," said Dollansky. "We'll just keep at it and continue to work hard and move forward. I'm very proud of everyone on this team and very thankful for all the great people we have standing behind us."
On track : A very consistent start to the season has Jason Meyers in a very good position as he looks for his first World of Outlaws title, after coming up just 19 points shy last season, which marked the third time in his career he has finished second in the standings. The California native currently is second in points, just 14 markers behind Joey Saldana. Meyers leads the series with six wins to go along with 16 Top-10 finishes and 11 Top-Five performances. He is currently second in laps led, has set fast time twice and has raced his way into the dash on eight occasions to earn Top-10 starting spots in feature events.
"Things are definitely working very well right now," said Meyers. "Even at the beginning of the year we were winning those races with problems and got those worked out and worked through. I'm really looking forward to the summer and trying to make this our year."
Back in the saddle: Kerry Madsen returned to action with the World of Outlaws at I-96 Speedway after being forced to miss the race at Virginia following an accident at Williams Grove Speedway that left the team short on equipment. Madsen lined up 14th last Saturday night and worked his way to the front to score a very solid sixth-place finish, which was his third Top-10 finish in just a handful of starts with the World of Outlaws over the last three weeks. Madsen will return to Australia this weekend for an event and then rejoin the World of Outlaws next week at Knoxville Raceway.
"I think we had a little better race car than our finish," noted Madsen. "A couple of those double file restarts were pretty wild and some are getting the hang of them and some not. We had a good car and I am really happy about that. Last week we didn't get past the flag stand both nights and we feel like we are on the right track. We feel like we are running the right combination. The motor is running awesome and Sonny Kratzer has the KPC Chassis running great. We just hope to keep getting good finishes for Brian Hall and Hall Motorsport."
Bird attack: A bird flew into one of the transformers on a set of lights in turns one at I-96 Speedway on Saturday night, causing a couple of the light poles to blow out. Track crews worked diligently to move portable lights into place in turn one and after about a 45-minute delay, racing was resumed and the program was completed with all the fans sticking around to see Jason Meyers score the win.
On sale now: Tickets for the third round of the Showdown for the Bud Crown, Kasey's King of Sedalia Presented By Budweiser at Sedalia's State Fair Speedway in Missouri on June 16 are on sale now. Kasey Kahne, who is promoting the event along with the World Racing Group, will race at Sedalia. Tickets are also available for the final round of the Showdown for the Bud Crowd, Kasey's King of LaSalle Presented By Budweiser at LaSalle Speedway in Illinois on July 8. Tickets are also available now for the Don Martin Memorial Silver Cup Twin 30's at Lernerville Speedway on July 20. To purchase tickets for these events visit www.worldofoutlaws.com/tickets.
Up next: The World of Outlaws return to action on Friday, May 28 at The Dirt Track at Charlotte in the Circle K NOS Energy Outlaw Showdown which will air live on SPEED beginning at 8 p.m. Eastern, followed by a trip north to Franklin, Pennsylvania for an inaugural event at Tri-City Speedway on Sunday, May 30.
Keep up with all the action: The number of "Followers" keeping up with the World of Outlaws via Twitter online and through text messages on cell phones continues to grow and recently surpassed the 3,700 "Follower" mark. Updates are provided throughout race nights beginning with hot laps and continuing all the way through the final checkered flag of the night. To sign-up visit: http://twitter.com/worldofoutlaws and receive live race updates, anywhere, anytime.
The World of Outlaws Sprint Car Series is brought to fans across the country by many important sponsors and partners, including: Armor All (Official Car Care Products), Chizmark & Larson Insurance, Goodyear Tires (Official Tire), SuperClean (Official Cleaner-Degreaser), VP Racing (Official Racing Fuel); in addition to contingency sponsors, Jake's Custom Golf Carts, KSE Race Products, Penske Shocks, Racing Electronics, S&S Volvo; Engine Builder's Challenge participants Don Ott Racing Engines, Kistler Engines, Shaver Specialties and Speedway Engines; and Chassis Builder's Challenge participants J&J Auto Racing, Maxim Racing and XXX Race Company.