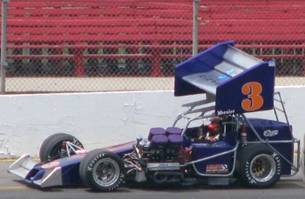 From Keith Shampine
Pueblo, Colo. – Colorado supermodified veteran Harold Evans took the lead at the halfway point of the Englewood Racing Association's main event Saturday night at I-25 Speedway and proceeded to pull away for his first win of the 2010 season.
After 12 cars made the May 29 ERA opener at Colorado National Speedway, eight winged supermodifieds made the trek to I-25, a tight quarter-mile oval located about two hours south of Denver. The supermodified event was a part of I-25's Open Wheel Clash, a special event that featured Grand American modifieds, legends cars and supers.
Rich Castor Jr. set an ERA track record with a qualifying time of 11.048. The feature field was cut short when Joe Priselac and Nick Haygood made contact with the wall in separate incidents in the first heat race. Neither car was able to start the feature, wiping out two potential front-runners and past ERA feature winners.
The six-car feature saw Brian Pacheco start on the pole. Ira Castor quickly gained the lead from Pacheco, and paced the field throughout the first part of the race. Evans followed Ira Castor to the front and dogged Ira's No. 22 before taking the lead around the halfway point.
May 29 feature winner Harry Stone spun on lap 17 to bring out the caution. When the green came back out, Evans put the hammer down and led the remaining laps to drive to the win. Rich Castor Jr. found his way by Ira Castor to take second. Ira Castor held on for third while Stone recovered to finish fourth. Pacheco rounded out the top five; Kevin Day finished sixth.
Stone and Ira Castor won the two heat races.
Before the heats, the supers were a part of an on-track display and autograph session which gave hundreds of fans the opportunity to speak with the ERA drivers while checking out the exotic supermodifieds.
Saturday's main at I-25 marked the ERA series' only race away from Colorado Nat'l in 2010. The ERA will return to their home base on July 3 for the third of nine 2010 events.
The second race of the season was originally scheduled for June 12 at Colorado Nat'l, but it was cancelled due to stormy weather in the Denver area.