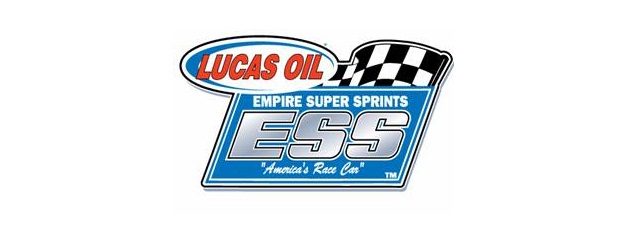 From Dean Reynolds
SYRACUSE, NY – As the 27th Anniversary Season for the Lucas Oil Empire Super Sprints (ESS) is ready to hit full stride through the summer months, a little history is about to be made this Friday night. The Glen Ridge Motorsports Park is ready to showcase its biggest event ever under the guidance of Mike Romano and Jake Spraker.
The track known as the "little quarter-mile up on the hill" in Fultonville, NY will see a big invasion from the cars and stars of the Lucas Oil series. This will mark the first ever appearance by ESS series and the event is a vital part of the 27 race tour for 2010.
Leading the brigade will be current point leader and Autodrome Edelweiss winner Chuck Hebing has he is looking to stay atop the points with his Roush-Yates Ford powered XXX chassis sprinter. Right behind Hebing in the points is a pair of two-time champions Lance Yonge and Steve Poirier, defending series champ Justin Barger is sitting fourth with 30 time ESS winner Dan Kaszubinski back on the tour and claiming the fifth spot.
The ESS who's, who doesn't stop there, also expected to be on hand will be Utica-Rome and Granby winner Jessica Zemken with her Tony Stewart Racing #14, Michael Parent, Jeff Cook, Anthony Cain, Cory Sparks, Tommy Wickham, Mike Stelter, Kevin Ward Jr., Jami Russell, Devin Caron, Zach Weigand, James Hanson and others. Add to that a local contingent of modified star Bobby Varin, Warren Alexson, Matt Tanner, Tyler Rice, Josh Pieniazek, Jay Shypinka, Kory Gurney, Mark Zemcik, Floyd Billington and throw in first time ESS starts in 2010 for Doug Emery and Davey Franek its looking to be a start studded field.
Images by DC will be bringing you the four lap dash before a special on-track driver introduction session and then will be the 25 lap A-Main finale. When the final checkered flag waves, the victor will forever be known as the first time winner at Glen Ridge.
This Friday night is the date…Glen Ridge Motorsports Park is the site. Ten second laps, the Lucas Oil Tour…It will be history in the making and it will be excitement guaranteed!!
For more information:
www.thenewglenridgemotorsportspark.com
www.empiresupersprints.com