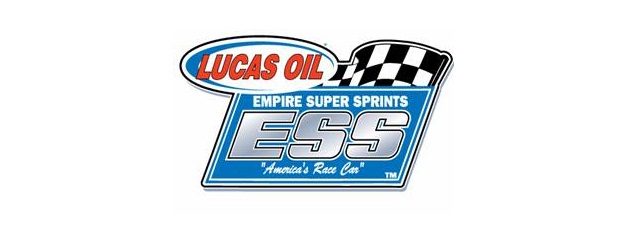 From Dean Reynolds
LaFARGEVILLE NY – There is something about Can-Am Motorsports Park that fits Justin Barger's driving style. The defending Lucas Oil Empire Super Sprint champion had three consecutive wins at the big half-mile coming into Friday night's racing action.
At the end of the night he left $2,000 richer as he claimed his fourth win a row at the North Country track in the River Side Bar and Grill 25-lap main event aboard his Rider powered Maxim. The win also earned him valuable points in the SUNY Canton series standings and it was his 20th career series victory.
"This track isn't usually like where you run the bottom," said Barger. "We've won three or four races where we've run around the top. It was a little different than what we are used to but I can't thank my crew guys enough for all they did tonight getting this car ready for the feature."
It was his first win since the series opener at the Fonda Speedway back on Memorial Day Weekend. It was a much needed boost in confidence after he started on the front row of the last few events but failed to reach Victory Lane.
"We've started on the front row a lot more than I ever have," stated Barger after the race. "It was finally good to capitalize on it. We weren't very good in the heat race and we made a whole bunch of changes to the car and we finally took advantage of starting up front."
Dylan Swiernik started on the pole but it was Barger taking advantage from his second starting position. Barger led the first three circuits before Mike Stelter spun in turn two bringing out the caution. The caution saved Barger from handing the lead over to Steve Poirier.
The racing action resumed with Barger and Poirier leading the field. After Poirier nearly took the lead, Barger adjusted his line and refused to give Poirier another look on the inside.
"It took me a little bit of time to figure out how to get into turns one and two," stated Barger. "It took me three to four laps in the feature to really get off the bottom well. I think once we did that I didn't really hear anybody the rest of way."
Lap nine saw a caution displayed for Chuck Hebing and Jeff Cook. Hebing lost his brakes and shot up the speedway collecting Cook. It was the final caution of the event.
The green was given one more time and Barger wasted little time driving away from Poirier. By lap 17 he caught the tail of the field and began working slower traffic but his Carrillo Connecting Rods sponsored No. 32 had little trouble making his way through.
"Most of the slower cars slid out of the way," commented Barger. "There were a couple of close calls but it seemed like the yellow kept coming out when I needed it to help me out with traffic."
As Barger raced away, the battle for the runner-up position was a three way toss up between Poirier, Jessica Zemken who had started eighth and Dan Kaszubinski. The three swapped the runner-up position multiple times in the closing laps with Sprakers, N.Y., driver Zemken earning the spot at the finish.
"I'm happy getting second after starting eighth," said Zemken. "The track wasn't real racey tonight but we were able to make a lot of passes on the bottom. Our car got a lot better near the end but it was difficult because we had to come from so far back."
Zemken progressively worked her way to the front on the bottom of the speedway. By the end of the A-Main she was running laps equivalent to the race leader Barger in her Tony Stewart Racing No. 14.
"I think we had a better car at the end," commented Zemken. "I was able to get by Steve (Poirier) there in traffic and I think we got something for tomorrow night. We know what we have to do and all we need is to have a little bit better starting position."
Kaszubinski, of Syracuse, N.Y. held on to finish in third aboard his Aquacut sponsored No. 20. It was another top five finish for veteran racer in 2010.
"We've been struggling all year long," said Kaszubinski. "To come out of here with a top three I'll take it. We need to get into Victory Lane here soon though."
Poirier got in trouble with a lapped car at the end of the event and fell back to finish in fourth with Alain Bergeron, of St. Pie, PQ., finished the event in fifth. Rounding out the top ten were Glen Ridge winner Lance Yonge, Shawn Donath in the Emery #33, Swiernik, Tommy Wickham (who came back from a heat race accident) and Brian McDonald
ESS/Can-Am Notes: There were 28 cars in attendance….Hebing had to switch to the Gary King owned mount in the due to motor troubles in his primary ride….Mike Stelter was able to compete once again courtesy of a powerplant provided by Doug Emery….Jason Barney came out with his own equipment for the first time in 2010….Drivers were welcomed by a near capacity crowd for the first of two nights of action at the Can-Am Speedway.
Lucas Oil Empire Super Sprints
River Side Bar and Grill SUNY Canton Series A-Main (25-laps): Justin Barger, Jessica Zemken, Dan Kaszubinski, Steve Poirier, Alain Bergeron, Lance Yonge, Shawn Donath, Dylan Swiernik, Tommy Wickham, Brian McDonald, Shayne Ely, Mike Stelter, Kevin Ward Jr., Chris Jones, Zack Weigand, Jami Russell, James Hanson, Curtis Bradshaw, Jason Barney, Chuck Hebing, Jeff Cook, Anthony Cain, Michael Parent
Ohsweken Speedway Winners Bonus – Barger $100
Group Ultra Halfway Bonus – Barger $100
WestFront Construction Hard Charger Bonus – Wickham (12 pos.) $50
MVCC Aviation Extra – Parent $50
Car Mate Custom Built Trailers Heats – Zemken, Parent, Poirier $25
HG Associates Fast Time – Barger (18.476) $25.
DNQ – April Wilson, Devin Caron, Rick Wilson, Dave Wickham, Paul Pekkonen
Car Mate Custom Built Trailers Heat 1 – Jessica Zemken, Dan Kaszubinski, Justin Barger, Jami Russell, Anthony Cain, Chris Jones.
Car Mate Custom Built Trailers Heat 2 – Michael Parent, Alain Bergeron, Dylan Swiernik, Lance Yonge, Curtis Bradshaw, Shayne Ely
Car Mate Custom Built Trailers Heat 3 – Steve Poirier, Shawn Donath, Jason Barney, Mike Stelter, Brian McDonald, Jeff Cook
Rt. 37 Building Supply/Cobra Coaches Dash – Jessica Zemken
KSE Racing Products B-Main – Chuck Hebing, James Hanson, Tommy Wickham, Zach Weigand. Added Starter – Kevin Ward Jr.
The Lucas Oil Empire Super Sprints are brought to you by: Lucas Oil, Northwood 2 Construction/LaSalle Motorsports, SUNY Canton, 730 Truck Stop, Hoosier Racing Tires, Les Constructions Ultra, Cooks Contracting Services, Fondations 4 Saisons, Car Mate Trailers, The National Parts Peddler Newspaper, WestFront Construction, Cobra Coaches, The Ohsweken Speedway, Mohawk Racing Parts, Engine Research, Brodix Cylinder Heads, Total Race Supply, Riverside Bar and Grill, Coffrage Daniel Lampron, Mohawk Valley Community College, FX Chevy and many, many associate sponsors.