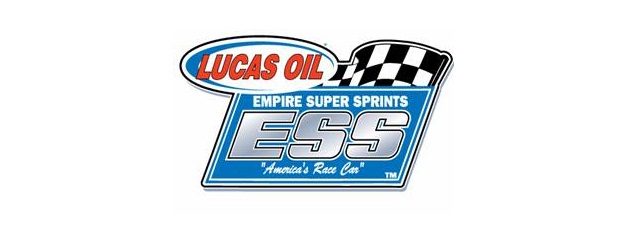 By Dean Reynolds
SYRACUSE, NY – It's been a little over five years since the stars and cars from the Lucas Oil Empire Super Sprints (ESS) have battled it out on the high banks of the Cayuga County Fair Speedway (CCFS). One of the original tracks for ESS where the first visit came in 1985, it will be a big welcome back for the winged warriors.
The return was hoped to be last year during Super Dirt Week in a co-sanctioned event with the United Racing Company (URC) but Mother Nature had different ideas. But, July 11th will see the return with a big full point event on tap in front of the Weedsport, NY faithful.
Leading the winged invasion will current Lucas Oil point leader and two-time champion Lance Yonge. The Penn Yan, NY star not only has visited victory lane in ESS competition here in 1996, but it's also a very important stop on the tour as its one of the closest tracks to his home. Challenging Yonge will be defending champion Justin Barger, another two-time champ Steve Poirier, the red hot Jessica Zemken and Dan Kaszubinski.
The list of stars don't stop there, add in Chuck Hebing (who will most likely do double duty with the 600 sprints), Tommy Wickham, Michael Parent, Kevin Ward Jr., Shawn Donath, Mike Stelter, Dylan Swiernik, Zach Weigand, Jami Russell, the Breen Bros. Blake and Bobby, Shayne Ely, Mark Zemcik, Tim Kelly, Dave Wickham, Davie Franek, Bryan Howland and several others to make for a star studded field.
With the modifieds off to Cornwall, the winged machines have top billing. Also, this Sunday will be a good test session for the teams as the 360 Challenge with URC is back on for October, 8th and will pay $3,000 to win. Fans are also reminded that if they can't attend you can log on to ESS' website and visit the live Twitter box right on the home page.
The Cayuga County Fairgrounds in Weedsport, NY is the site, the Lucas Oil Empire Super Sprints are the machines and this Sunday is the date…America's Race Cars and for over 27 years it has been excitement guaranteed!!
For more information:
www.cayugacountyfairspeedway.com
www.empiresupersprints.com
CAYUGA COUNTY FAIR SPEEDWAY FEATURE WINNERS
Year Date Winner
1985 July 7th John Brutcher
1985 August 18th Gordy Button
1986 July 6th Bill Peri
1986 August 2nd Gordy Button
1986 August 24th Kenny Adams
1987 July 5th Bob Cain
1987 September 6th Mike VanDusen
1989 August 27th Mal Lane
1990 July 1st Mal Lane
1990 August 26th Adrian Flath
1991 June 30th Tom Taber
1991 August 25th John Birosh
1992 July 5th Bobby Parrow
1992 August 30th Jeff Thomas
1993 July 18th Roger Horvath
1995 July 2nd Greg Hixson
1996 June 30th Lance Yonge
1997 July 6th Craig Keel
1998 July 5th Mike Woodring
1999 July 5th Bill Coffey
2000 July 2nd Bobby Podolak
2001 July 1st George Ely
2002 July 7th Rob Dietrick
2005 May 8th Ray Preston
The Lucas Oil Empire Super Sprints are brought to you by: Lucas Oil, Northwood 2 Construction/LaSalle Motorsports, SUNY Canton, 730 Truck Stop, Hoosier Racing Tires, Les Constructions Ultra, Cooks Contracting Services, Fondations 4 Saisons, Car Mate Trailers, The National Parts Peddler Newspaper, WestFront Construction, Cobra Coaches, The Ohsweken Speedway, Mohawk Racing Parts, Engine Research, Brodix Cylinder Heads, Total Race Supply, Riverside Bar and Grill, Coffrage Daniel Lampron, Mohawk Valley Community College, FX Chevy and many, many associate sponsors.