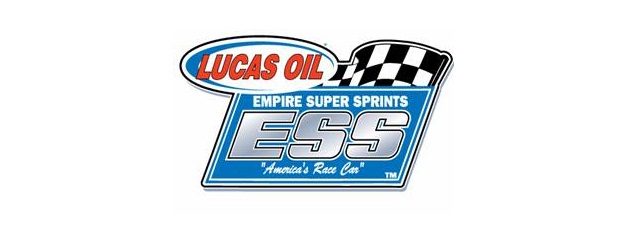 By MIKE MALLETT
OHSWEKEN, ONT – Steve Poirier, of St. Mathieu de Beloeil, P.Q., hasn't had much luck in 2010. The former two-time Lucas Oil Empire Super Sprint series champion has been close to winning but handling problems, poor luck, and a week of motor woes denied him that victory.
Poirier had everything go his way on Friday night at the Ohsweken Speedway in the 25-lap A-Main event as he led the entire way to win the event and gain valuable points in the season long point chase as well as the Northwood 2 Construction/LaSalle Motorsports Canadian Sprint Series point standings.
"This year it seems like the luck really hasn't been with us," said Poirier. "Tonight we were lucky that we had a good starting position. The track was tough but everything worked out for us. Hopefully our luck keeps going like this."
The win comes one week after he broke a motor on lap 20 while leading the feature event at the Cayuga County Fair Speedway.
"In the past we never had that kind of problem," stated Poirier about the engine woes one week prior. "I thought about that problem a little bit while I was out there but I'm glad we were able to get the monkey off of our back."
Poirier started on the outside of the front row alongside Jamie Turner. The green flag was displayed with Poirier getting a jump on the entire field.
The yellow was displayed immediately as Kyle Moffit slowed and stopped in turn four with a steering issue. It was not the only caution prior to the start of the race. Turner brought out the next two cautions as his car had extreme handling issues and caused him to spin all by himself twice.
On the next attempt to start the race, Jim Huppunen and Glenn Styres made contact with a disabled Wayne Ashton sending both cars wildly flipping through the air in turn three. Both cars were heavily damaged but the drivers were uninjured.
Upon going green, Poirier was able to bolt away from the pack while Mikey Kruchka and Justin Barger battled for the runner-up position.
With laps clicking off, Poirier caught slower traffic on lap 10 in his AMB Moteurs powered Eagle. By this point, Kruchka still held second while Moffit had made his way from the tail of the field to third.
The final caution of the race came on lap 21 for Keith Dempster as he stopped in turn four after making contact with the inside retaining wall.
The restart cleared the track for Poirier but it also closed Moffit to within striking distance. Poirier's restart was flawless and Moffit was unable to hang with him.
"I knew the car was good getting into turn one on the restarts," stated Poirier. "Normally when you are out in front on the restarts on a rough track you can see the holes and go around them. I went into the turn easy on the last restart because I never saw anyone alongside me. I knew with a clear track I was going to be okay."
Poirier led the final four circuits for his 23rd career series win while Moffit, of South Dayton, N.Y., wound up finishing in second after nearly being out of the race early on. He needed a few more laps and he may have been able to challenge Poirier for the win.
"I'm really happy with the way things turned out," said Moffit. "It didn't look like things were going to be too good there early but it all worked out really well. I think we had something for Steve (Poirier) if we had a caution after we cleared the lapped cars on that last restart. I really wanted win but I'm happy with a second."
Moffit was happy though with the result as it helped him in his overall chase for a Corr/Pak Sprint track championship at the speedway. He was able to finish in front of the current point leader Dave Dykstra due to a little luck and a well handling racecar.
"We are racing for a championship here (Ohsweken Speedway)," said Moffit who was a former ESS tour regular until finances cut back his travels. "I knew I had to at least get in front of Dave (Dykstra). We always want to win but that was important as well. I got lucky out there tonight because I found the holes and could drive the car wherever I wanted to."
Third at the line was eighth place starter Alain Bergeron. Bergeron, of St. Pie, Quebec made strides throughout the event to cross the line behind the leading duo.
"We are happy to finish in third after starting eighth," said Bergeron. "It's very hard when Steve (Poirier) starts on the front row to beat him. I wanted to win but I'm happy to finish the race."
Chuck Hebing started 15th in the race and the Ontario, N.Y. pilot earned a hard fought fourth place finish after making some wild late race passes. Justin Barger, the current series point leader and defending series champion, came home in fifth. Rounding out the top ten were Kruchka, Dykstra, a 23rd place starting Jeff Cook, Mike Ling and James Evans
ESS/Ohsweken Notes: 32 cars entered the event for the first ever Battle on the Grand c-sanctioned event….At big crowd filled the spacious grandstands on a perfect evening…This was Poirier's fourth career win ESS at Ohsweken with two of them coming at the Canadian Sprint Car Nationals….Next weekend will be another co-sanctioned event where the Lucas Oil ESS tour joins the Untied Racing Company for the first ever Fast Track 360 Sprint Car Summer Shootout at the Rolling Wheels Raceway Park. Friday's event will pay $2,000 to win while Saturday's finale will see $3,000 going to the winner.
Lucas Oil Empire Super Sprints:
Northwood 2 Constrcution/LaSalle Motorsports Canadian Sprint Car Series
A-Main – Steve Poirier, Kyle Moffit, Alain Bergeron, Chuck Hebing, Justin Barger, Mikey Kruchka, Dave Dykstra, Jeff Cook, James Evans, Mike Ling, Lance Yonge, Jamie Collard, Keith Dempster, Tyler Rand, Mike Stelter, Kevin Ward Jr., Kevin Job, Jared Zimbardi, Tom Huppunen, Travis Cunningham, Jamie Turner, Wayne Ashton, Jim Huppunen, Glenn Styres.
Lap Leader – Poirier 1-25
Did Not Qualify – Mitchell Brown, Steve Garry, Steve Goldner, Todd Hoddick, Chris Durand, Chris Steele, Stan Zanchin, Shane Butler.
Car Mate Custom Built Trailers Heats:
Heat 1 – Jared Zimbardi, Mikey Kruchka, Kevin Job, Travis Cunningham, James Evans, Wayne Ashton.
Heat 2 – Justin Barger, Steve Poirier, Alain Bergeron, Mike Ling, Jamie Collard, Lance Yonge
Heat 3 – Dave Dykstra, Jamie Turner, Tom Huppunen, Kyle Moffit, Chuck Hebing, Jim Huppunen
Best Western Cairn Croft/Cobra Coaches Dash – Justin Barger
KSE Racing Products B-Main – Glenn Styres, Kevin Ward Jr., Keith Dempster, Tyler Rand
Added Starters – Jeff Cook, Mike Stelter.
Ohsweken Speedway Winners Bonus – Poirier $100
Cook's Contracting Services Halfway Bonus – Poirier $100
WestFront Construction Hard Charger Bonus – Cook (15 pos.) $50
MVCC Aviation Extra – Dykstra $50
Car Mate Trailers Heats – Zimbardi, Barger, Dykstra $25
HG Associates Fast Time – Poirier (13.798) $25.
The Lucas Oil Empire Super Sprints are brought to you by: Lucas Oil, Northwood 2 Construction/LaSalle Motorsports, SUNY Canton, 730 Truck Stop, Hoosier Racing Tires, Les Constructions Ultra, Cooks Contracting Services, Fondations 4 Saisons, Car Mate Trailers, The National Parts Peddler Newspaper, WestFront Construction, Cobra Coaches, The Ohsweken Speedway, Mohawk Racing Parts, Engine Research, Brodix Cylinder Heads, Total Race Supply, Riverside Bar and Grill, Coffrage Daniel Lampron, Mohawk Valley Community College, FX Chevy and many, many associate sponsors.