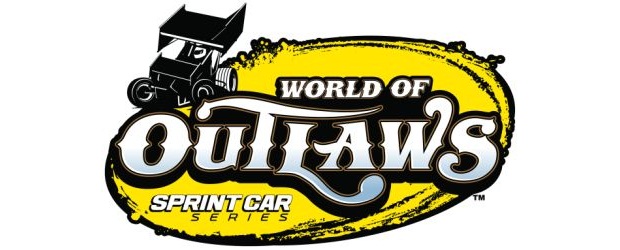 By Tony Veneziano

Concord, NC-August 2, 2010-
A standing ovation: Steve Kinser received a standing ovation during the dash draw interviews at Autodrome Drummond on July 27 after being introduced in both English and French. The capacity crowd was on their feet as the 20-time World of Outlaws champion was being interviewed by "The Voice of the Outlaws" Johnny Gibson. Kinser wound up winning the inaugural event at Autodrome Drummond to add another track to the amazing list of speedways he has won at during his legendary career.
"It's great to be up here in Canada at another new track," said Kinser. "There are some great sprint car fans in Canada and we always enjoy coming up here."
A huge crowd: One of the largest crowds in the history of Autodrome Drummond was in attendance on July 27 for the World of Outlaws debut at the track, which also marked the first-ever 410-winged sprint car race at the four-tenths-mile. Fans began to arrive very early in the afternoon and were already lined up two hours prior to the race to get in as well as buy tickets. Once the gates were opened and the seats filled, it was a standing room only crowd.
A new track record: Kraig Kinser set a new track record in time trials at Ohsweken Speedway on Friday night in the opener of the Six Nation Showdown, touring the 3/8-mile in 12.047 seconds at 112.061 mph to break Joey Saldana's existing mark of 12.420 that had been set in 2009. A total of 10 broke the old track record. For Kinser it was his second fast time honor of 2010 and the eighth track record that has been established in time trials at a World of Outlaws event this season.
Oh Canada: Donny Schatz has had plenty of success racing in Canada with the World of Outlaws over the last four seasons. He was victorious at Castrol Raceway in Edmonton in 2007 and is the current track record holder at the 3/8-mile where he has a win, and has finished in the Top-10 in all six of his starts at the track with five being Top-Five performances. With his win at Ohsweken Speedway on Sunday night, the four-time and defending series champion has is five for five on podium finishes there, the best of any driver at the track located in Glenn Styres backyard.
"Canada has always been good to me and I love coming to Canada," said Schatz. "It's great. Glenn (Styres) had always been very hospitable to us. He has an awesome race track and an awesome facility. He is just a great person in general. It's fun to be around someone who is like that."
Another strong debut: Doug Esh, who continues to fill in for the injured Jac Haudenschild made his first visit to Ohsweken Speedway, which marked the third straight track he was competing at for the first time. The Pennsylvania native came from the 12th starting spot to finish seventh last Friday night at the 3/8-mile to earn the KSE Racing Products Hard Charger Award. He has finished 14th or better in four of his five starts for the Carnahan Motorsports team, including winning at Lebanon Valley Speedway in New York on July 25.
Racing his way in: Mikey Kruchka, who used to be a crew member on the road with the World of Outlaws with Jeremy Campbell's team for a couple of seasons, qualified for his first main event with the series in his career. The native of Hamilton, Ontario, Canada grabbed the fourth and final transfer spot in The Last Chance Showdown to race his way into the main event. Kruchka has been competing mainly this season in the weekly sprint car series at Ohsweken Speedway.
"It was pretty special," said Kruchka of making the show. "To be part of the Four-Wide Salute and make into the main event was a pretty big accomplishment for our Big Moose Racing team. It was great."
Yet another new track record: Lucas Wolfe stopped the clocks first in the World of Outlaws debut at Autodrome Drummond on July 27 to earn his fifth fast time honor of the season. He blasted around the four-tenths-mile in 13.788 seconds to set a new track record. The native of Mechanicsburg, Pennsylvania has set three track records this season in World of Outlaws action. Donny Schatz and Paul McMahan, who were second and third in qualifying also broke the track record which had previously been 14.022.
Turning some laps in a different type of race car: After finishing second at Autodrome Drummond last Tuesday night, Paul McMahan hopped behind the wheel of a two-seater Big Block Modified and turned a couple of laps at the four-tenths-mile. After feeling the car out for a lap to two, he put the hammer down and slung it through the turns at the blazing fast track in Quebec.
"It was definitely different than what I am used to driving," shared McMahan. "It took a few laps to get used to it, but it was fun."
Bilingual: With a majority of the crowd at Autodrome Drummond speaking French, Johnny Gibson, "The Voice of the Outlaws" gave the locals a treat last week when he did his traditional "Four-Wide Salute to the Fans" call in French. During the race itself he called the action in English for those in attendance and the thousands listening online through the Dirt Radio Network, with the track announcer translating in French.
A total team effort: Paul McMahan finished second at Autodrome Drummond with Joey Saldana third, which marked the fourth time this season that the duo has finished on the podium on the same night for Kasey Kahne Racing. Saldana is the current series point leader and is on top of the series in wins and laps led. McMahan leads the series in fast time honors this season with nine and has earned the most qualifying bonus points of any driver on the tour, with Saldana earning the second most to-date.
"We have a great team," noted Saldana. "KKR works great among both teams and all three total teams (with Brad Sweet's team). This team has come a long way in a short time and that shows how good our equipment is. Paul (McMahan) is doing a great job and makes myself and everyone at KKR feel good that he can come in and put a good showing in and have the speed."
Building momentum: Sam Hafertepe Jr. finished in the Top-10 in all three races in Canada, highlighted by a fifth-place effort at Autodrome Drummond. The native of Sunnyvale, Texas has finished in the Top-10 in six of the last eight World of Outlaws races. He is currently 12th in points as he continues to close in on his first series win.
"We knocked the nose wing out at Drummond and were still good enough to finish fifth," shared Hafertepe. "We're definitely working hard right now and showing what we are capable of. We've had a lot of bad luck this year and hopefully that's all behind us. This is definitely the time of the year you want to be hitting your stride with all the big races.
A career-best finish: Glenn Styres, the owner and promoter of Ohsweken Speedway finished a career-best 13th with the World of Outlaws on Sunday night at his track. He ran 14th in the opener on Friday night which matched his then career-best finish with the series, before bettering that by one spot in the finale. He has finished 15th or better four times over the last two seasons with the series.
Photo galleries: The Media Gallery section of www.worldofOutlaws.com continues to be updated after each event. Visit http://www.worldofoutlaws.com/sprint/MediaGallery.aspx to see Photo Galleries from all 2010 World of Outlaws events. Photo Galleries from both nights at Ohsweken Speedway will be posted soon.
Keep up with all the action: The number of "Followers" keeping up with the World of Outlaws via Twitter online and through text messages on cell phones continues to grow and recently surpassed the 4,600 "Follower" mark. Updates are provided throughout race nights beginning with hot laps and continuing all the way through the final checkered flag of the night. To sign-up visit: http://twitter.com/worldofoutlaws and receive live race updates, anywhere, anytime.
On sale now: Tickets for a number of premier World of Outlaws events are currently on-sale, including the Ironman 55 at I-55 Raceway on August 6-7. Also on sale now are tickets for the World of Outlaws stop at Rolling Wheels Raceway Park in New York on October 9 and the World Finals at The Dirt Track at Charlotte, November 4-6. For tickets visit www.WorldofOutlaws.com/tickets.
The World of Outlaws Sprint Car Series is brought to fans across the country by many important sponsors and partners, including: Armor All (Official Car Care Products), Chizmark & Larson Insurance , Goodyear Tires (Official Tire), SuperClean (Official Cleaner-Degreaser), VP Racing (Official Racing Fuel); in addition to contingency sponsors, Jake's Custom Golf Carts, KSE Race Products, Penske Shocks , R2C Performance, Racing Electronics, S&S Volvo; Engine Builder's Challenge participants Don Ott Racing Engines, Kistler Engines, Shaver Specialties and Speedway Engines; and Chassis Builder's Challenge participants J&J Auto Racing, Maxim Racing and XXX Race Company.