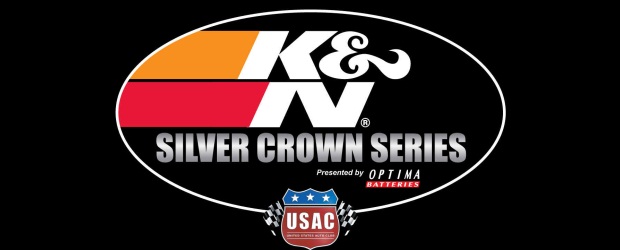 By Dick Jordan
Thursday night's "Great Lakes 150" at Berlin Raceway offers a unique challenge for drivers in terms of laps. The last USAC Silver Crown race featuring more than 100 laps was the 134-lap race at Richmond (Va.) International Raceway in 1996, won by 3-time series champion Jimmy Sills.
Only two events in series history have been contested for more laps. The Minnesota State Fairgrounds in St. Paul hosted 200-lappers in 1975 and 1984 won by Tom Bigelow and Marvin Carman respectively. O'Reilly Raceway Park in Indianapolis, Ind. hosted 150-lap races in the mid-1980s won by Rick Hood, Ken Schrader, Jeff Bloom and Bruce Field.
Thursday's race will be the first ever for the USAC series at the 7/16-mile paved Berlin oval which has hosted numerous USAC races dating all the way back to USAC's first year of operation, 1956. The USAC Regional/WOMS Midget Series will join Thursday's timetable, with their own 30-lap feature event.
Bud Kaeding of Campbell, Calif. is in the midst of pursuing his fourth series title, which would put him alone at the top of the all-time list, ahead of Sills. He has a 24-point lead over Jerry Coons Jr. entering Thursday's race. All four of Kaeding's 2010 outings have resulted in "top-10" finishes. Coons has matched that but each is seeking their first 2010 Silver Crown victory.
Michigan interest will center on Parma's Brian Tyler, now residing in Mount Pleasant, N.C., and car owner Eddie Sachs Jr. of Mt. Clemens. Tyler and Russ Gamester are tied with 159 career series starts, just three shy of the all-time mark of 162 set by Jack Hewitt. Sachs will field a car for Pennsylvania driver Zach Martini. Sachs' father won the pole for the 1960 Indianapolis 500 and nearly won that race a year later.
Levi Jones, A.J. Fike, Shane Hmiel and Tracy Hines have scored Silver Crown wins so far in 2010. They rank third, fourth, fifth and sixth in the current standings.
USAC SILVER CROWN CHAMPIONSHIP SERIES POINT STANDINGS
1-Bud Kaeding-213, 2-Jerry Coons Jr.-189, 3-Levi Jones-179, 4-A.J. Fike-173, 5-Shane Hmiel-170, 6-Tracy Hines-165, 7-Kody Swanson-143, 8-Brian Tyler-140, 9-Bobby East-123, 10-Bryan Clauson-118.