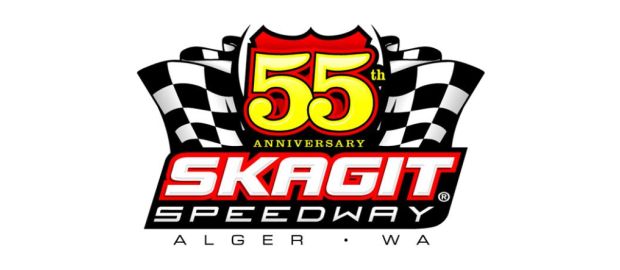 From Kaleb Hart
Mother Nature took one to the chops on Saturday night at Skagit Speedway, as Axthelm Construction presented Season Championship Night. All four features were completed right before the skies opened up, and four champions were crowned in their respective division.
In the Associated Asphalt 410 division, the final points battle came down to one difference in finishing position. Travis Jacobson led every lap in the Shaylen Raye Motorsports #8r Eagle, to take his third win in the division and fourth overall of the year. The final point battle came down to Jacobson and reigning champion Jesse Whitney who finished 6th in the feature. Whitney ended the night two points ahead of Jacobson to secure his second straight Associated Asphalt 410 title and third of his career in the Rocky's Plumbing #88 Eagle.
Prior to Saturday night, Alan Munn held the title as most tenured driver at Skagit Speedway, as he has raced on a weekly basis at the track with little interruption for over 30 years. After Saturday night, Alan holds a new title: Champion. The seasoned veteran led all 20 laps of the Budweiser 360 division main event to secure his first season championship at Skagit Speedway over his long career in his Munn Construction #42 XXX.
Bill Rude put everything together in 2010, riding three main event wins to a season championship in the Cook Road Shell Sportsman Sprint division. Rude took over the main event lead on lap 10 after race leader Steve Parker caught some air coming off of turn 4, taking him out of the contest. Rude would lead the final five laps for his third win the Dri Eaz #33 XXX, securing his championship.
The Pull A Part Outlaw Hornet points are scored a little differently than our Sprint Car divisions at Skagit Speedway, with points going to the car number instead of the driver or car owners. Using this rule to his fullest advantage, Ben Gunderson secured his second title in the Outlaw Hornet class without racing on Saturday night. Gunderson was injured racing quads last Saturday night at Skagit Speedway's Flat Track World Championships, and was unable to compete. While forced to the DL, he made the savvy choice to put former Outlaw Hornet champion Greg Hibma in his car on Saturday night. Hibma made Ben's decision pay off, winning the main event after leading all 15 laps and securing the championship for Gunderson.
After racing was complete, all four champions were crowned on the front straightaway in a wet ceremony on the track, as the rain started hitting hard right as the final checkered flag was thrown on the year. The large crowd was then treated to a huge fireworks display, presented by Axthelm Construction.
Skagit Speedway wants to think our fans, the drivers and all of our dedicated staff for making 2010 possible. For offseason information including schedules and other major announcements, visit our website at www.skagitspeedway.com
Budweiser 360 Sprints
Main Event – Alan Munn, Evan Funk, Devin Madonia, Kelsey Carpenter, Rick Fauver, Rod Perkins, Jonathan Jorgenson, Tyler Anderson, Brock Lemley, Josh Edson, Steve James
Lap Leaders – Munn 1-20
Season Champion – Alan Munn
Cook Road Shell Sportsman Sprints
Main Event – Bill Rude, Dylan Dunham, Matt VanDerSys, Cory Swatzina, Michael Ballinger, Curtis Clark, Cale Brooke, Clayton Sibley, Derek Roberts, Rob Schroder, Ron Butler, Paul Burdick, Steve Parker, Michael Hodel, Justin Youngquist, James Bundy
Lap Leaders – Parker 1-9 Rude 10-15
Season Champion – Bill Rude
Associated Asphalt 410 Sprints
Main Event – Travis Jacobson, Eric Fisher, Jason Bloodgood, Steve Parker, Alan Munn, Jesse Whitney, Colton Heath, Trey Starks, Josh Edson
Lap Leaders – Jacobson 1-20
Season Champion – Jesse Whitney
Pull A Part Outlaw Hornets
Main Event – Greg Hibma, Rick Young, Freddie Vela, Ashley Lewellen, John Gunderson, John Edwards, Ken Higby, Wade Swatzina, Tyler Ketchum, Matt Ploeg, Jerry Birdsey Jr, Brigham Mirabelli, TJ Campbell, Larry Kwik, Stacy Day, Melina Barber, Jody Walker, Tina Thibert, Howard Vos
Lap Leaders – Hibma 1-15
Season Champion – Ben Gunderson