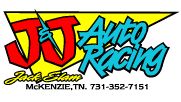 From J&J P.R.
McKENZIE, TN – Tim Shaffer and the CH Motorsports crew continue winning Sprint car races. Last week, it was their second consecutive All-Star weekend sweep as Shaffer blitzed the field twice at Fremont Speedway in Jim Ford Classic. The wins allowed him to reach the 20-win mark for the season. Shaffer wasn't alone in taking a J&J to victory lane. Jeff Mitrisin defeated the Sprint Invaders in Iowa, while Danny Holtgraver raced to victory in the annual Pittsburgher at Pittsburgh Pennsylvania Motor Speedway. J&J also captured another championship for 2010 when Ray Allen Kulhanek earned the ASCS Gulf South title.
ALL-STAR CIRCUIT OF CHAMPIONS
For the second time in 2010, Tim Shaffer and the CH Motorsports team have a five-race winning streak. In late July, Shafffer put together a five-race winning streak as the All-Stars thundered through the Plains and then he knocked off the World of Outlaws in the opener of the Ironman 55 at I-55 Raceway in Pevely, Mo. His second streak started with Sprint car racing's biggest race, the Knoxville Nationals and included sweeping the All-Stars at Lernerville and Attica before doubling up this past weekend at Fremont.
FRIDAY NIGHT
In the opener, Shaffer raced the Aaron Call/Janet Holbrook owned No. 83 Kistler-powered J&J into the lead on lap 19 and raced away to his score his 33rd career All-Star triumph.
"It's just been a great couple of months," said Shaffer, following the win. "We've got an incredible team. The CH Motorsports, J&J, Kistler Engines, VRP Shocks everybody that works on this team at home and on the road…it's just been a blast."
"It's amazing…when you can have a group of people come together like we have here…it's everybody doing their job and giving me a great car to drive and I'm having a lot of fun doing it,"
Phil Gressman (No. 53 J&J) finished third and David Gravel (No. 89G J&J) came home sixth.
SATURDAY NIGHT
The finale of the Jim Ford Classic presented by Ludwig Propane was another victory for Shaffer. He took the lead in the JRC Transportation, Technique Roofing, Kistler Racing Products backed No. 83 Kistler-powered J&J on lap 27 during the 50-lap race. He used a late race restart to pull away from the competition and score his 20th win of the season.
"We earned that one," admitted Shaffer. "It was one of those deals where I didn't feel that good. I was probably trying too hard at times and too easy at times. Just to be up here for number 20…it's just incredible."
"I don't know what it is…but it's so fun running up front. This is a dream come true. I couldn't have ever imagined winning 20 races in one year. We are having all the lucks and breaks and we're taking advantage of it."
SPRINT INVADERS
Jeff Mitrisin took the checkered flag Friday night in the Ideal Ready Mix Sprint Invaders Yankee Classic at Farley (Iowa) Speedway.
Mitrisin started on the pole in the Wares-Harrison Motorsports No. 10 J&J and took off to a huge advantage during the first 15 laps of the 20-lap feature. "The Magician" fended off a late challenge and picked up the win. Friday's race marked the first time he had a raced a Sprint car since the 2008 season.
PITTSBURGER
In Saturday's 22nd annual Tri-Star Pittsburgher, hometown boy Danny Holtgraver earned his sixth win of the season. Holtgraver raced the No. D4 J&J from his outside front row starting position and into the lead at the start. He grabbed the lead and raced away from the competition throughout the 20-lap main event.
Ed Lynch, Jr. from the ninth starting position to finish third driving his No. 2L J&J.
ASCS GULF SOUTH REGION
With in a fifth-place finish in Saturday night's season-ending 25-lap ASCS Gulf South main event at Houston Raceway Park, Ray Allen Kulhanek claimed his second ASCS Gulf South championship. He drove David Miller's Smiley's Racing Products No. 21T J&J to the title. Kulhanek's first series crown came in 2005.
CAJUN SPRINTERS ASSOCIATION
The 2010 CAJUN Sprinters Association championship has come down to the final two races. All will take place at Baton Rouge Raceway, in Baker, La., with the first this Saturday and the final on Oct. 9.
Lane Whittington and Shane Morgan are locked in a battle. Both J&J drivers are hoping to come out on top in the championship standings. Whittington, driver of the No. 9 J&J, has multiple CAJUN championships, while Morgan, who drives the Morgan Equipment & Crane, HCI Shocks, Costal Marine/Wild Solutions No. 01 J&J, is trying to win his third title. The Biloxi, Miss., racer won the CAJUN crown in 2005 and 2006. Currently, Morgan leads by two points and the challenge is not only to finish ahead of Whittington, but also keep him from picking up his 100th feature win.
"It's been pretty tough the last few races," said Morgan. "Lane, he's always right there in first or second. We are usually a top-four car, but two points isn't much of a lead. Everyone on our team is really working hard, paying attention to all the details. Anything can happen. Hopefully, we'll have a couple of good nights and win the championship."
Other Strong J&J Finishes…In the USCS Razorback Rumble sprint win in Beebe, Ark., J&J's filled the top-10 as Derek Hagar (No. 9 J&J) finished second, Terry Gray (No. 10 J&J) fifth, Jerod Roller (No. 5 J&J) sixth, Lewis Jenkins, Jr. (No. 7h J&J) seventh, Morgan Turpin (No. 80 J&J) eighth, and Jon Stinson (No. 26s J&J) came home ninth.