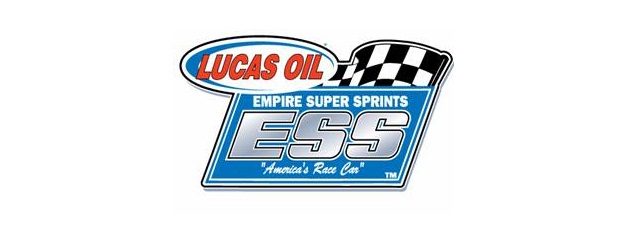 From Dean Reynolds
SYRACUSE, NY – The 2010 season for the Lucas Oil Empire Super Sprints marked the first time that the events near the Montreal, Quebec area had a separate point fund and for 2011 it will continue. Fondations 4 Sasions will again back the series which will visit Autodrome's Granby and Drummond as well as Le RPM Speedway.
The addition of the Super Star Series last year brought record car counts to the facilities that are supported by the French-Speaking dirt track fans in droves. Building off that success is the return for this year's Lucas Oil ESS campaign.
"We have to thank the entire Poirier family for their support. The Super Star Series (last year known as the Five Star Series) proved to be a key component in helping boosting car counts in area that is a far distance from the nucleus of ESS." noted ESS President Chuck Miller. "There was a big invasion of US teams once again like days past which made the car counts strong highlighted by a record count of 30 at Granby last August."
The Super Star Series point fund will again be paid to the top ten in points which will be earned in just four events. All teams are eligible whether they are full time ESS tour travelers or not.
The event dates are already locked in with the first two events coming at Granby on June 3rd followed by a trip up to Drummond the very next night. The second weekend will kick off the month of August where it will be a second visit to Granby on August 5th and then the next night it's off to Le RPM where the little quarter-mile is back on the schedule after last year's very successful ESS debut.
Autodrome Granby has been a Friday night fixture in Quebec for well over three decades and under the new promotion team of the Lussier's they are coming off a very successful 2010 year. ESS provided some of the largest crowds and hope to build from that momentum
Autodrome Drummond is Quebec's oldest running dirt track and new for 2011 is a special 12 event schedule where each event showcases something extra for the fans, ESS is proud to be part of their season.
The track formerly known as Motordrome St. Marcel, RPM not only went under a name change but a new outlook on their 2010 schedule. Added were monthly visits by the 358 modifieds along with the history making visit by ESS' winged wonders.
Steve Poirier took home the lion's share of his family's money last year by winning the points over American's Justin Barger, Lance Yonge, Dan Kaszubinski and fellow Quebec mate Alain Bergeron.
The 2011 season for the Lucas Oil Tour is a mere few months away, it's the 28th Anniversary season and as the tradition continues…It will be excitement guaranteed! For more information, please log on to www.empiresupersprints.com
The Lucas Oil Empire Super Sprints are brought to you by: Lucas Oil, Northwood 2 Construction/LaSalle Motorsports, SUNY Canton, 730 Truck Stop, Hoosier Racing Tires, Les Constructions Ultra, Cooks Contracting Services, Fondations 4 Saisons, Car Mate Trailers, The National Parts Peddler Newspaper, WestFront Construction, Cobra Coaches, The Ohsweken Speedway, Mohawk Racing Parts, Engine Research, Brodix Cylinder Heads, Total Race Supply, Riverside Bar and Grill, Coffrage Daniel Lampron, Mohawk Valley Community College, FX Chevy and many, many associate sponsors.